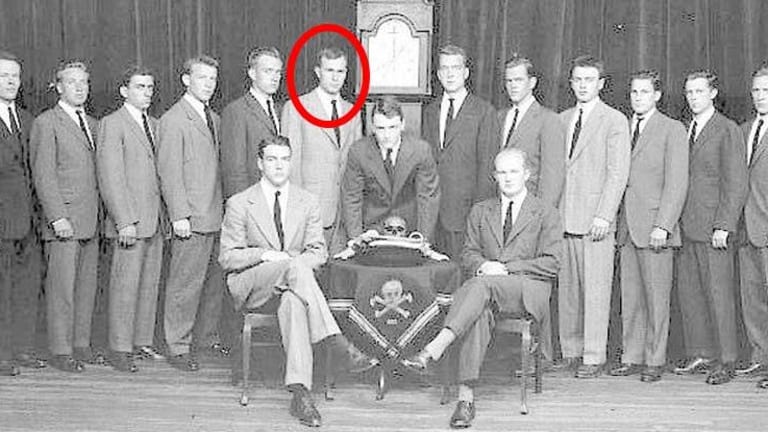 Declassified 'Skull and Bones' Records from George W. Bush White House Set for Public Release
One of the most infamous secret societies in the world is releasing hundreds of documents, including video.
Washington, D.C. - One of the most infamous secret societies in America, Yale University's Skull and Bones Society, may be a little less secret come July, as the national archives is scheduled to publicly release 1,650 pages of records from the President George W. Bush-era.
The National Archives, which oversees White House records held at the George W. Bush Presidential Library in Dallas, Texas, reportedly received a request on April 15 for materials specific to George W. Bush's presidency under the Freedom of Information Act.
The request specifically sought the public release of records containing 8,072 pages, 3,159 assets (such as presidential memoranda – cards, letters, etc.), and one video clip, according to the National Archives.
After having been thoroughly examined by both the National Archives and Records Administration (NARA) and former President George W. Bush himself, last month NARA sent a letter to representatives of the Obama and Bush administrations announcing plans to release 3,404 pages of the Bush-era records to the public, including 1,650 pages relating to The Skull and Bones Society, according to the letter.
However, several of the requested items proved restricted under the Freedom of Information Act's 44 U.S. Code § 2204, which limits access to presidential materials based on their containment of sensitive information (i.e. national security secrets, trade secrets, and confidential communications).
In addition to the 3,404 pages of records, 1,503 assets and one video clip in whole, 582 pages and 186 assets in part will also be released to the public. You can be virtually certain that the juiciest tidbits of information held within the requested records will be shielded from public view as Skull and Bones is deeply intertwined with the U.S. intelligence community.
Skull and Bones was co-founded at Yale in 1832 by William Huntington Russell and the father of a future president, Alphonso Taft. The society's alumni boasts many of America's political elite, including former presidents William Taft, George H. W. Bush, George W. Bush, and current Secretary of State John Kerry. On April 26, Democratic presidential front-runner Hillary Clinton was made an "Honorary Bonesman" because she graduated from Yale Law School in 1973.
According to a report in The New American:
"Other prominent members have included both President George H.W. Bush; James Jesus Angleton, who is credited with "mothering" the Central Intelligence Agency (CIA); William F. Buckley, Jr.; Secretary of War Henry Stimson; multiple Supreme Court justices; Austan Goolsbee, chairman of President Barack Obama's Council of Economic Advisors; Frederick Smith, the founder of FedEx; Harold Stanley, founder of Morgan Stanley; Secretary of Defense Robert Lovett; and both President William Howard Taft and his son, Senator Robert A. Taft. In fact, President Taft's father, Alphonso, was among the group's founders. Besides the Tafts, the group has included Rockefellers and Pillsburys among its members...

The organization has included prominent public office holders over the years, and even famous football coaches, including Walter Camp and Amos Alonzo Stagg. Charles Seymour, a founding member of the CFR, was a member, as was Winston Lord, who held the position of CFR chairman. Other members who have achieved high positions in American business, politics, and society include David McCullough, the famous historian who wrote the best-selling biography of John Adams; liberal columnist Dana Milbank; George H.W. Bush's father, Senator Prescott Bush; William P. Bundy, who coordinated the Bay of Pigs invasion; diplomat and international banker Averill Harriman; and former Senator David Boren (who was on the Senate Intelligence Committee and is a good friend of former CIA Director George Tenet)...

Those who ascribe more nefarious origins and motivations to the group connect them to the Bavarian Illuminati, it having been founded by German university alumni. Perhaps most interesting is the group's alleged connection to the founding of the CIA, since James Angleton, considered a founder of the CIA, was a Bones member, and several other members have been in the CIA in one capacity or the other over the years. For example, George Herbert Walker Bush was a director of the CIA, and William F. Buckley, Jr., founder of National Review magazine, was also a member."
A FOIA request from author Robert Gaylon Ross Sr. prompted the National Archives to release the Skull and Bones records. Ross has authored several books about secret societies, including Who's Who of the Elite : Members of the Bilderbergs, Council on Foreign Relations, & Trilateral Commission and The Elite Serial Killers of Lincoln, JFK, RFK & MLK, and claims that many of these organization, including the Skull and Bones Society, play a critical role in global governance; acting as an unseen hand behind the curtain.
The records will become public in July unless either Bush or Obama moves to block the release, Politico reports.