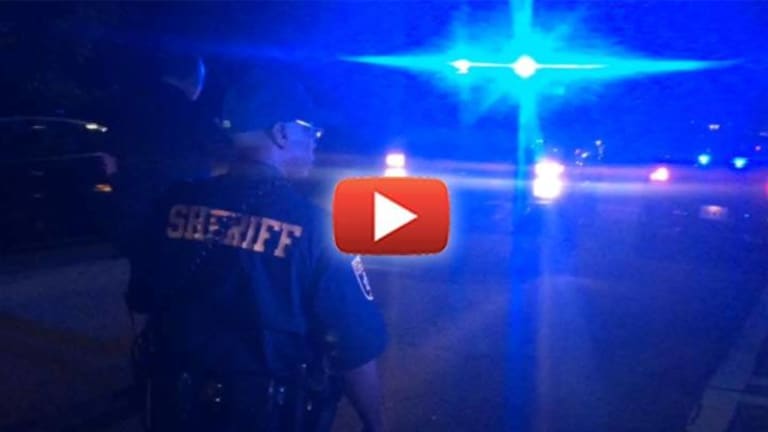 BREAKING: Cop Shot After Responding to Wrong House and Shooting Man's Dog
A police officer has been shot after officers responded to the wrong home in the middle of the night and killed the homeowner's dog and shot the homeowner.
Atlanta GA - A Dekalb county officer was left in critical condition Monday evening after being shot in the leg while responding to a burglary call.
Around 7:35 pm, officers were responding to a 'vague' location for a burglary in progress call, when police entered the wrong home. Shortly after gunshots erupted, the officer and the homeowner, identified as Chris McKinley by a neighbor, were both injured in the melee. McKinley's dog was also killed during the exchange.
"A lot is yet to be determined here as to what and when shots were fired, how the officer received injuries, how the homeowner received injuries," Director of public safety Cedric Alexander said. "But we did respond to the wrong residence tonight."
The Officers claim they went to the back of the home and found that the rear door and screen door were unlocked. While not locking your door may be a common occurrence for many Americans, these officers apparently viewed it as a sign of an intrusion.
"That in and of itself would probably suggest to anyone that it is possible that there could be intruders inside, but it turned out not to be the case," Alexander said.
The officer involved was shot in the thigh and underwent emergency surgery at Grady Memorial Hospital after losing "a lot of blood" according to reports. McKinley was also being treated for a gunshot wound to his leg and was transported to the hospital.
In total, three officers responded to this incident and will be placed on paid administrative leave pending an investigation by the Georgia Bureau of Investigation.
This act of unnecessary violence, while completely avoidable, has become a sad reality in Police State USA. When armed intruders unknowingly enter your property, you do not have the time to determine if the individual is wearing a badge, acting 'under the color of law,' or a home invader out to cause you harm.
As of yet, no charges have been filed against McKinley.
Some states, like Indiana, have put laws on the books that protect homeowners from defending themseleves against unlawful police invasions.
In March, in a case of first impression, David Cupello v. State of Indiana, the Indiana Court of Appeals reversed David Cupello's conviction on charges of battery on a law enforcement officer. The court found that he exercised reasonable force under an amendment to Indiana law which legalized using force against "public servants" that unlawfully enter another person's property.
December of 2013, in Somerville, Texas, Burleson County Sgt. Adam Sowders, led a team in a no-knock marijuana raid on Henry Goedrich Magee's home. Magee, who was home with his pregnant girlfriend, believed that someone was breaking in. Concerned for his girlfriend and unborn child's safety, Magee opened fire and killed Sowders.
In February, all charges against Magee were dropped when a Texas grand jury refused to indict, based on the belief that he feared for his safety and that this was a reasonable act of self-defense.
May of last year in Killeen, Texas, Marvin Louis Guy was also the target of a no-knock narcotics raid.
Detective Dinwiddie was one of the SWAT officers who broke into Guy's home based on a seemingly bogus informant tip-off about drugs being dealt from the house. Alarmed by intruders climbing through his windows at 5:30 in the morning, Guy and his wife sought to protect themselves and their property and open fired- in self defense.
Dinwiddie was shot and killed; three other officers were also shot but survived. No drugs at all were found in his home.
His case is strikingly similar to Magee's, yet Guy is now facing the death penalty. He is charged with capital murder in Dinwiddie's death, as well as three counts of attempted capital murder for firing on the other officers during the shootout.
These things happen and will likely continue to happen, as officers negligently break into wrong homes.
Johnny Liberty is a researcher and investigative journalist. You can follow him on Twitter @LibertyUnltd