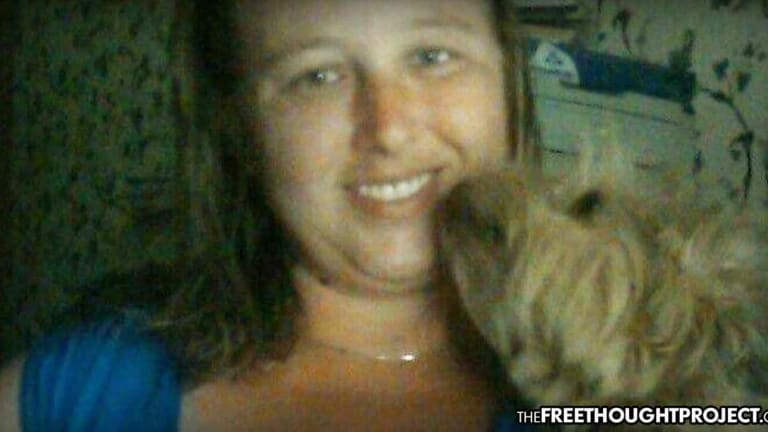 Good Samaritan Thrown in Jail for Rescuing Pets During Hurricane Without a Permit
For rescuing and treating sick and injured dogs and cats during hurricane Florence, a good Samaritan was charged and thrown in jail for not having a permit.
Wayne County, NC — As TFTP reported this week, Tammie Hedges, an animal rights activist, attempted to be proactive and protect animals as Hurricane Florence enveloped the NC coast and her home town. Hedges never imagined that helping animals in need could land her behind bars, however, that is exactly what's happened. Over the weekend, Hedges was taken into custody by police and booked on several charges—for being a good Samaritan and saving animals' lives without a permit.
During hurricane Florence, Hedges and her group of friends began rescuing animals they found in danger of dying by the rising flood waters. Each animal's exact location was documented so the owners could be informed following the floods caused by Florence.
All the animals were then transported to a warehouse complete with cages, food, water, pee pads, and litter boxes. Volunteers even slept in the warehouse to make sure rising flood waters didn't threaten the rescue operation.
"The owners got to evacuate. They got to save themselves. But who's going to save those animals? That's what we did," Hedges said. "We saved them."
Some two dozen animals were rescued before Wayne County Animal Control demanded the animals be turned over to them. They told Hedges to surrender the animals or they would get a warrant, so she complied.
Last week, the officers who arrived to transport the animals to the state-approved animal shelter reportedly told Hedges she was running an illegal animal shelter without a permit. Hedges disputes such allegations and says she and her group were just trying to defend the animals' rights to life.
Frank Sauls, animal services manager for Wayne County, defended his county's actions saying:
If we didn't feel like anything was being done wrong, we would not have taken (the animals)...But that is for the courts to decide...All that will come out, if the case goes to court...But at this point, it's very early in the investigation.
For her part, the animal rights activist claims she's done nothing wrong.
We were trying to help abandoned animals...We knew North Carolina didn't have any regulations or laws regarding shelters for animals...So a group of us got together to do something to help those animals. it's why we opened our building to them so they'd have a safe dry place to go until their owners returned to get them...I had not gone out and gotten any animals, but a couple of independent rescuers had gotten some from flooded areas and brought them to me.
Following the turnover and removal of the animals from the makeshift shelter, friends of Hedges called on North Carolina Governor Roy Cooper to exonerate Hedges of all wrongdoing. In the petition, the group accuses Wayne County Animal Control of being financially motivated claiming the government confiscated the animals because they, presumably, were not getting their surrender and adoption fees if the animals stayed with Hedges. The petition states:
In midst of Hurricane Florence, one woman, Tammie Hedges, decided to help her community by taking action and opening an animal shelter to ensure that the carelessness of pet owners did not result in adding more burden on our already full animal shelters and emergency rescue teams.
The group claims Hedges was just being a "Good Samaritan" and should be protected under the law with the same title.
This woman, Tammie Hedges of Wayne County, North Carolina, should be protected under the good Samaritan Act for her actions. Instead, Wayne County Animal Control Services has decided to condemn and punish an upstanding member of it community because the government did not receive it's unfair "cut" in midst of a crisis. Please use the influence that you were given by the people, for the people and help Tammie Hedges be rewarded for her due diligence in helping her community.
The non-profit updated a Facebook status over the weekend to breakdown the myriad of charges this woman is facing for being a good Samaritan:
"1 count of administering amoxicillin to Big Momma, 1 count of administering Tramadol to Big Momma, 3 counts of administering amoxicillin to a white Siamese cat, 3 counts of administering a topical antibiotic ointment (triple antibiotic from Dollar Tree) to a white Siamese cat, 3 counts of administering amoxicillin to a cat known as Sweet Pea, 1 count of administering amoxicillin to an unnamed black kitten, and 1 count of solicitation to commit a crime," the non-profit writes.
The group explained that everything given to the pets was available over the counter—as in available at the Dollar Tree.
"It was all over-the-counter stuff you could literally find at Dollar Tree," said Raina Nyliram, 24, an animal rescue volunteer who started a crowdfunding campaign for Hedges to help cover legal fees. "She couldn't get the animals to the vet because the vet was closed. All the charges are bogus."
Now, because the shelter didn't take the same precautions of documenting the animals' whereabouts, the owners will likely have a hard time finding them, meaning they may end up being euthanized.
"Of course this whole situation is unbelievable," another volunteer, Kathie Davidson said. "The animals seized were to be returned to their owners after the storm." Instead, she said that Animal Control has the pets.
"If they can't find the owners, the pets went from a safe place to a kill shelter," she said.
If you'd like to sign the petition feel free to click here for a link to the request.