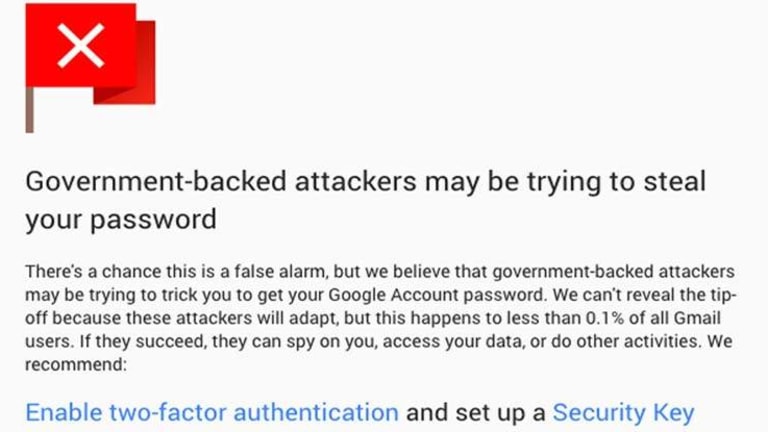 Google Fights Alongside Apple -- Upgrades Warnings to Alert Users When Big Brother is Watching
Google will display a full-page warning if state-backed attackers attempt to access a user's Gmail account or computer
(RT) -- Google will display a full-page warning if state-backed attackers attempt to access a user's Gmail account or computer, the company announced. The move comes after Google backed Apple in fighting the FBI's effort to force it to crack a terrorist's iPhone.
Google has enhanced the visibility of its state-sponsored attack warning, expanding it to cover the whole page.
"Today, we're launching a new, full-page warning with instructions about how these users can stay safe. They may see these new warnings instead of, or in addition to, the existing ones," Nicolas Lidzborski, Gmail Security Engineering Lead, and Jonathan Pevarnek, Jigsaw Engineer, wrote on the official Google security blog on Thursday.
Google users had previously received only a one-line warning, which appeared on a bar at the top of the Gmail page, reading: "We believe state-sponsored attackers may be attempting to compromise your account or computer."
Activists, journalists, and policy-makers are most likely to fall prey to government-initiated cyber-attacks, but only 0.1 percent of Gmail users become victims of such attempts, according to the company's assessment.
Last month, Google started notifying Gmail users if a message they send or receive is unencrypted, meaning they could be intercepted by third parties relatively easily. A broken red lock icon will appear next to an email address if a message is not encrypted, and a question mark instead of a profile photo if it cannot be authenticated. The novelty has increased the number of encrypted emails by 25 percent, according to the company.
In explaining the reason for its enhanced warnings, Google cited several high-profile computer security scandals, including Edward Snowden's revelations and the current showdown between Apple and the FBI. The federal law enforcement agency has been waging a legal war on Apple in an attempt to coerce the tech giant into unlocking a cellphone that had belonged to Syed Rizwan Farook, one of the attackers in last December's San Bernardino shooting, which claimed the lives of 16 people.
Google's CEO, Sundar Pinchai, has backed Apple's approach to user privacy, tweeting out a string of posts in which he called the FBI's request a "troubling precedent" and warned that complying could "compromise user privacy."
"For many of us, the iPhone is an extension of ourselves," said Apple CEO Tim Cook at the company's latest launch event."We did not expect to be in this position, at odds with our own government. But we have a responsibility to help you protect your data and protect your privacy. We owe it to our customers and we owe it to our country," he added.
Last month, a US magistrate court ordered Apple to provide "reasonable technical assistance" by creating a custom version of its operating system and installing it on the mass shooter's iPhone so that the FBI can unlock it. Apple has refused to fulfill that request, however. The next round of proceedings, which was scheduled for March 22, was postponed after prosecutors revealed that a "non-governmental third party" had found a way to hack into the phone. Israeli media reported that the unnamed helper was likely an Israeli mobile forensic software company called Cellebrite.