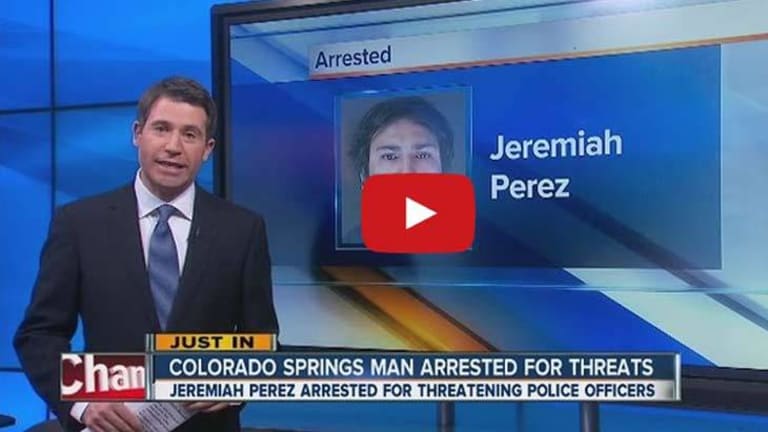 Google Works with FBI to Bust Man Who Made Threat Against Cops
FBI says Colorado Springs man also searched "kill Obama"
On December 17, Google contacted the Justice Department and alerted the FBI to a man who made anti-police comments on Youtube.
by KURT NIMMO | INFOWARS.COM
Google provided an IP address to track the man down.
A military veteran, Jeremiah Perez, was arrested in Colorado Springs on Monday. Perez, using the name "Vets Hunting Cops," had allegedly posted the following:
"SINCE DARREN WILSON our group has killed 6 retired sheriffs and cops……because of this event we will hunt two more in colorado this week…..for every innocent citizen that cops kill WE, VETERANS WILL KILL RETIRED HELPLESS COPS."
"COPS ARE THE REAL ENEMIES OF FREEDOM LOVING AMERICANS and TIME TO STRIKE BACK IN ALL OUT WAR IS NOW."
After obtaining a search warrant, the FBI reportedly found incriminating evidence on Perez's computer.
The government claims he searched phrases including "Kill Barack Obama," "Kill Cory Gardner," "Kill Darren Wilson," "Hunt Darren Wilson's Family" and "Locate Bill O'Reilly's house.
Perez told the FBI during an interview he did not plan to carry out threats against individuals included in the internet searches.
Perez made the remarks about police after he realized the government was monitoring him.
"The perceived anonymity of the Internet will not serve as a shield for espousing violence in violation of federal law," Denver Special Agent in Charge Thomas Ravenelle said in a news release.
Perez is in custody pending a detention hearing. He faces up to five years in prison and a $250,000 fine if convicted of transmitting a threat in interstate and foreign commerce.
The Supreme Court is considering a case to determine if threatening comments are protected by the First Amendment. The case concerns comments posted on Facebook.
The Court has consistently ruled that a "true threat" depends on how speech is perceived by an "objective" person.
It says language perceived as threatening is not protected under the First Amendment and has drawn a line between political hyperbole and verbal attacks on individuals.