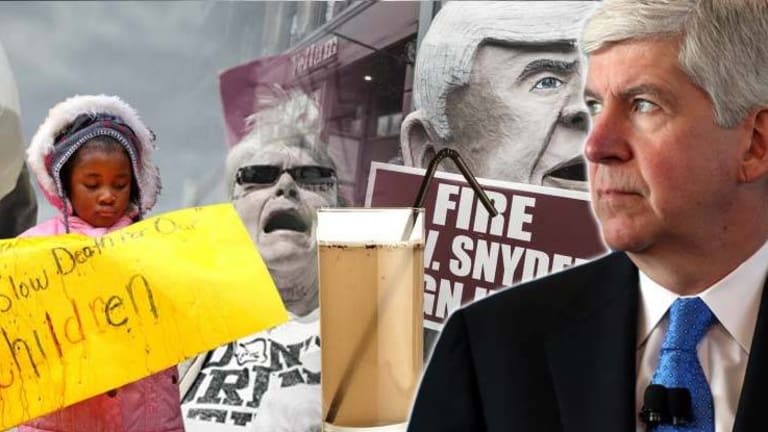 Gov. Snyder Just Hired 2 Attorneys for $500K to Be Paid for By the Very People He Poisoned
Snyder's position as Michigan governor has afforded him an unscrupulous means of paying for his defense.
Lansing, MI -- As the water crisis in Flint deepens, it is becoming apparent that the effects of the lead-infested water are not just a health hazard, but the situation has the potential of ruining many more lives outside of the poison issue.
As the Free Thought Project reported last month, the city's government continues to charge people for the poison water and then threatening to foreclose their home or take their children if they refuse to pay. Michigan law states that parents are neglectful if they do not have running water in their home, and if they chose not to pay for the water they can't drink anyway, then they could be guilty of child endangerment.
Last month, the Free Thought Project reported on the series of emails released under the Freedom of Information Act which showed that not only did officials know the water was tainted, but they took action and began trucking in water to state buildings so they would no longer have to drink it.
[ads1]
Officials are now scattering like cockroaches in an effort to shield themselves from liability. 
Gov. Rick Snyder, along with a number of other current and former state employees have been named as defendants in a slew of lawsuits relating to the poisoning of thousands. Aside from the civil liability faced by Michigan bureaucrats, several federal agencies are investigating Flint as well, including the US Attorney's Office, the FBI, and the EPA.
In a move that is sure to infuriate the residents of Flint, as well as the rest of the country, Gov. Rick Snyder has hired two outside attorneys to represent him in the litigation arising from the poisoning of Flint residents.
Of course, hiring an attorney is a natural move for anyone facing legal trouble. However, Snyder's position as governor has afforded him an unscrupulous means of paying for those attorneys.
According to Crain's Detroit,
Eugene Driker, a member with Detroit-based Barris, Sott, Denn & Driker PLLC, will assist with civil representation in addition to the state attorney general's office, Snyder spokesman Ari Adler toldCrain's in an email.

Brian Lennon, a partner with Warner Norcross & Judd LLP in Grand Rapids, has been hired as "investigatory counsel," Adler said. That includes work searching and processing emails and documents.
Both Driker and Lennon's contract services will cost $249,000 each and will be paid with taxpayer dollars. The contracts are good until December 31, but will be open for extension shall the need arise.
That's right, the very people who were poisoned by this man's criminal neglect will be paying a half-million to defend him.
What this highly offensive scenario illustrates is the power of government to shield themselves from personal liability by passing their financial burdens stemming from such instances on to the backs of taxpayers.
Until Americans wake up to the fact that they are being looted by a ruling class who couldn't care less about their well-being, this abuse will continue.
The good news is that these politicians are no longer hiding their atrocities. They think that the American public is so complacent that they can act as if no one cares -- but we do care. Please share this article so that others may learn about this criminal behavior and, in turn, begin to care.
[author title="" image="https://tftpstagingstg.wpengine.com/wp-content/uploads/2016/03/magorist-e1456948757204.jpg"]Matt Agorist is an honorably discharged veteran of the USMC and former intelligence operator directly tasked by the NSA. This prior experience gives him unique insight into the world of government corruption and the American police state. Agorist has been an independent journalist for over a decade and has been featured on mainstream networks around the world. Follow @MattAgorist[/author]