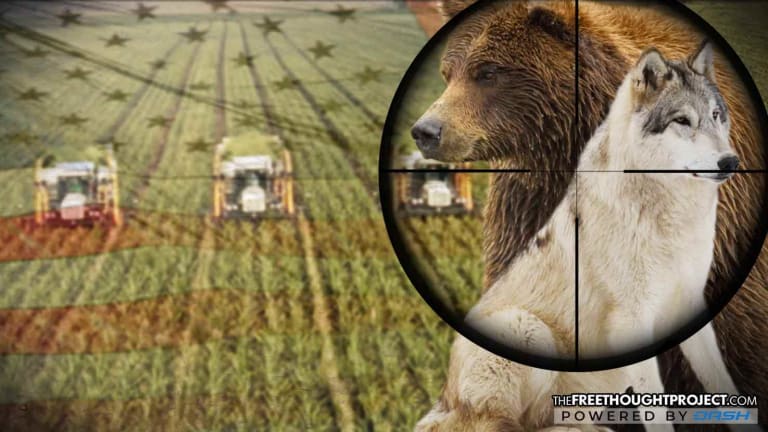 In 2017, US Gov't Slaughtered 1.3 Million Wolves, Bears, & Others in the Name of Big Agriculture
Disturbing statistics show that government agencies killed 2.3 million wild animals last year—and 1.3 million of which were native species.
Data released by the United States Department of Agriculture (USDA) shows that more than 1.3 million native animals were killed by Wildlife Services in 2017—and despite the fact that the slaughter of wolves, cougars, and birds was funded by taxpayers to benefit the agriculture industry, it is receiving very little media attention.
The total number of animals killed by USDA in 2017 was 2.3 million, and many of the species were killed by the thousands as members of Wildlife Services responded to requests from agricultural corporations by turning to lethal measures to remove the animals by employing the use of poisons, gases, snares, and firearms.
According to the report from the USDA Animal and Plant Health Inspection Service, the death toll in 2017 included 69,041 coyotes—15,631 were shot and killed by snipers on fixed-wing aircrafts, 14,062 were trapped with snares and 12,119 were killed by cyanide poison; 23,646 beavers—the majority were caught by traps and 2,375 were killed by firearms; and 15,933 prairie dogs—the overwhelming majority were targeted and killed by firearms.
The organization called "Wildlife Services" was also responsible for killing 624,845 red-winged blackbirds, 3,827 foxes, 1,001 bobcats, 675 river otters, 552 black bears, 427 badgers, 415 wolves, and 332 mountain lions. While the majority were killed "intentionally," the report revealed that at least 3,000 animals were killed unintentionally, showcasing legitimate flaws in the organization's methods.
While those numbers may seem outrageously high, a report from Mountain News in Lake Arrowhead, California, claimed that the figures "almost certainly underestimate the actual number of animals exterminated, as program insiders have revealed that Wildlife Services kills many more animals than it reports."
Out of the 2.3 million animals killed by Wildlife Services last year, more than 1.3 million were native species. Unfortunately, 2017 was not an unusual year, as the USDA's 2016 report showed that Wildlife Services killed 2.7 wild animals, and at least 1.6 million were native species. The slaughter was even worse in 2013 when Wildlife Services killed4 million wild animals.
Collette Adkins, a biologist and attorney for the Center for Biological Diversity (CBD), released a statement arguing that there is no evidence scientific evidence to show that the mass murder of wild animals helps anyone other than agricultural corporations.
"Despite mounting public outcry to reform these barbaric, outdated tactics, Wildlife Services continues its taxpayer-funded slaughter of America's wildlife," Adkins said. "There's simply no scientific basis for continuing to shoot, poison and strangle millions of animals every year ... Wolves, bears and other carnivores help keep the natural balance of their ecosystems. Our government kills off the predators, such as coyotes, and then kills off their prey—like prairie dogs—in an absurd, pointless cycle of violence."
An investigation conducted by the Ecological Society of America found that "many of these methods are implemented without first considering experimental evidence of their effectiveness in mitigating predation‐related threats or avoiding ecological degradation."
In response, a report from The Dodo argued that by killing so many animals, including natural predators and their prey, Wildlife Services is actually "making the conflict between wild animals and farmers even worse," and as research has shown, "killing predators to protect livestock can even backfire. For instance, for each wolf killed, the odds that other wolves will prey on nearby farm animals actually increase."
The report from Mountain News claimed that while dozens of domestic animals and livestock were also killed by Wildlife Services, employees are "instructed not to report such incidental killings because that information would have an adverse effect on the agency's ability to obtain funding."
In addition to using taxpayer funding to slaughter millions of wild animals each year, the USDA was recently caught breeding and then incinerating hundreds of kittens in a horrific experiment. Rep. Mike Bishop exposed the "secretive and problematic" program, and he released a statement calling out the USDA:
"I'm shocked and disturbed that for decades the USDA—the very organization charged with enforcing animal welfare laws—has been unnecessarily killing hundreds of kittens in expensive and inefficient lab experiments. Any government research program like this one that's been funded since the Nixon administration needs to be put under the microscope, especially when it involves using kittens as disposable test tubes in harmful tests that most taxpayers oppose."