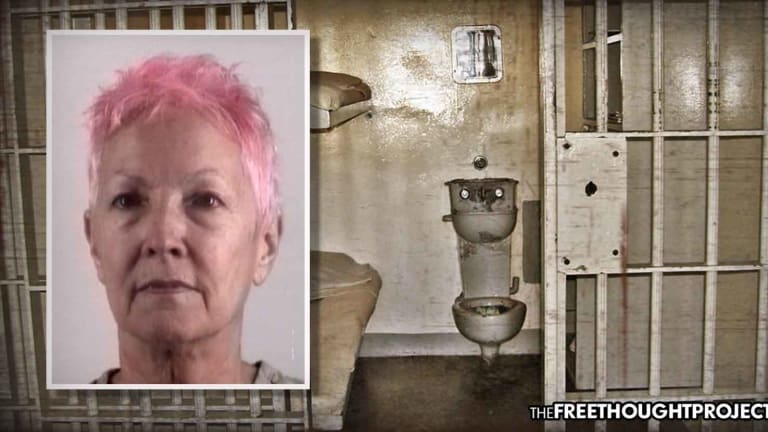 'I Slept on the Floor..Next to the Toilet': Cops Shackled Grandma in a Cage for Days for CBD Oil
I grandmother's trip home to visit family turned into a nightmare when she was kidnapped in Texas, thrown in a cage and shackled for having CBD oil.
Dallas, TX — In the land of the free, in just a month, TFTP has reported on two separate instances of grandmothers being kidnapped by police and thrown in cages for carrying entirely legal CBD oil to treat their arthritis. This is in spite of the federal Farm Bill which legalized CBD from hemp across the nation.
While the arrest we reported on earlier this week of a great-grandmother in Disney World carrying CBD was egregious enough, the story of Lena Bartula, 71, is utterly horrifying.
Bartula, an accomplished artist from Fort Worth, who now lives in Mexico, was traveling through the Dallas/Fort Worth International Airport when she was detained by police for carrying entirely legal CBD oil.
When police first approached her, Bartula was in disbelief and actually thought they were joking.
"I think I almost laughed out loud, because I thought that couldn't really be," Bartula said in a Skype interview with NBC 5 Investigates.
But joking, they were not, and her disbelief turned into a nightmarish reality when police began placing her in handcuffs.
Bartula recalls being placed in handcuffs and hauled out of the airport to the DFW Airport jail where, "I slept on the floor, my head next to the toilet." 
Even more disturbing than just caging the innocent grandmother is the fact that officers shackled her so she could not move. As NBC 5 pointed out, she said her arms and legs were shackled, and she was moved to the Tarrant County Jail in Fort Worth to spend another night behind bars, then facing a felony drug charge.
"I had no idea what would happen to me," Bartula recalled. And she's right. Women who are arrested in Texas often times end up getting horrifically treated or, like in Sandra Bland's case, dying.
As NBC DFW reports:
Attorneys for the CBD industry said federal authorities have no right to detain someone with the product. They argue that hemp-made CBD was legalized in December with the passage of the federal farm bill.

But customs officials said they were still in the process of implementing the new federal rules so, for now, products with THC are still prohibited at ports of entry, such as the one at DFW Airport.
According to the report, a year ago, arrests for CBD at the airport were "almost non-existent," Cleatus Hunt Jr., area port director for the U.S. Customs and Border Protection at DFW, told NBC 5.
"But in the last six months, the interception rate for that has skyrocketed," Hunt said.
The only thing to change in the last six months is the fact that the farm bill passed which made industrial hemp legal in all 50 states. What this looks like is police finding themselves in a target rich environment now that more people attempt to fly with this entirely legal plant oil. After all, the state stands to make a lot of money from locking grandmas up for CBD while collecting bail money and court fees during the process.
Although Bartula spent two days shackled in a cage for CBD oil, the good news is the grand jury was smart enough to make the right decision. When she went before the grand jury who saw the utter nonsense of her arrest, they declined to return an indictment.
Sadly, Bartula, who needs this CBD to improve her joint pain, will no longer fly with it out of fear that she will be kidnapped, caged, and shackled for it—again.
"I have warned everyone I know, because most people my age, with my kinds of aches and pains, do take this," said Bartula. "They rely on it."