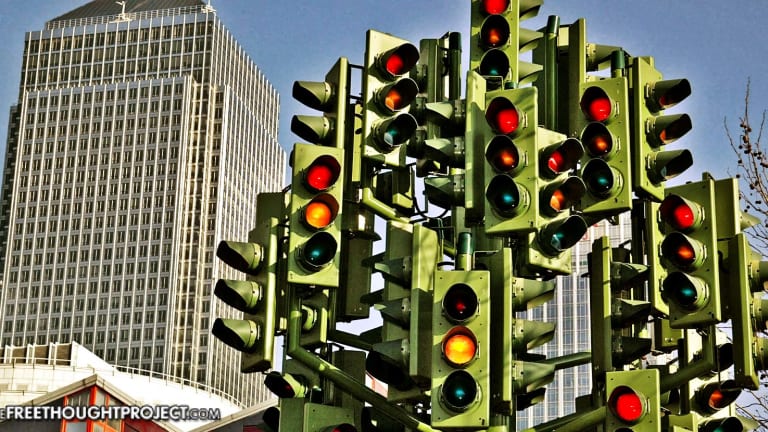 Ohio Accidentally Legalized Running Red Lights, State Doesn't Turn Into Chaos
Ohio drivers were just given the green light — to run red lights and all hell is NOT breaking loose although lawmakers and cops are frantic.
Ohio — A bill signed into law this week gives Ohio drivers the green light — to run red lights — seriously.
When a traffic light turns red, you're obligated to stop your vehicle and wait until it turns green again — unless you live in Ohio, where, this week, running red lights was legalized.
Sufficiently sloppy language in a new law intended to allow bicyclists to treat red lights as stop signs actually permits motorists — at least for the time being — to run a red light in certain situations, and not be ticketed by police.
Because bikes and other light means of transportation do not alert traffic signal weight sensors used at many lights in Ohio, lawmakers sought to permit those who would ordinarily be forced to wait indefinitely to run a red light when safe to do so — but the law accidentally also makes the same provision available for motorists.
"House Bill 154 was introduced in order for riders who believe they have been undetected by the sensors to cross an intersection at their best judgment, much like a stop sign,"RTexplains.
"What this bill was designed to do was, in that situation, is allow the bicyclist to make a decision that it's clear to proceed and go ahead and move through the red light," Ohio State Patrol Lt. Robert Sellers told Columbus NBC affiliate WCMH-TV.
Sellers advised the legal permission slip to run red lights won't be around for long — politicians are working to correct the language to specify bicycles with new legislation — so motorists, although legally allowed not to, should treat red lights as they always have.
In the interim, there is a bit of a catch — because legislators intended to compensate for broken traffic lights, motorists caught by police running a red must prove in a court of law the signal was malfunctioning.
"They've left a little wiggle room in this," attorney Steve Palmer told WCMH-TV. "You could argue that the detector wasn't working or you didn't think it was working and you could honestly believe that in good faith and comply with this law without stopping at a red light."
But drivers can still be cited — despite the lax nature of the ostensively impermanent law — particularly for gunning it through a red light, if doing so results in an accident, if the action is otherwise unsafe, or if it cannot be proven the signal was broken.
"Just because there's this law written, presumably to protect bicyclists, I don't think that gives any of us the green light, so to speak, to run the red light," Palmer continued.
While many Ohioans likely welcome the new provision, law enforcement hasn't exactly cozied to the idea due to concern for driver, cyclist, and pedestrian safety — and confusion over when to issue citations.
Columbus Police Sgt. Nick Konves warned legislators in February the law "makes enforcement and prosecution very difficult and nearly impossible,"reports the Norwalk Reflector.
Where Ohio's new law flirts with the arbitrariness of traffic regulation, some European cities have altogether done away with traffic lights, signs, lines, curbs, and rules in a radical attempt to make the streets safer for everyone and reduce the number of accidents.
And it worked.
Called 'shared space,' this open city plan would seem counterintuitive to Americans, but the fascinating concept instead fosters caution through, essentially, disorientation. Drivers, pedestrians, cyclists, buses — anyone using the undefined space has to watch for everyone else.
Rather than the pandemonium portrayed in grainy film from the early days of motor vehicles, the shared space concept forces safety and caution by default.
CNNreported years ago the "town of Drachten in the Netherlands was one of the first to experiment the concept in 2002 by removing nearly all traffic signals with the aim of reducing accidents and improving both the town's quality and popularity. Despite increases in traffic volumes, accident numbers fell from 8.3 per year between 1994 and 2002 to an average of just one per year in 2005."
In 2008, the German town of Bohmte followed suit, and — where the town had once experienced serious vehicle accidents weekly — in the first four weeks, not a single crash was recorded. In Bohmte, the Daily Mailreported at the time,
"Only two rules remain — drivers cannot go above 30 mph, the German speed limit for city driving, and everyone has to yield to the right, regardless of whether it is a car, a bike or a mother with a pushchair."
Perhaps Ohio — rather than appending its red light law — should instead consider relegating its traffic lights to the dust bin.