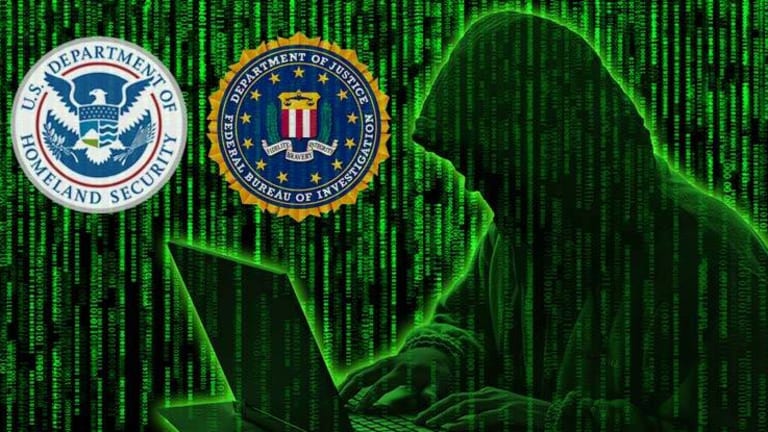 Hackers Expose Govt Incompetence Again By Releasing Personal Info on 29,000 FBI and DHS Agents
And these people demand access to our personal data.
While many Americans were blissfully distracted by Super Bowl Sunday, a self-proclaimed group of hackers with the Twitter handle @DotGovs released the personal info of 9,000 Department of Homeland Security (DHS) employees. After hacking a Justice Department computer, the hackers also exposed the identities of 20,000 FBI agents on Monday in a continuous series of methodical cyber attacks against the federal government.
Shortly before the big game on Sunday, Motherboard ran an article regarding a hacker from @DotGovs vowing to release the personal data of nearly 30,000 federal employees associated with DHS and the FBI. According to the hacker, he surreptitiously gained access to the email account of a DOJ employee before utilizing social engineering to override the person's work computer by calling the proper department and falsely asserting to be a new employee. Out of the 1TB of files that the hacker had access to, he claimed to have downloaded approximately 200GB of data from the Justice Department without their knowledge.
Staying true to their promise, @DotGovs exposed the identities, job titles, emails, and phone numbers of 9,000 DHS employees on Sunday during the Super Bowl. Less than 24 hours later, the hackers released the personal info of 20,000 FBI agents., including a task force deputy director, security specialist, special agent, and roughly 1,000 FBI intelligence analysts. After contacting random phone numbers on both lists, The Free Thought Project found that although some lines were either disconnected or wrong numbers, most of the calls connected to the correct names on the hacked lists.
On January 30, @DotGovs
Change your thoughts, and you change the world.
— penis (@DotGovs) January 30, 2016
">tweeted, "Change your thoughts, and change the world."

According to @DotGovs, the Justice Department finally realized their computer had been breached one week after the initial hack. Releasing the personal info of 9,000 DHS employees, @DotGovs pledged their support for the liberation of Palestine and incarcerated hacker Jeremy Hammond.
As a member of Anonymous, Hammond hacked into Strategic Forecasting, Inc. (Stratfor) in December 2011 at the behest of an undercover FBI informant named Hector Monsegur. As a private intelligence firm that claims to provide governments and corporations with geopolitical analysis, Stratfor's hacked emails revealed the company had profited from insider trading with Goldman Sachs, conducted surveillance on victims of the 1984 Bhopal disaster for Dow Chemical, and spied on members of PETA for The Coca-Cola Company.
On November 15, 2013, Hammond was sentenced to ten years in federal prison for conducting the Stratfor hack. Although the judge presiding over Hammond's trial, Loretta Preska, is married to one of Hammond's victims, she did not bother to recuse herself from the case. After demanding Hammond's release from prison, @DotGovs released the identities of 20,000 FBI agents along with the hashtag: #FreePalestine.
Back in October, another group of pro-Palestine hackers called Crackas With Attitude (CWA) broke into the Comcast account of the U.S. Secretary of Homeland Security and the CIA Director's private email account. Before Twitter disabled their profile, @phphax claimed responsibility for breaking into Homeland Security Secretary Jeh Johnson's Comcast account and CIA Director John Brennan's AOL account. While CWA repeatedly taunted the CIA Director, WikiLeaks published Brennan's emails, which contained the personal information and Social Security numbers of over a dozen top U.S. intelligence officials as well as Brennan's own personal info, including his home address, date of birth, phone numbers, etc.
Last month, CWA reportedly gained access to Director of National Intelligence James Clapper's Verizon FiOS account and his wife's Yahoo email. After changing Clapper's settings, CWA had all of his calls forwarded to the Free Palestine Movement. Less than a week later, the same thing happened to John Holdren, Director of the White House Office of Science and Technology Policy. By targeting the science and technology advisor's wife, the hackers also gained access to Holdren's Comcast Xfinity account.
Government data breaches are quickly becoming the norm, and frighteningly so after they've granted themselves access to all of our data. In June, 2015, 21.5 million Americans who've worked for the government had their social security numbers, and bank account data stolen in a hack. In September, it was announced that the Office of Personnel Management was hacked, releasing fingerprint images of 5.6 million government employees who hold security clearances. In October, the head of the CIA, John Brennan, had his email account hacked by a teenager!
With a track record like theirs, it is an act of sheer insanity when the government says it needs access to all your private data and "promises" to keep it safe.
Although the Justice Department refused to file charges against the CIA for hacking into computers belonging to the Senate Intelligence Committee during their review of the Agency's rendition and torture programs, the DOJ continues to investigate Hillary Clinton's emails due to the fact that the former Secretary of State conducted classified work on a private server. After losing his job, Brennan's predecessor, former CIA Director Gen. David Petraeus, pleaded guilty in federal court to unauthorized removal and retention of classified information for giving his mistress access to his work email. With so many top U.S. intelligence officials unable to maintain basic security over sensitive data, hackers continue to successfully point out that the wrong people have been leading this country for far too long.
Andrew Emett is a Los Angeles-based reporter exposing political and corporate corruption. His interests include national security, corporate abuse, and holding government officials accountable. Andrew's work has appeared on Raw Story, Alternet, Activist Post, and many other sites. You can follow him on Twitter @AndrewEmett and on Facebook at Andrew Emett.