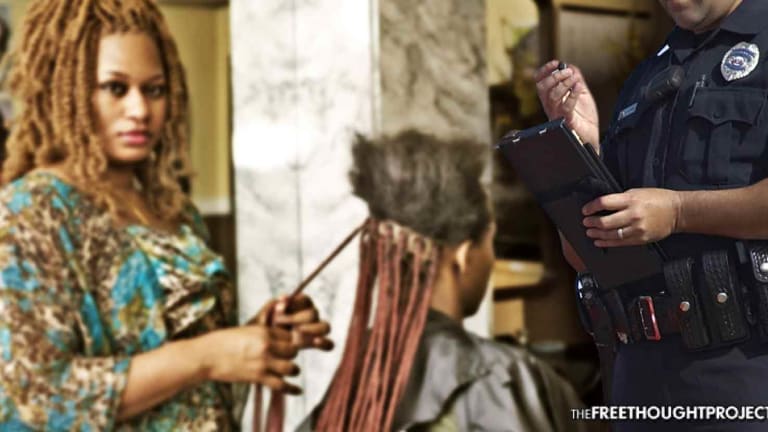 Women Fined $100,000, Face Potential Jail Time, Just for Braiding Hair
The state of Tennessee has recently begun cracking down on residents who would dare braid someone's hair without first paying the government for the privilege of doing so.
In the state of Tennessee, braiding hair without first paying thousands of dollars and attending hundreds of hours of courses can and will get you hit with thousands of dollars in fines. If you do not pay these fines, rest assured that you can and will be thrown in jail. What's more, as the case below illustrates, even if you have a license, you are still not immune from the fines.
Fatou Diouf has been braiding hair for her entire life. She became so good at it that she jumped through all the legal hoops, sat through hundreds of hours of needless classes, and paid thousands of dollars so she could finally turn this passion into a career.
"I never did any other job but hair braiding my whole life," Diouf told the Institute for Justice. "I cannot recall a time when I did not know how."
However, because the state is dependent on revenue it generates from citizens—via taxation or extortion—the Tennessee government has begun cracking down on hair braiders.
As the IJ reports, in recent years, Tennessee has forced Fatou to pay a staggering $16,000 in fines, simply because she employed workers who did not have a government license to braid hair. Nor is she alone. After examining meeting minutes and disciplinary actions for the Tennessee Board of Cosmetology and Barber Examiners, the Institute for Justice has identified nearly $100,000 in fines levied against dozens of braiders and more than 30 different natural hair shops and salons since 2009.
All of those violations were for unlicensed braiding; none were triggered by any health or sanitation violation.
Normally, the state would only target unlicensed braiders who dared to make a living out of their homes without first paying the government for permission. However, they are now targetting folks like Fatou who allow braiders to work in their establishments without first paying the government.
It's not as easy as simply paying the government for the privilege of braiding hair either. In order not to be fined thousands of dollars by the state for braiding hair, you must attend and complete a course that is at least 300 hours long and costs anywhere between $1,500 and $5,000 for tuition.
With her years of experience, completing the classes required for a state license was "mostly a waste of my time," Fatou recalled, according to the IJ. "We don't need 300 hours to know how to wash a clip or a comb."
To illustrate the ridiculous nature of such a course to braid hair, consider the fact that, in some instances, less training is required to be a police officer in the state as they only need 500 hours while some of the cosmetology courses are upwards of 1,000 hours.
The extortion has become such a problem that even some lawmakers are speaking out and proposing legislation to end it. "By deregulating natural hair training people could open up their own business without a natural hairstyle license," Rep. Antonio Parkinson of Memphis said of TN House Bill 1809, proposed by The Department of Commerce and Insurance that deregulates the natural hair industry.
As the IJ reports:
Even more ironically, some of the bill's loudest opponents have actually come from licensed natural hair stylists, who claim the license is necessary to protect the public.

Yet according to testimony by McCormack, there have been only two health and safety complaints against natural hair stylists since 2010. In fact, the Department has "opened more than 200 administrative complaints for unlicensed activity where we have seen no sanitation violations," he said. "That's actually more than we have licensees currently with the Department."

Those findings are further borne out by a 2016 report from the Institute for Justice, which analyzed complaints filed against braiders in states that have a separate license for natural hair care. "Across seven years and 10 jurisdictions, just nine complaints with health and safety issues were received for unlicensed braiders," the report concluded. "Further, none of the complaints alleging consumer harm were verified by licensing boards."
Indeed, the entire premise of extorting people over hair braiding has nothing to do with actual safety and everything to do with generating revenue.