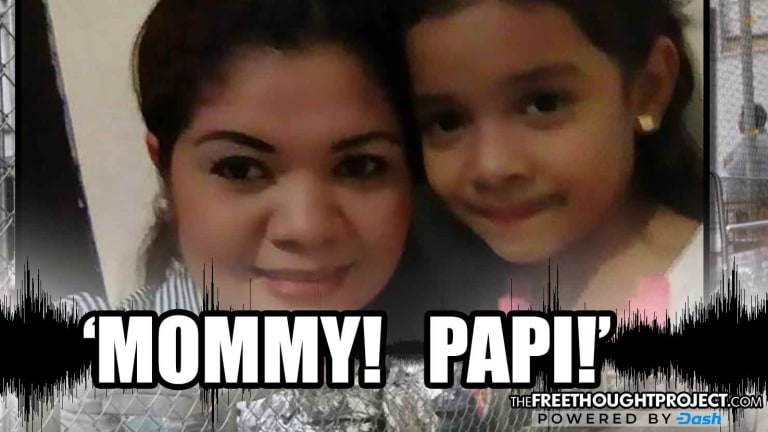 Heartbreaking Leaked Audio Catches Border Agent Joke as Migrant Children Cry for Their Parents
At least 10,773 undocumented children are held in detention centers in the United States, up from 8,886 just one month ago.
According to figures recently released by the United States Health and Human Services Department, the U.S. government is currently imprisoning at least 10,773 undocumented children without their parents in 100 different shelters spread across 40 states. This number is up 21 percent from 8,886 in just a month's time—showing that ICE and other government agencies have been ramping up their detainment of migrant children.
This recent wave of detainments has come in the aftermath of a push by the Trump administration to separate families at the border, but it is unclear how many of these 10,773 children crossed the border unattended and how many were separated from their parents.
However, according to a report from Business Insider, a Customs and Border Protection official told lawmakers at a hearing last week that 658 children had been separated from 638 adults between May 6 and May 19 under the "zero-tolerance" policy.
The conditions inside many of the facilities where these children are being held are being compared to the concentration camps that imprisoned innocent Japanese immigrants during World War II.
On Monday, ProPublica released an audio recording that was taken inside a U.S. Customs and Border Protection facility that appears to substantiate these fears. It is nothing short of heart-breaking.
The clip recorded two girls who had just been separated from their parents. They are scared to death and wailing as the border agent jokes, "We have an orchestra here."
As ProPublica reports, the desperate sobbing of 10 Central American children, separated from their parents one day last week by immigration authorities at the border, makes for excruciating listening. Many of them sound like they're crying so hard, they can barely breathe. They scream "Mami" and "Papá" over and over again, as if those are the only words they know.
This week, CNN reported on one detention center in McAllen, Texas, where children were held behind chain-link fences in a warehouse setting.
Democratic Sen. Jeff Merkley of Oregon, who visited the facility earlier this month described the scene, saying that, "We did see the children who were held inside here. In wire-mesh, chain linked cages that are about 30x30, a lot of young folks put into them. I must say though, far fewer than I was here two weeks ago. I was told that buses full (of children) were taken away before I arrived. That was one of my concerns, that essentially when you have to give lengthy notice, you end up a little bit of a show rather than seeing what's really going on in these centers."
Even First Lady Melania Trump has expressed regret over her husband's zero-tolerance policy.
"Mrs. Trump hates to see children separated from their families and hopes both sides of the aisle can finally come together to achieve successful immigration reform. She believes we need to be a country that follows all laws, but also a country that governs with heart," the first lady's spokeswoman Stephanie Grisham said in a statement.
Laura Bush, another unlikely critic, also spoke out against the zero-tolerance policy, writing in an op-ed article that, "These images are eerily reminiscent of the Japanese-American internment camps of World War II, now considered to have been one of the most shameful episodes in U.S. history. We also know that this treatment inflicts trauma; interned Japanese have been two times as likely to suffer cardiovascular disease or die prematurely than those who were not interned."
Former CIA Director Michael Hayden weighed in on Twitter, posting an image of a Nazi concentration camp while referencing the zero-tolerance policy.

"I was trying to point out we need be careful not to move in that direction," Hayden later told CNN.
While this is a policy that Trump is taking to horrific extremes, it is important to point out that families were separated under the Obama administration as well. In fact, the Obama administration deported more people than any other president in the past century. Although, it is likely that Trump will break Obama's record, considering his tough talk on the matter.
The arguments against an open immigration policy ignore this very real human cost, while instead focusing on imaginary scenarios—many of which have been proven to be false. For example, a series of studies have indicated that immigration does not increase crime and that immigrants are actually far less likely to commit violent crimes than native-born citizens. Another study revealed that increased levels of immigration do not increase terrorism. Meanwhile, it has been found that you are at least eight times more likely to be killed by a police officer than a terrorist.
There are also plenty of faulty economic arguments leveled against an open immigration policy, for those who are willing to trade another person's life for a few extra dollars on their balance sheet. However, these claims have been shown to be baseless as well, since various studies have indicated that immigration actually drives economic growth and that undocumented residents pay billions in taxes.