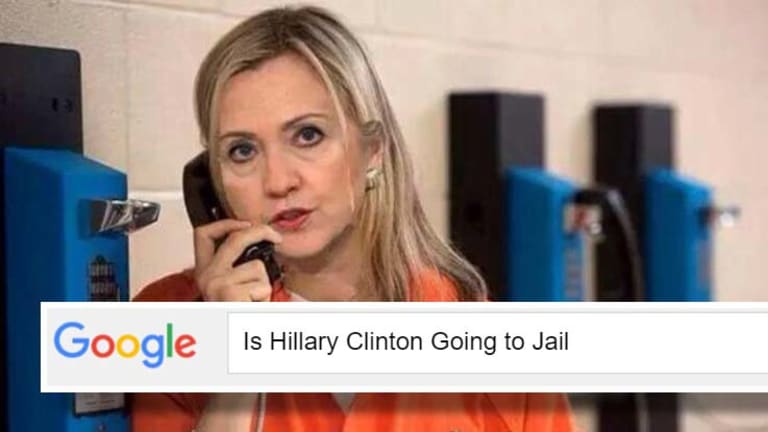 Top Google Search for Hillary Clinton -- Is Hillary Clinton Going to Jail?
Judging by the top trending Google searches about Hillary Clinton, it seems that people have one thing they want to know. Is Hillary Clinton Going to Jail?
Washington, D.C. - Judging by the top trending Google searches about presidential candidate Hillary Clinton, it seems that people have one thing they want to know:
Is Hillary Clinton going to jail?
Out of all the searches regarding the former Secretary of State, the most popular query was whether she would be imprisoned. These queries undoubtedly stem from the numerous violation of law surrounding her use of a private email server, as well the possibility of using her position in public office for personal gain via the Clinton Foundation.
Google has been the target of criticism by some that claim that the company hides negative search results regarding Clinton -- with their autocorrect feature being accused of neglecting information relating to crimes committed by Hillary Clinton. Aside from the email/data security crimes committed by Clinton, while trying to subvert the Freedom of Information Act (FOIA), the Clinton Foundation has taken hundreds of millions of dollars from foreign nations in exchange for political favors and/or lucrative business deals while Clinton was Secretary of State. Many perceive these donations as a violation of US Law 2635.702 - Use of a Public Office for Personnel Gain.

Many feel that the fix is already in as they believe that Clinton is being protected from indictment by Obama and his Attorney General, Loretta Lynch, who was appointed to the post of U.S. attorney for New York's Eastern District by President Bill Clinton in 1999.
The idea that corporate media, government, and large technology companies collaborate to create a false sense of reality in an effort to drive a specific elite chosen narrative has been the stuff of conspiracy legend for years. However, thanks to the Hillary Clinton's use of a private email server, the Freedom of Information Act, and WikiLeaks, the inner workings of how empire operates have been clearly put on display for the world to see.
In March, the Free Thought Project reported on the explosive emails revealing how the U.S. State Department and Google worked in concert to topple the government of elected Syrian President Bashar al-Assad in an attempt at forwarding U.S. geopolitical strategy.
Prior to that report, we revealed Clinton's cozy relationship with Google and YouTube after an email chain exposed the internet giant bowing down to Clinton's demand for censorship.
In another bombshell revelation, WikiLeaks founder Julian Assange has backed up Clinton and Google's relationship, claiming they are working together to promote the Democratic presidential candidate.
Shortly after the WikiLeaks revelation, the group SourceFed actually found evidence that Google may be manipulating autocomplete recommendations in favor of Hillary Clinton.
American citizens should demand that President Obama and Attorney General Loretta Lynch stop protecting Clinton from being indicted. The reality is that any other public servant that handled classified materials in the same manner as Clinton would have already been indicted.
Can a system truly be thought of as just or having legitimacy when the elite and politically connected are consistently considered to be above the law?