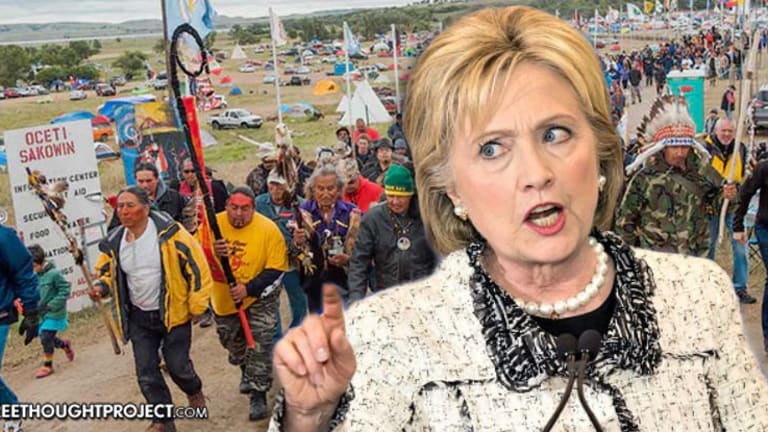 Hillary Turns Her Back on Standing Rock Sioux: 'Path Forward Must Serve Broadest Public Interest'
Hillary Clinton's campaign has finally released a statement about the No DAPL protests.
Brooklyn, NY – With tensions escalating rapidly after the militarized police action at the Standing Rock Sioux "Treaty Camp," which included the use of armored police tanks, attack dogs, batons, rubber bullets, high-velocity bean bags, tear gas and LRAD sound weapons, and that saw the arrest of over 100 water protectors, the Clinton campaign, after months of silence, could no longer sit quietly on the sidelines and released a statement about the Dakota Access Pipeline (DAPL) one day after the violent assault.
The statement from the Clinton campaign director of coalitions press, Xochitl Hinojosa, who oversees Hispanic, black, and women's media for the Clinton campaign, reads in full:
We received a letter today from representatives of the tribes protesting the construction of the Dakota Access Pipeline. From the beginning of this campaign, Secretary Clinton has been clear that she thinks all voices should be heard and all views considered in federal infrastructure projects. Now, all of the parties involved—including the federal government, the pipeline company and contractors, the state of North Dakota, and the tribes—need to find a path forward that serves the broadest public interest. As that happens, it's important that on the ground in North Dakota, everyone respects demonstrators' rights to protest peacefully, and workers' rights to do their jobs safely.
On the same day the militarized action in North Dakota took place, Native youth from the Standing Rock Sioux and other tribes -- tired of the damning silence from Hillary Clinton -- demonstrated outside of Clinton campaign headquarters in Brooklyn, New York.
A number of brave Lakota youth and their Lenape relatives erected a teepee and prayed in the lobby of Clinton's Brooklyn office as a militarized police force evicted water protectors from their traditional Treaty Lands in North Dakota. They were there to deliver a letter to Clinton about the pipeline.
A 14 –year-old girl from Standing Rock attempted to deliver a letter to Hillary Clinton's Brooklyn campaign HQ to ask her to take a stand on the Dakota Access Pipeline. The youth stood at the front desk in tears asking for someone to please come down to accept the letter. The guards completely ignored the young girl, and the Clinton campaign refused to show enough respect to send a campaign staffer to cordially accept the letter.
Just after this dozens of police arrived and ordered us to disperse or we would be arrested.
"What a crock," said Ruth Hopkins, a Dakota-Lakota Sioux writer for Indian Country Today Media Network.
"Hillary Clinton managed to make a statement about the Dakota Pipeline that literally says nothing. Literally," 350.org co-founder Bill McKibben tweeted in response to the Clinton campaign statement.
"Kind of a BS statement by the Clinton camp on #NoDAPL, frankly," wrote MSNBC host Joy Reid. "The outrage taking place out there cries out for outrage."
Or as Fairness & Accuracy in Reporting journalist Adam Johnson put it, this "is the most Clinton thing of all times."
This curiously appears to be another case of Clinton having a "public and private position," as revealed in her leaked speeches to Wall St. banks, the primary drivers behind the Dakota Access Pipeline. The fact is that Clinton has completely turned her back on the Standing Rock Sioux. Her statement was essentially a non-statement, which speaks volumes as to who she is truly beholden too… and it isn't the American public. The words "find a path forward that serves the broadest public interest" can be directly translated into "this pipeline is good for Merica, and we don't care about Native issues... but we'll pretend we do until I'm elected."
Please share this story if you believe Clinton's statement is a blatant disrespect to all Native peoples!