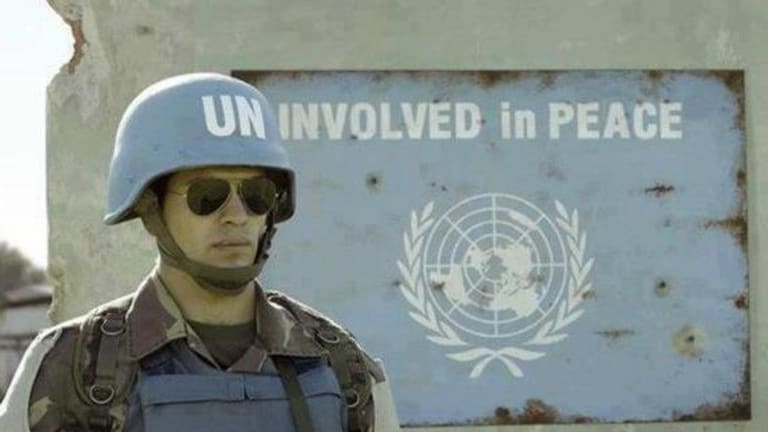 Why is the UN Hiring Disarmament, Demobilization and Reintegration Specialists in New York?
United Nations Seeks US-based Disarmament, Demobilization and Reintegration Specialists
Mac Slavo
June 25, 2014
It's no secret that the United Nations, with assistance from members of the Executive and Legislative branches in the United States, has been actively working to reduce Americans' accessibility to firearms. In 2012 President Obama, along with then Secretary of State Hillary Clinton, spearheaded a backdoor move that would have imposed gun control on the United States through foreign means by signing a global disarmament initiative known as the Small Arms Treaty. Though that attempt failed, mass shooting incidents at Sandy Hook and elsewhere have kept the pressure on gun owners with the President having made repeated suggestions that he would mandate gun restrictions through Executive Order should state and federal legislatures fail to act.
Given the rocky history between America's gun owners and the United Nations, chances are that the push for disarmament will continue with more ferver than ever before. In fact, a recent job posting at the United Nations website suggests that the organization is not only working to get guns out of the hands of American citizens, they are actively preparing personnel to assist in what they call "disarmament, demobilization and reintegration" activities. And if that's not bad enough, the duty station for this key U.N. Peacekeeping Operations department is New York city, suggesting that the organization believes such operations may be commencing in the United States at some point in the future.
If you'd like to join them in their efforts to confiscate firearms then you can apply directly at the United Nations Career Opportunities page:
Posting Title: Disarmament, Demobilization and Reintegration Officer, P4

Job Code Title: DISARMAMENT, DEMOBILIZATION AND REINTEGRATION OFFICER

Department/ Office: Department of Peacekeeping Operations

Duty Station: NEW YORK

Work Experience: A minimum of seven years of progressively responsible experience in disarmament, demobilisation and reintegration or related area. Experience working within peacekeeping, peace-building or development programmes operations is desirable. Experience with small arms control, conflict/post-conflict crisis management, economic recovery is desirable. Experience coordinating multiple partner agencies, funds or programmes is desirable.

Languages: English and French are the working languages of the United Nations Secretariat. For the post advertised, fluency in English is required.
According to the United Nations information page on 'DDR' operations, the New York post will involve various aspects related to the process by which a governing organization would confiscate firearms, all of which target what the U.N. calls "small arms."
Disarmament is the collection, documentation, control and disposal of small arms, ammunition, explosives and light and heavy weapons from combatants and often from the civilian population.

Demobilization is the formal and controlled discharge of active combatants from armed forces and groups, including a phase of "reinsertion" which provides short-term assistance to ex-combatants.

Reintegration is the process by which ex-combatants acquire civilian status and gain sustainable employment and income. It is a political, social and economic process with an open time-frame, primarily taking place in communities at the local level.

The objective of the DDR process is to contribute to security and stability in post-conflict environments so that recovery and development can begin. DDR helps create an enabling environment for political and peace processes by dealing with security problem that arises when ex-combatants are trying to adjust to normal life, during the vital transition period from conflict to peace and development.
Ambassador Faith Whittlesey, a U.S. delegate to the UN Small Arms Conference, warned in 2012 that the organization's intention is to eventually disarm all Americansin the name of peace.
"In New York, right here on our own shores, we've got a Trojan horse. They won't accept U.S. firearms policy. They want to take the decision away from the U.S. electorate and undermine our Constitution."
It would seem that the heavy militarization of domestic law enforcement agencies coupled with 'Doomsday' legislative actions and Executive Orders designed to seize Americans' resources and firearms in the event of a declared emergency may be synchronized with the involvement of foreign troops and officials.