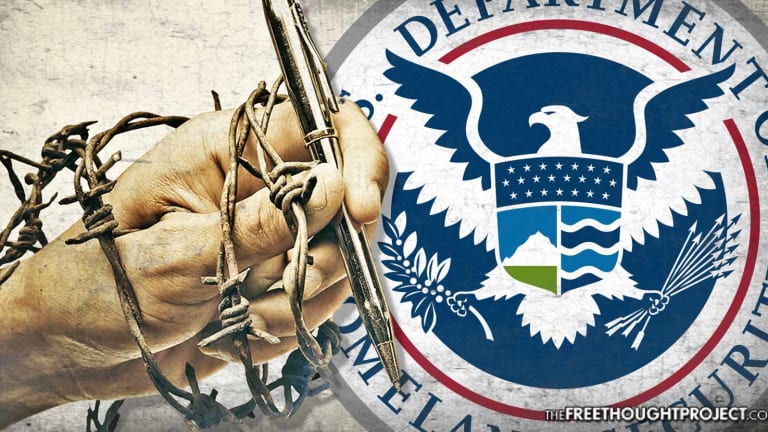 Dept. Of Homeland Security Now Tracking Journalists, Creating Database of 'Media Influencers'
The Department of Homeland Security is now in the Media surveillance business in which it will monitor activities of media professionals and influencers and track them in a database.
(RT) The US Department of Homeland Security is looking to build a media monitoring database. When some reporters objected, a DHS spokesman dismissed their concerns as fodder for "black helicopter conspiracy theorists."
Service providers who want to bid for the program have until April 13 to submit a capabilities statement, according to the notice posted on the federal contractor website by the National Protection and Programs Directorate (NPPD), a division of DHS charged with protecting the "physical and cyber infrastructure."
This has led Michelle Fabio of Forbes to wonder if the DHS is trying to use the cries of "Russian meddling" to justify creating a database of journalists and social media influencers. When the Committee to Protect Journalists retweeted Fabio's article, DHS spokesman Tyler Houlton chimed in to say the database is "nothing more than the standard practice of monitoring current events in the media."
"Any suggestion otherwise is fit for tin foil hat wearing, black helicopter conspiracy theorists," he added.
Houlton adopted a similar tone in responding to an inquiry from Alex Kasprak of the fact-checking site Snopes. "You are embarrassing yourself with these questions and wild conspiracy theories," he wrote.

With Houlton being less than helpful, perhaps the Statement of Work attached to the bid request could shed some light on what the DHS is actually looking to build. According to the six-page document, the contractor shall "provide media comparison tools, design and rebranding tools, communication tools, and the ability to identify top media influencers."
There are six tasks being required of the contractors, starting with the ability to track more than 290,000 global news sources in over 100 languages, "including Arabic, Chinese and Russian," and the ability to instantly translate the articles to English.
The next step would be a password-protected online platform enabling the DHS to access search results on "online articles and social media conversations," an interactive dashboard providing "real-time monitoring, analysis, and benchmark of media coverage" and the ability to analyze the coverage in terms of content, volume, sentiment, geographical spread, influencers, language and momentum, among other things.
All this should be available in an encrypted mobile app, with enabled email alerts and customer service support.
Most interestingly, listed under "Media engagement" is the ability to access "contact details and any other information that could be relevant," for any influencer in the database, including the publications the influencer writes for, and an overview of the influencer's previous coverage. This database would have to be searchable, including in languages such as Arabic, Chinese and Russian.
Oh, and any staff working on the contract would have to have appropriate security clearances, ranging from Secret all the way to Top Secret with SCI (Sensitive Compartmented Information).
The DHS spokesman's snark has certainly raised some eyebrows, as official denials in Washington are never quite so forceful. One is reminded of how former Director of National Intelligence James Clapper told Congress the NSA does not "wittingly" spy on Americans. Unfortunately for Clapper, just a few months later whistleblower Edward Snowden showed the entire world that the NSA was doing just that.
Like this story? Share it with a friend!