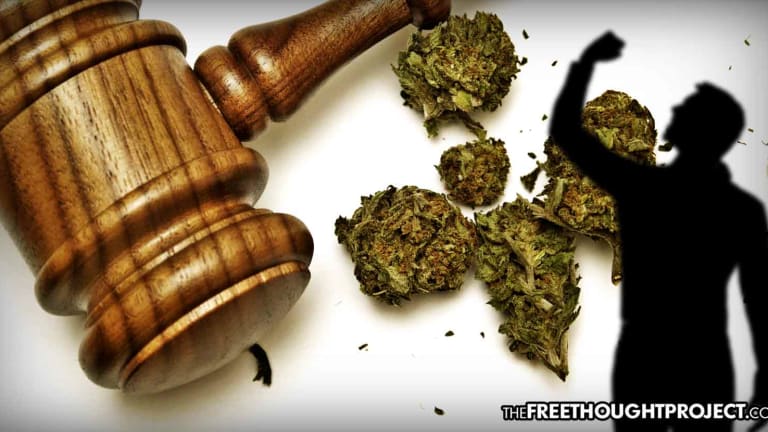 In a Historical Move, As Illinois Legalizes Weed, They're Erasing 800,000 Marijuana Convictions
In one of the most sweeping criminal justice reforms to date, the state of Illinois will wipe the records of nearly 800,000 people whose lives were ruined by the war on marijuana.
Illinois — Starting with Colorado and Washington in 2012, the government's immoral, violent, and destructive war on marijuana began to come to a grinding halt. Although measures for medical marijuana were enacted long before this, complete legalization paved the way for a revolution.
Sadly, however, despite this revolution, millions of people whose lives were ruined from weed arrests, were still carrying around these convictions on their permanent records, drastically stifling their career and home buying opportunities. Once those within the system began to realize this, measures were taken to help these folks clean up their records. However, this was a slow and grueling process—until now.
On June 25, 2019, Gov. J.B. Pritzker signed HB 1438 into law which ends cannabis prohibition and replaces it with a system to tax and regulate cannabis for adults 21 and over. But the bill didn't stop there, it also includes an automatic expungement process for those whose lives have been ruined by the state who kidnapped and caged them for possessing marijuana.
Unlike the previous measures in other states, which fell short by requiring people with marijuana convictions to file forms and requests within arduous bureaucratic restraints, HB 1438 is automatic. Now, people arrested for possessing this plant in small amounts won't have to do anything to have it wiped from their records.
As the Marijuana Policy Project reports:
HB 1438 will usher in one of the most sweeping criminal justice reforms so far in the cannabis movement.

The governor's clemency process will be used for convictions of up to 30 grams. These expungements will be automatic.
For amounts of 30-500 grams, the clemency process also applies, however the individual must petition the court to vacate the conviction.

In all, around 770,000 cannabis-related records will be eligible for expungement.
While the bill does require people who have been arrested with larger amounts to file a petition, no other bills go as far as HB 1438 to undo the damage caused by the prohibition of marijuana.
According to the bill, it also creates a social equity program to help those whose lives and communities have been ruined by the war on marijuana.
The program provides benefits directly to those who have suffered because of the war on cannabis. Not only does HB 1438 remove convictions through expungement, it specifically provides additional points for business applicants, access to financial resources for start-up costs, and resources to communities that were hardest hit from the war on cannabis.

How it works:

A "social equity applicant" is a business whose ownership or staff have been directly impacted by the war on cannabis. These are people who have either been arrested or convicted of a cannabis-related offense, or a person with strong ties to a community that has been disproportionately impacted by both poverty and cannabis drug law enforcement. Such a business must be owned by 51% or more of those who qualify, or for businesses with 10 or more staff, 51% of the workers must qualify.
For those in Illinois who've been kidnapped and caged for marijuana, this is a light in their darkness. This move by Illinois will undoubtedly free up resources in law enforcement so they can concentrate on actual crime. It will also bolster the state's bottom line in the form of marijuana taxation. What's more, it will save the state billions in processing or otherwise locking people up who've been arrested for weed.
This measure could also have a positive effect on the rampant criminal activity within Chicago. As The Free Thought Project has reported, enforcing strict cannabis laws has only increased the police state, ruined the lives of nonviolent offenders who are found possessing a plant, and enabled a failed "War on Drugs" under the guise of keeping Americans safe, when in reality, legalizing cannabis has been proven to reduce crime.
As more and more states legalize, those states who continue to enforce this draconian policy and lock people up for possessing a plant will find themselves not only on the wrong side of history, but left in the dust when it comes to innovation, reduced crime, and medical advancements.