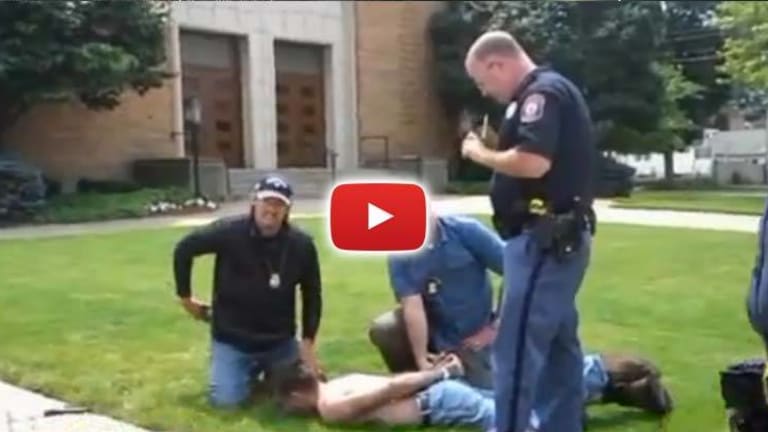 Cops Mistake Innocent College Student for Suspect, Beat Him Unconscious -- Confiscated Videos
An innocent college student is suing the cops for beating him unconscious and unlawfully ordering several witnesses to delete the footage.
Grand Rapids, MI – In a case of mistaken identity, an undercover cop and an FBI agent beat an innocent college student unconscious because he matched a vague description of a different suspect. After a jury acquitted him of felony charges, the young man recently filed a lawsuit against the officers for using unreasonable force and ordering witnesses to delete footage taken of the incident.
On July 18, 2014, Grand Valley State University student James King was walking to his job when FBI Special Agent Douglas Brownback and Grand Rapids Police Detective Todd Allen approached him asking for identification. After King told them that he didn't have his ID with him, the undercover cops ordered him to lean against an unmarked SUV with his hands behind his head. As King complied and Brownback took his wallet, King reportedly asked them, "Are you mugging me?"
When the unshaven, plainclothes cops refused to reply or identify themselves as law enforcement officers, King fled in fear for his life. According to King's lawsuit, the then-21-year-old student managed to run three steps before the undercover cops tackled him to the ground. Before being choked unconscious, King screamed for witnesses to call the police.
While later testifying under oath, Allen recalled beating King in the head and face "as hard as I could, as fast as I could, and as many times as I could."
After regaining consciousness, King once again shouted for help and bit Allen's arm "in a panicked attempt to save his own life." As uniformed officers arrived on the scene and asked King if he had any weapons, the assaulted student answered, "No, sir. I thought they were trying to mug me."
When King asked "please guys, is he a real police?" an officer refused to respond and ordered him to stay on the ground while waiting for an ambulance.
Although witnesses recorded the brutal beating on their cell phones, Grand Rapids Police Officer Connie Morris immediately ordered several of the bystanders to delete their videos without the legal authority to do so.
"We got undercover officers there... Delete it, delete it. It's for the safety of the officers," Morris can be heard saying in audio recorded through police car dash cam video obtained by FOX17. According to a ruling from the United States Court of Appeals for the First Circuit, citizens have a constitutional right to record video and audio of officials in a public space. By ordering at least two people to delete their footage, Morris participated in the destruction of evidence without a lawful order.
"They were out of control, pounding him," one bystander can be heard saying in the only video that still exists. "They were pounding his head for no reason. They were being brutal... We thought they were going to kill him."
Initially taken to a hospital for his injuries, King was later arrested and transported to jail. Despite the fact that King was not the suspect that the undercover cops were looking for, King was charged with three felonies: assaulting, resisting, and obstructing an officer causing injury; felonious assault; and assaulting, resisting, and obstructing an officer. Following an eight-month trial, a jury acquitted King of all counts in February 2015.
Equipped with a seven-year-old driver's license photo and a Facebook photo in which the suspect's face was not visible, the undercover cops working within a joint fugitive task force between the FBI and Grand Rapids were looking for a fugitive named Aaron Davison. Wanted for home invasion, Davison is five years older than King and his vague police description referred to him as a 26-year-old white male between 5 feet 10 and 6 feet 3 inches tall. Mistaking King for Davison, the undercover cops beat him unconscious simply for not presenting his identification while failing to identify themselves.
If he had been found guilty for the three felonies, King could have faced up to ten years in prison. Due to his mounting legal expenses, King dropped out of his computer science program and is currently working to become an electrician. After his family spent their life savings on his criminal case, King filed a lawsuit this week accusing Brownback, Allen, and Morris of violating his Fourth and Fourteenth Amendment rights.
The FBI and Grand Rapids Police Department have refused to comment on the incident or the pending lawsuit.

[author title="" image="https://"]Andrew Emett is a Los Angeles-based reporter exposing political and corporate corruption. His interests include national security, corporate abuse, and holding government officials accountable. Andrew's work has appeared on Raw Story, Alternet, Activist Post, and many other sites. You can follow him on Twitter @AndrewEmett and on Facebook at Andrew Emett.[/author]