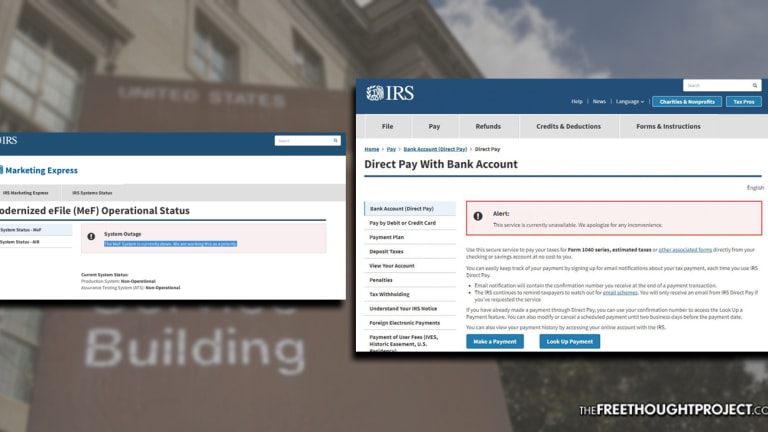 IRS E-File and Payment Systems Crash Hours Before Tax Day Deadline
With less than 12 hours to go until the Tax Day deadline, The IRS's E-Filing system and "Direct Pay" systems are unavailable.
(ZH) Update: While The IRS still expects Americans to pay their taxes, U.S. Treasury Secretary Steve Mnuchin says extensions will be granted to those impacted when the site is up again.
However, Mnuchin who oversees the IRS, said that they expect the direct pay system to go up shortly.
"We'll make sure taxpayers have extensions once the system comes up to make sure they can use it and it in no way impacts people paying their taxes," he told reporters in New Hampshire.

"It was just a technical issue we're working through. A high volume technical issue that impacted the system."
It's still unclear when and why the failure occurred. But it appears, based on a message on the site, that the online payment system became unavailable at 2:50 A.M. ET that morning.
* * *
As we deatiled earlier, while for some, today's Twitter outage is a big deal; a potentially far more problematic outage is hitting the Internal Revenue Service's page for paying your tax bill...
With less than 12 hours to go until the Tax Day deadline, The IRS's "Direct Pay" page - which allows filers to draft funds from their checking or savings account to pay the taxman what they owe - is unavailable...
Perhaps even more ironic, the New York State Tax Department announced on its Twitter page that its Personal Income Tax Extension web app is experiencing system problems.
How long before the blame for this utter debacle is pinned on Putin?
Interestingly, we found this report from The Treasury Inspector General For The Tax Administration that claims - The Internal Revenue Service Does Not Have a Cloud Strategy and Did Not Adhere to Federal Policy When Deploying a Cloud Service...
IRS Cloud by Zerohedge on Scribd
And this popped up...
FedRAMP granted Amazon Web Services GovCloud (US) a Provisional Authorization to Operate in May 2016. However, if an agency chooses to use the Amazon Web Services GovCloud (US), it must create its own Authority to Operate letter to show that it is accepting the security risk associated with the cloud service. The FedRAMP program cannot make decisions for the IRS or accept risk on its behalf. Additionally, agencies are directed to provide a copy of the Authority to Operate letter to the FedRAMP program.
Is Bezos behind today's outage?