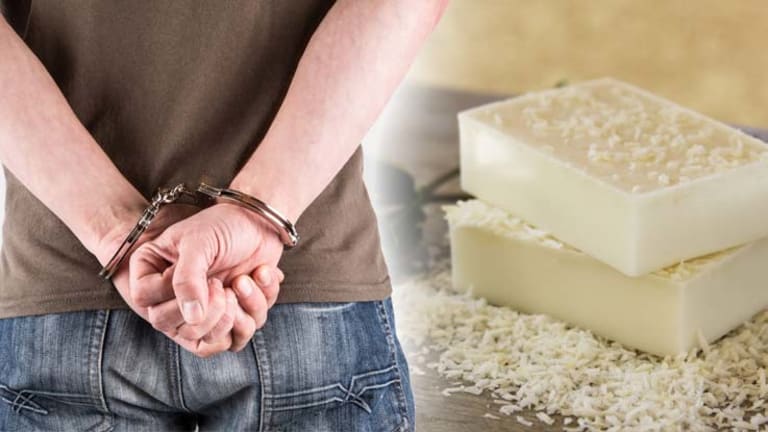 Innocent Man Jailed for a Month, His Life Ruined, After Cops Mistook Soap for Cocaine
Next time someone says, "if you don't break the law, you have nothing to fear," show them this incident in which police ruined a man's life over soap.
Thanks to the highly flawed means of testing for drugs and armed agents of the state enforcing immoral drug laws, an innocent man's homemade soap got him thrown in a cage and ruined his life.
Tens of thousands have been convicted and served time — even earning the black mark of a felony — for crimes they likely didn't commit, a recent report found, because the cases against them relied on horribly unreliable field drug test kits.
So prone to errors are the tests, courts won't allow their submission as evidence. However, their continued use by law enforcement — coupled with a 90 percent rate at which drug cases are resolved through equally dubious plea deals — needlessly ruins thousands of lives.
Alexander Bernstein of Brooklyn is one of those lives.
He's since been awarded $195,000 to settle his lawsuit he filed in an attempt to fix the damage caused by incompetent cops enforcing an immoral war on drugs. However, he still has a long way to go.
In November of 2013, Bernstein and Anadel Cruz were driving a rented Mercedes Benz to visit her sister in Florida when Pennsylvania state troopers stopped them on Interstate 78. The troopers explained that the couple was stopped because they were doing 60 mph in a 55 mph zone.
This five mph discrepancy would end up ruining Bernstein's life.
Once they were detained, it became apparent they were not pulled over for simply speeding. Instead of issuing a speeding ticket, troopers demanded to search their vehicle. Bernstein, knowing he and his friend had nothing to hide, agreed to the search.
The Free Thought Project would like to take this opportunity to reiterate -- NEVER CONSENT TO SEARCHES.
When the troopers began tearing the couple's rental car apart, they found two brick-sized packages covered in clear plastic and red tape, weighing about 5 pounds.
Cruz, who was driving the car, told the troopers the packages were homemade soap for her sister, whom they were traveling to visit in Florida.
However, the troopers did not believe them.
Troopers Nicholas Goldsmith and Justin Julius insisted the soap was "a controlled substance of some kind." Bernstein and Cruz were taken to a state police barracks where Berstein alleges he heard the two troopers conspire to falsely report a negative field test as positive.
The lawsuit also stated that the field test kits returned two positive results on the soap as well. For this reason, Bernstein's lawsuit included the makers of the faulty tests, Safariland. However, Bernstein's settlement with Safariland is not subject to the public records law.
Bernstein and Cruz were charged with possession with intent to deliver cocaine, possession of cocaine, conspiracy, and possession of drug paraphernalia.
Berstein was held for 29 days in Lehigh County Prison under $500,000 bail until the court reduced it, and he was able to post $25,000.
While he was thrown in a cage for soap, he lost his job, his apartment and his possessions, rendering him homeless and destitute, according to the lawsuit.
According to the Morning Call, 
After Bernstein and Cruz were released on bail, on the day a preliminary hearing was scheduled, police dropped the charges.

Bernstein was required to pay more than $32,000 in bail and court costs, plus pay a defense attorney and fees associated with having the arrest expunged from his record, the suit claimed.

"And even then, the FBI, the internet and other media sources will still contain a permanent record of his arrest and the criminal charges upon which he was maliciously prosecuted," the suit claimed.
As police across the US scramble to push the war on cops narrative and note that only criminals dislike the police, thousands of cases like this one play out every year. Instead of rectifying a broken system, the overwhelming majority of police and politicians ignore the problems created by the war on drugs and choose to increase force instead.
Until we bring an end to the war on drugs, innocent people like Bernstein and Cruz will continue to be targetted and continue to be kidnapped, caged, or killed -- for no other reason than cops looking for arbitrary substances.
Next time someone says, "if you don't break the law, you have nothing to fear," show them this incident which completely destroys that dangerously ignorant narrative.
[author title="" image="https://tftpstagingstg.wpengine.com/wp-content/uploads/2016/03/magorist-e1456948757204.jpg"]Matt Agorist is an honorably discharged veteran of the USMC and former intelligence operator directly tasked by the NSA. This prior experience gives him unique insight into the world of government corruption and the American police state. Agorist has been an independent journalist for over a decade and has been featured on mainstream networks around the world. Follow @MattAgorist[/author]