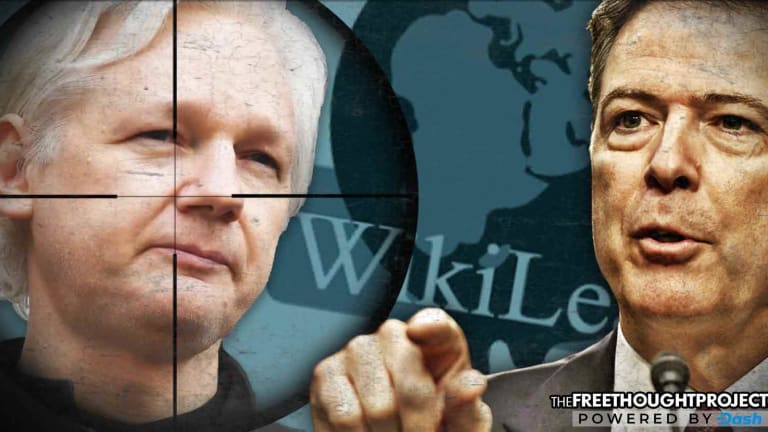 James Comey Exposed for Sabotaging Immunity Deal Between US Gov't & Julian Assange
A new report reveals that then-FBI Director Comey sabotaged a limited immunity deal between the U.S. government and Julian Assange.
Washington, D.C. – A bombshell report that has subsequently garnered very little mainstream media attention revealed that embattled former FBI director James Comey intervened in secret negotiations between the U.S. Department of Justice and an intermediary for WikiLeaks' Julian Assange in an attempt to kill a limited immunity deal that could have potentially prevented the release of stolen CIA cyber warfare capabilities—while also shedding light on the contentious leaked DNC emails.
The secret negotiations began in January 2017, when American attorney Adam Waters was contacted by Assange's legal team—in an effort to test the waters with the new Trump administration in regards to the possibility of negotiations with Assange, who has been "arbitrarily detained" in the Ecuadorian embassy in London, under threat of extradition to the U.S. under a sealed federal grand jury indictment relating to past WikiLeaks releases of classified material.
The exclusive report by The Hill's John Solomon explained who was involved:
Some of the characters are household names, thanks to the Russia scandal: James Comey, fired FBI director. Sen. Mark Warner (D-Va.), vice chairman of the Senate Intelligence Committee. Department of Justice (DOJ) official Bruce Ohr. Julian Assange, grand master of WikiLeaks. And American attorney Adam Waldman, who has a Forrest Gump-like penchant for showing up in major cases of intrigue.
Waldman, a former Clinton Justice Department official, agreed to work pro bono in assisting Assange's team in opening the lines of communication with the proper individuals within the US law enforcement bureaucracy that would be receptive to such an overture.
Solomon reported that despite the successful drafting of a limited agreement for talks, Comey "unexpectedly intervened" in the negotiations by proxy, which ultimately resulted in the negotiations failing to secure an agreement:
The effort resulted in the drafting of a limited immunity deal that might have temporarily freed the WikiLeaks founder from a London embassy where he has been exiled for years, according to interviews and a trove of internal DOJ documents turned over to Senate investigators. Read the draft immunity deal proffer that the Justice Department was considering for Assange here.

But an unexpected intervention by Comey — relayed through Warner — soured the negotiations, multiple sources tell me. Assange eventually unleashed a series of leaks that U.S. officials say damaged their cyber warfare capabilities for a long time to come.
The deal was simple: Assange would be granted "immunity/safe passage" to leave the embassy to attend talks with the U.S. to discuss the possibility of "risk mitigation" relating to WikiLeaks releases of CIA documents in the possession of WikiLeaks. Although willing to negotiate in good faith and consider possible redactions, Assange's legal representatives made it clear that he "would never compromise his sources, or stop publishing information," reported The Hill.
Knowing that Assange was in possession of a massive cache of classified CIA documents, including sensitive assets, the U.S. government chose to engage in negotiations. The possibility that Assange would be potentially willing to redact material was taken as an extraordinary overture. A senior official involved at the time said that despite being reviled in the intel community due to past leaks, officials "understood any visibility into his thinking, any opportunity to negotiate any redactions, was in the national security interest and worth taking."
David Laufman, a former federal prosecutor and then director of the Department of Justice's counterintelligence and export controls section, was chosen to lead the talks for the US and laid the groundwork for a potential negotiation with Assange.
The Hill reported that "Laufman played to Assange's belief that he was a publisher, the documents show; he put an offer on the table from the intelligence community to help Assange assess how some hostile foreign powers might be infiltrating or harming WikiLeaks staff."
"Dear David, I relayed our conversations to Assange and he had a generally positive view of it," Waldman wrote to Laufman in mid-March.
Waldman's correspondence with Laufman on March 28, 2017, reveals an agreed upon conceptual framework for negotiations:
"Subject to adequate and binding protections, including but not limited to an acceptable immunity and safe passage agreement, Mr. Assange welcomes the opportunity to discuss with the U.S. government risk mitigation approaches relating to CIA documents in WikiLeaks' possession or control, such as the redaction of agency personnel in hostile jurisdictions and foreign espionage risks to WikiLeaks staff."
These discussions ultimately resulted in an informal offer—referred to as a "Queen for a Day" proffer—in which Assange identified what he might give and what he wanted in return.
Incredibly, what was not in the written proffer was an additional offer from Assange to rule out specific parties through the use of technical evidence in regard to the popularized notion that Russia hacked the DNC emails. While the U.S. government steadfastly claims the Russian government hacked the emails, Assange has maintained that the emails did not come from Russia.
"Mr. Assange offered to provide technical evidence and discussion regarding who did not engage in the DNC releases," Waldman told The Hill. "Finally, he offered his technical expertise to the U.S. government to help address what he perceived as clear flaws in security systems that led to the loss of the U.S. cyber-weapons program."
Ultimately, an early intervention by then FBI director James Comey seems to have sowed distrust within Assange's team regarding U.S. intentions. Only days after the negotiations began, Waldman contacted Sen. Warner to see if the Senate Intelligence Committee would like to have access to Assange for testimony.
Warner then unexpectedly contacted Comey and relayed the information about the secret negotiations.
Days later, Warner contacted Waldman and explained that after consulting with Comey, he was to "stand down."
"He told me he had just talked with Comey and that, while the government was appreciative of my efforts, my instructions were to stand down, to end the discussions with Assange," Waldman told The Hill.
While the negotiations continued in the wake of the Warner-Comey intervention, the episode sowed enough distrust within Assange's camp to irrevocably damage the good faith talks.
"The constructive, principled discussions with DOJ that occurred over nearly two months were complicated by the confusing 'stand down' message," Waldman recalled.
The Hill reported that multiple sources confirmed that the FBI's counterintelligence team was aware and engaged in the Justice Department's strategy of negotiations with Assange but had no explanation for what motivated Comey to send a completely different message.
On April 7, 2017, the U.S. government backed out of the negotiations after WikiLeaks released more documents detailing some of the CIA malware used for cyber attacks. Then-CIA Director Mike Pompeo quickly labeled WikiLeaks as a "hostile intelligence service."
The elephant in the room here is that if the DNC hack is proven not to be the work of Russia—or maybe not even a hack at all—then Comey would be forced to explain why the FBI did not inspect the servers allegedly hacked by Russia after they were rebuffed by the DNC.
It seems likely that Assange has the potential to unravel the entire house of cards by imploding the Russiagate narrative—which will then force the mainstream to begin to ask some very uncomfortable questions about the Obama Administration's weaponization of the intelligence apparatus for political purposes—thus likely explaining why Comey went off reservation and attempted to sabotage the negotiations.