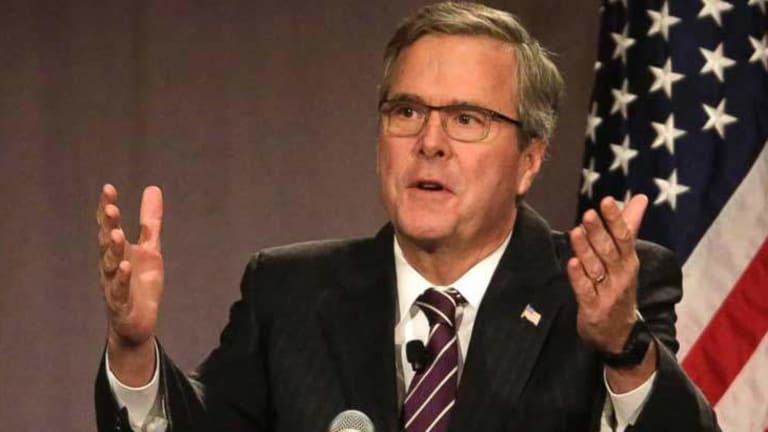 Jeb Bush Exposed as Former Covert CIA Operative, Linked to Drug Cartels and Money Laundering
New evidence has been revealed exposing parts of Jeb Bush's nefarious past.
Miami, FL - Many Americans believe that they know who presidential John Ellis Bush (JEB) is; but what do they really know about Jeb Bush aside from the fact that his father and brother were U.S. presidents and he's been the Governor of Florida for the past eight years?
Extremely troubling connections have been revealed, which indicate that Jeb's early career may have actually included working as an undercover CIA asset. This should not be all that surprising, considering his father former President George H.W. Bush was at one time Director of the CIA.
While Jeb doesn't acknowledge being a CIA operative, the volume and scope of his connections to nefarious individuals, whom are connected to CIA operations, should raise red flags as to his early career activities.
Let's take a journey down the rabbit hole and see how deep it leads.
Jeb served as vice president of Texas Commerce Bank in Caracas, Venezuela, from 1977-1979, joining his father's presidential campaign in 1980. Along with Jeb on the campaign trail was Robert Gambino, then deputy director of security at the CIA. It was Gambino who gave Bush his in-brief at CIA headquarters in Langley, Virginia in 1977.
Jeb Bush was then appointed to the board to the National Republican Institute by his father, which is the GOP wing of the National Endowment for Democracy. It is reportedly a CIA-financed money-laundering operation, which funded off-the-books operations in support of Cuban exile groups as well as Salvadoran, Guatemalan, and Honduran death squads, and the Nicaraguan contras.
One of the more ominous relationships, indicative of a covert intelligence connection, is Bush's unexplained relationship to Alberto Duque, a Columbian national who served as owner of City National Bank in Miami and President of General Coffee Company of Columbia.
Duque utilized his position to launder money for the Cali and Medellin cartels, as well as the Nicaraguan contras, before he was convicted and sent to federal prison in 1983.
He was also the financier of a $30 million real estate development project spearheaded by Jeb Bush. While controlling City National Bank, Duque hired Bush family CIA connected Don Beazley to serve as president of City National Bank. Beazley had formerly been employed by the CIA's infamous Nugan Hand Bank in Australia.
Nugan Hand, prior to its collapse, was the main hub of money laundering for the CIA's "Golden Triange" heroin and opium smuggling operations in Southeast Asia. Laundered funds were then used to prop up U.S. chosen surrogates Ferdinand Marcos in the Philippines, Suharto in Indonesia, Park Chung Hee in South Korea, and various Thai generals, while funding their campaigns of death and destruction.
According to a piece by the WayneMadsenReport.com:
In return for CIA money gifts, Marcos ordered his Energy Minister, Geronimo Velasco, to have the Philippines National Oil Corporation enter into business relationships with three Bush family-owned businesses: Zapata Petroleum Corporation, Zapata Offshore Company, and Overbey Oil Development Corporation. The three Bush firms were also linked to various CIA activities, including the abortive 1961 Bay of Pigs invasion of Cuba.

Jeb Bush's Texas Commerce Bank was also the bank used by the Zapata companies. Velasco died of a sudden heart attack in San Francisco in 2007. Velasco's Republic Glass Corporation became a holding company that owned a number of British Virgin Islands-based subsidiaries.

Beazley had also been president of Great American Bank of Miami. The bank was indicted for drug money laundering in 1982. Beazley also negotiated the sale of Second National Bank of Homestead, a subsidiary of Great American, to Nugan Hand. It was in this environment of interconnected CIA money laundering banks that Jeb Bush found himself and his real estate business immersed in the 1980s.

On January 25, 1980, Frank Nugan, the Australian co-founder of Nugan Hand Bank, was found dead in his car near Bowenfels, New South Wales from a "self-inflicted" rifle shot wound to his head. The card of ex-CIA director William Colby, who, himself was found floating in Chesapeake Bay, Maryland in 1996, was found in Nugan's pocket.
While there is no smoking gun, many indications point to Jeb Bush being a reliable covert CIA asset from 1977 until his initial run for Governor of Florida in 1994.
The nexus between institutions connected with Jeb, the CIA, and international covert intelligence activity is seemingly unmistakable. To believe that all of the aforementioned circumstances are just random factual coincidences with no contiguous cohesion is to have one's head in the sand.
Jeb was almost certainly a CIA operative, the question is; will he admit to the American people what his early career entailed, or will he simply continue to maintain a facade of reality in hopes of maintaining his unrecognized status as a covert CIA asset?
Please share this story if you think American citizens have a right to know for whom they are voting and believe Jeb should come clean about his clandestine CIA activities!
Jay Syrmopoulos is an investigative journalist, free thinker, researcher, and ardent opponent of authoritarianism. He is currently a graduate student at University of Denver pursuing a masters in Global Affairs. Jay's work has been published on BenSwann's Truth in Media, Chris Hedges' truth-out, AlterNet and many other sites. You can follow him on Twitter @sirmetropolis, on Facebook at Sir Metropolis and now on tsu.