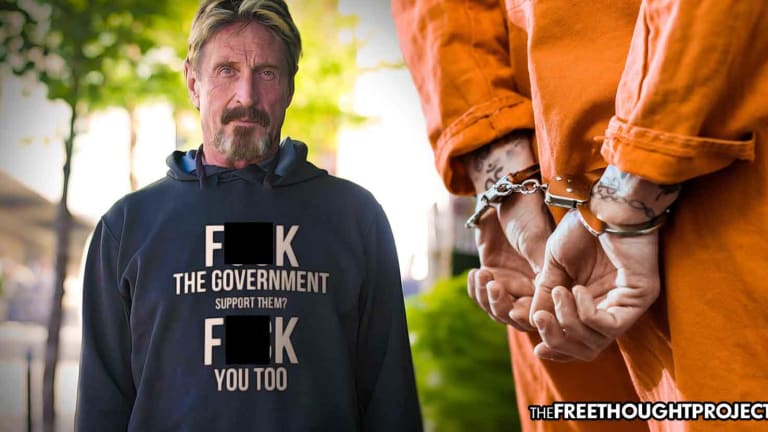 John McAfee Arrested in Spain to be Extradited to the US for Tax Evasion and Cryptocurreny Scams
The Department of Justice is attempting to extradite the John McAfee from Spain to charge him in the US with tax evasion and crypto scams.
Earlier this year, the eccentric antivirus software creator turned crytpo-evangelist on the run, John McAfee, claimed he was arrested in Norway for apparently wearing a thong. The Mail reported that the eponymous founder of the PC antivirus software giant, took to Twitter to announce that he had been detained because he refused to don a medically certified mask instead of — or over — the ladies underwear.
"Trivial issue but waiting for high level beaurocrats [sic] to arrive. Slow bastards, as you know," he wrote.
But he was lying. The one-time presidential candidate had not been arrested and staged the entire thing to dupe the media — and dupe the media he did, including this outlet, who later issued a retraction.
Everyone is familiar with the fable of the boy who cried wolf, so when news broke of the crypto millionaire's arrest this week, naturally we were skeptical — after all, fool me once, shame on you. Fool me twice, shame on me.
Though many thought the news of McAfee's new arrest may have been another hoax, it turns out that it is true. He was arrested in Spain and faces extradition to the US where he has been charged with tax evasion, according to the Justice Department.
McAfee's wife, Janice McAfee, confirmed in a statement on Tuesday that her husband had indeed been arrested. She noted that they have a "team of lawyers" working to spring the entrepreneur.
Hello everybody. I would like to state that both mine and John's accounts are staffed by interns, and they were not privy to what happened with John yesterday. Unfortunately what has been reported is true, John has been detained in Spain.

I cannot comment on any details of the situation, but I can tell you that I have been in contact with him through the team of lawyers that has been working tirelessly on his behalf. He is in good spirits and wanted me to thank you all for your support during this entire ordeal. Since we left the United States, it has meant the world to both of us knowing that there are still believers in freedom all over the world.

Regardless of whatever John may or may not have done, he has spent most of his retirement fighting not only for his own freedom, but everyone's freedom, in America and across the world. For your freedom and the right to make your own choices in life. Now more than ever he needs your support, all of our support really, in this battle against injustice. I will be limited in what I am able to say going forward, so please bear with me in the coming weeks. While John is detained we will continue to staff his Twitter account to provide whatever updates we can. Thank you all so much for your well wishes, they mean a lot to both of us. And we'll get through this.
The Justice Department claims that McAfee allegedly evaded tax liability by having his income paid into bank accounts and cryptocurrency exchange accounts in the names of nominees. As a result, it is alleged, he failed to file any tax returns from 2014 to 2018. Oh, the horror.
McAfee is also accused of concealing assets, including a yacht and real estate property, in the names of others. Authorities with the SEC also accused McAfee of using his fame in the crypto realm to promote seven different ICOs (initial coin offerings) in 2017 and 2018.
"McAfee's extravagant posts (such as tweeting predictions about BTC price increases and promising to 'eat my d**k on national television' if such predictions did not pan out) … generated an enormous amount of publicity," the SEC said in its complaint.
The ICOs McAfee touted raised at least approximately $41 million and McAfee made approximately $23.2 million in secret compensation for his touts. When directly asked if he was being paid for these promotions, McAfee lied to investors by falsely denying he was being paid by the issuers.
While the tax evasion charges are benign — because taxation is theft — the allegations of deceiving those in the crypto world to make millions are far more serious.
After a blogger exposed McAfee's paid promotions and he could no longer generate interest in ICOs with tweets, McAfee was still holding a large number of virtually worthless securities from the ICOs he had previously touted. To cash out, McAfee encouraged investors to purchase the securities sold in certain of the ICOs without disclosing that he was simultaneously trying to sell his own holdings and had paid another third-party promoter to tout the securities.
The SEC also accused McAfee of working with his body guard, Jimmy Watson, Jr. in a "scalping" scheme to rip off potential buyers. Watson has also been charged in the case.
Finally, McAfee engaged in a practice known as "scalping" as to at least one digital asset security, by accumulating large amounts of the digital asset security and touting it on Twitter without disclosing his intent to sell it. Scalping generally allows promoters to sell their securities holdings quickly and profitably through market interest that they deceptively generate, and violates the federal securities laws.
McAfee certainly never hid the fact that he didn't pay taxes and in fact, talked about it on the Free Thought Project podcast earlier this year. However, the allegations of ripping off potential investors are serious and, if true, will certainly harm his reputation.
McAfee is currently being held in an unknown location in Spain. If he is extradited and convicted, he could face the next 30 years behind bars — which would be a life sentence for the British-American computer programmer who is currently 75-years-old.