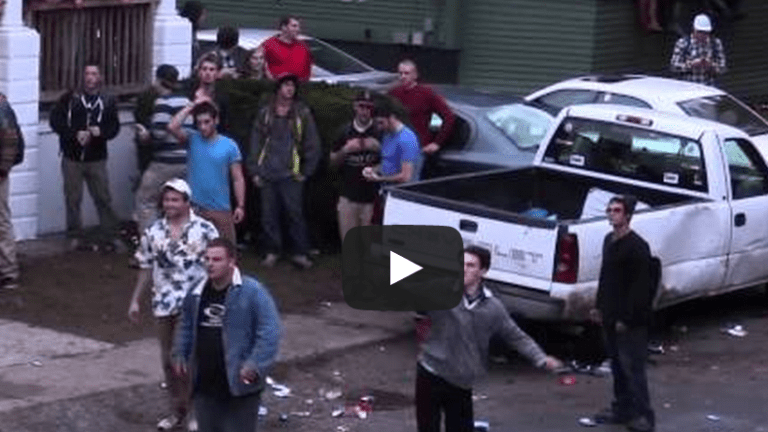 Journalists And Activists Attacked And Censored by Keene Rioters As Cops Do Nothing

This week, riots broke out at the annual Pumpkin Festival in Keene, New Hampshire, for absolutely no reason. The very large and destructive riots were glossed over by the mainstream media and the police were not as aggressive as they usually would be in those circumstances, because the riots were not politically motivated.
The Pumpkin Festival is a college event that brings thousands of people to the small town every year. It was reported that crowds became drunk and went into a frenzy, setting fires throughout the town, flipping over cars and indiscriminately destroying property.
Coincidentally, Keene is also home for a large number of activists, many of whom were at the festival engaging in a variety of outreach activities with students when the riots first broke out.
Many Free State and Cop Block activists ran towards the police line to do their part as the alternative media to get footage of what was actually happening on the ground.
Some activists and journalists were attacked by rioters and forced to retreat into safer territory. The rioters did not appreciate cameras in their presence because they were openly committing crimes, and ironically chanted "F%*# the press!!" as they chased away activists who were trying to hold police accountable.
Local website "Free Keene" made numerous posts throughout the day to show the footage that was coming in through their sources. Ian Freeman, of Free Keene, posted a video which shows police ignoring a massive bottle fight that was taking place in the middle of the street.
Ian explained how he was able to get the footage:
I'd heard there were police with riot gear breaking up a party so I headed down to the college neighborhood yesterday around 6pm after a successful afternoon of handing out Foundation for NH Independence fliers and Bitcoin fliers. Blake Street was packed with people when I arrived, but police were at about a block away in each direction. I asked one house if I could get up on their porch to get a better shot of the crowd and he was gracious enough to invite me up into his room to get a shot from the second story. In the few moments it took to get up there, the large crowd had split and bottles were being thrown. While I don't think the police should be arresting people for victimless crimes, this was actual criminality. People were getting hurt, property was destroyed and littered upon. Of course, because they have no obligation to protect you, Keene Police decided to stay safely down the street.
Keene State College representatives and event organizers did their best to downplay the destructive outbursts, and even bullied a local public access reporter off the air because he was reporting the situation that was developing at the festival.
While journalist Jared Goodell was on the air, Pumpkin Fest organizer Ruth Sterling began to bully him into cutting his report. Sterling can be seen in video footage attempting to take away Goodell's microphone, and standing between him and the camera numerous times. Sterling had accused Goodell of attempting to "scare people away", and paint a negative picture of what was happening at the festival.
As the mayhem began to die down into the early morning hours, Keene State College made the following announcement:
"Over the past few days, a large number of out-of-town visitors have come to Keene for the Keene Pumpkin Festival. Subsequently, during the course of the evening on Friday, off-campus gatherings associated with the Keene Pumpkin Festival escalated at a number of locations around the city. Keene State College administrators have been coordinating closely with the City, and continue to do so. Keene State is also communicating regularly with students and parents of current students.

Incidents in the city, not on Keene State's campus, subsided overnight but began to increase again by mid-afternoon on Saturday. One large assembly on Winchester Street drew multiple responses from Keene Police on Saturday afternoon. The College is not able to report on injuries or arrests — these incidents do involve Keene State students, and also visitors to Keene."
John Vibes is an author, researcher and investigative journalist who takes a special interest in the counter culture and the drug war. In addition to his writing and activist work he is also the owner of a successful music promotion company. In 2013, he became one of the organizers of the Free Your Mind Conference, which features top caliber speakers and whistle-blowers from all over the world. You can contact him and stay connected to his work at his Facebook page. You can find his 65 chapter Book entitled "Alchemy of the Timeless Renaissance" at bookpatch.com.