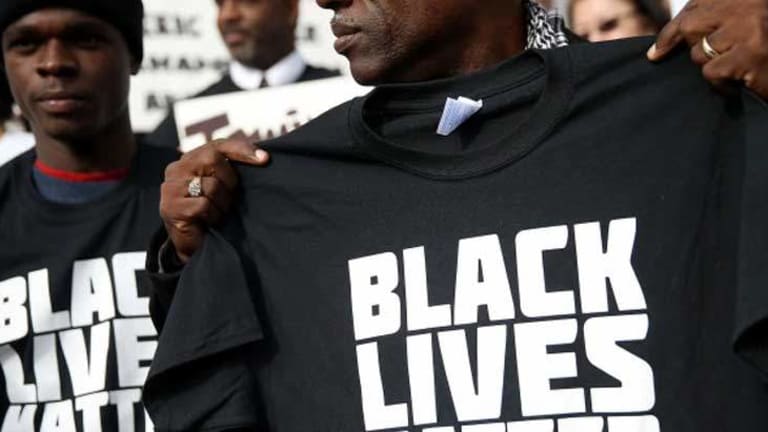 What Free Speech? Judge Bans the Words 'Black Lives Matter' from Clothing in Court
A Massachusetts judge has imposed selectively strict dress-code guidelines on activists in the courtroom, violating their first amendment rights.
Worcester, MA - Four Black Lives Matter (BLM) protestors, charged with disturbing the peace, had their trial date postponed until January 2016. However, the real story that came out of the hearing was the fact that Central District Court Judge Robert Pellegrini ruled that the protesters are banned from wearing clothing with the words "Black Lives Matter" on them in his courtroom.
"How is saying Black Lives Matter on a t-shirt or sweatshirt in a courtroom illegal or somehow disallowed and still have my free speech protected? This whole process is just so demonstrative of the disconnect between the law on paper and the way that the law is actually practiced," defendant Julius Jones said
The idea that three words written on clothing could disrupt a courtroom is patently absurd. The activists have all plead not guilty and contend that the ruling violates their 1st Amendment right to free speech.
According to a report by The Daily Kos:
Sonya Conner, Kevin Ksen, Robert Blackwell Gibbs and Julius Jones were appearing before the judge when he noticed Jones was wearing a white sweatshirt with the words "Bulletproof. Black Lives Matter" in gold lettering.
Pellegrini then ruled that words Black Lives Matter would not be allowed on any clothing in the courtroom, as it sends a political message.
"What's funny about it is it's four words on a shirt, one is bulletproof, and the other one is Black Lives Matter and it's considered a political statement, but I think more than that what the judge's behavior seemed to show was that he felt and seemed like it was offensive to him in some kind of way. And I'm not exactly sure why he was offended by it, but that four words could disrupt a court in such a way was impressive to me," said Jones, who went on to say that the order "struck him as illegal."
The attorneys for the protesters subsequently requested that officers testifying during the trial be disallowed from wearing their police uniforms, as that also sends a political message. The prosecution agreed to the request.
The controversial apparel, created by Damon Turner and FOREMOST, both artists and BLM activists, is meant to be "a statement that transcends race, social identity, or class ... BULLETPROOF was born to represent the fearlessness found when people are unafraid of the powers that oppress them," according to the website for the shirts.
While it is common practice for clothing that is deemed a security risk or unprofessional, such as shorts, flip flops, or obscene messages on clothing, the banning of attire that simply states that Black Lives Matter seems to push the boundaries of legitimacy.
I wonder if a confederate flag on a t-shirt would get the same treatment from Pellegrini?
Jay Syrmopoulos is an investigative journalist, free thinker, researcher, and ardent opponent of authoritarianism. He is currently a graduate student at University of Denver pursuing a masters in Global Affairs. Jay's work has been published on Ben Swann's Truth in Media, Truth-Out, AlterNet, InfoWars, MintPress News, as well as many other sites. You can follow him on Twitter @sirmetropolis, on Facebook at Sir Metropolis and now on tsu.