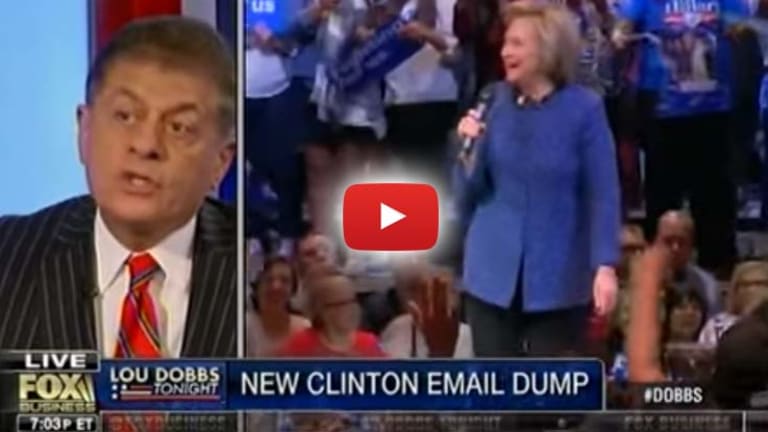 Judge Nap: FBI Just Released "Smoking Gun" Documents on Clinton
Judge Andrew Napolitano says the latest release of FBI documents on the Hillary Clinton investigation are the "smoking gun."
While millions of Americans were otherwise occupied with football on Sunday, the FBI discreetly released hundreds of additional documents pertaining to its investigation of Hillary Clinton — the contents of which analyst and legal expert Judge Andrew Napolitano ">described as "the smoking gun if there ever was one."
Indeed the nature of the documents and the method in which they were communicated might be sufficient to bring charges against the former secretary of state and failed presidential candidate.
In an interview with FOX Business' Lou Dobbs on Monday night, Napolitano asserted the 300 documents — released by an unknown source inside the FBI — evince a tremendously divergent characterization of Clinton's handling of sensitive information than portrayed by intelligence agencies and the Democratic establishment.
"The highly sensitive nature," the judge told Dobbs, "was 301 pages of emails, which Mrs. Clinton sent on a regular basis to a non-government person. We have reason to believe that was Sid Blumenthal — with whom she emailed on a daily and regular basis, several times a day."
Judge Napolitano explained, what "[President-elect] Donald Trump feared and argued during the campaign, and what rogue FBI agents who profoundly disagreed with Director Comey's decision to recommend against indictment" had been saying all along, is actually true.
And "the information Mrs. Clinton regularly sent to [the unnamed individual] was hacked by foreign intelligence agencies of countries unfriendly to us, and friendly to us — and sources tell FOX News those were Russia, China [both] unfriendly, and Israel, friendly."
On page 235 in the latest cache of documents, as The Free Thought Projectreported, "the FBI admits the Office of Inspector General found classified materials on Clinton's server. This means the FBI knew about this leak well before anything was made public — and while Clinton was publicly denying it the entire time."
Napolitano continued, the new information will be "extremely relevant in this time period," as Senator Jeff Sessions continues to be grilled in confirmation hearings before the Senate Judiciary Committee for a potential cabinet role as U.S. Attorney General because — pertaining to the freshly released documents — he will undoubtedly be asked, "what will you do with this?"
Dobbs asserted pertinent questions now arise, such as why these had not been released previously, and "why did the FBI director have such a struggle — a Hamlet act — that persisted over a number of months?
"And this evidence … makes it clear that his last judgment on the matter of prosecution was utterly in error, does it not?"
"You're absolutely correct," the judge replied, "this is the smoking gun if ever there was one — this ramps up the case for her prosecution."
However, there are timely caveats to consider with President Obama's administration in its eleventh hour — and the imperative to prosecute legitimately criminal activity doesn't necessarily preclude other considerations, including a last-minute pardon for Clinton.
Napolitano noted, however, that if Obama chooses not to pardon Clinton, "the pressure on the attorney general, from the FBI agents who conducted the investigation — who probably posted this stuff last night during the Giants-Packers game — will be very difficult for him to resist."
Additional germane but unanswerable aspects concerning the publication of the FBI documents tell of the murkiness of the entire investigation of Hillary Clinton and her use of a personal server.
Dobbs posited that if the person or persons who published the information came from inside the FBI and acted in a rogue capacity, the intent might have been to ensure an indictment as soon as possible. But the responsible party could also be an Obama administration insider leaking information for the sake of muddying the waters — or perhaps to provide the impetus for a presidential pardon.
As yet, there is no way to tell. However, as the judge added,
"Did Director Comey know about this at the time he exonerated Mrs. Clinton on July 5th, last summer? Did Director Comey tell President-elect Trump about this, when he met with him at Trump Tower last week? Did Director Comey know that this was going to be released when it was, and why was it released during a football game? Was it to gin it up for the senators to ask Senator Sessions about?"
Although Judge Napolitano laments the motivations and players remain shielded now, it's possible further indicators will come out as Sessions testifies — but as of now, that hasn't happened.
Some inside the Democratic establishment have criticized the investigation of Clinton as baseless and likened it to a witch hunt — but as this new cache of information reveals, feasible grounds for prosecution have existed this entire time in the transmission and compromise of classified information.
">