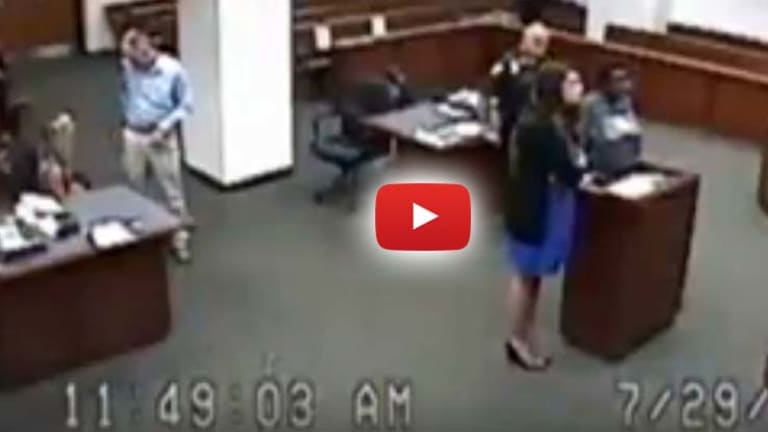 'Is This for Real?' -- Judge Lashes Out at Police After They Send Woman to Court Without Pants
An outraged Kentucky judge asked whether she was in the Twilight Zone after a female inmate was brought to court without pants.
"Am I in the Twilight Zone? What is happening?" a perplexed Louisville, Kentucky, judge queried rhetorically after a female inmate was brought to court without pants.
According to video of the Friday morning hearing obtained by WDRB, an attorney for the woman told Judge Amber Wolf that Metro Corrections had "refused to give her pants and other hygiene products that she greatly needed."
"Excuse me?" Wolf replied in astonishment, slamming her pen down. "This is outrageous. Is this for real?"
Wolf immediately reaches for her cell phone to contact jail officials.
"I'm actually calling to talk to [Metro Corrections] Director [Mark] Bolton — or anyone — who can come to my courtroom and tell me why there is a female defendant standing in front of me with no pants on."
For three days, the woman — who had been arrested after failing to complete a diversion program resulting from a 2014 shoplifting charge — requested pants and hygiene products to no avail. Wolf appeared livid not only about the woman's "inhumane" treatment, but that a simple charge — without any additional offenses in the meantime — had resulted in a stay behind bars longer than a single day.
As the judge waits to speak with Bolton, she turns to court staff and firmly requests they provide "something for her to cover up with. Anything. Anything. I don't care what it is," she says shaking her head in disbelief.
Finally, Wolf reaches Metro Corrections Deputy Director Dwayne Clark, who isn't spared any wrath.
"I have a defendant who has been in jail for three days who is standing in front of me completely pantsless," she curtly explains. "Has no pants on. She has requested pants for three days, and has been denied pants for three days. She has no pants and she is in court. And she has also been denied feminine hygiene products. What. The hell. Is going on?"
"This is outrageous," she adds.
Clark arrives in court to provide more appropriate clothing for the woman — whose athletic shorts were short enough to be obscured by her tee shirt. But the judge also took serious issue with the lengthy sentence imposed on the woman for such a minor crime — 75 days behind bars.
"Ok, I'm not accepting this sentence. That's ridiculous," Wolf asserts, later imposing just a $100 fine and time served, noting the woman should have been in jail for one day, at most.
Steve Durham, the jail spokesman, later explained to WDRB it is common procedure for inmates not to be issued a jail jumpsuit immediately.
"This is pretty standard that when individuals are arrested, they remain in the clothing that they've been arrested in," Durham explained. "Especially for the first 72 hours."
However, as footage from the hearing shows, Clark told Wolf the woman should have been issued appropriate clothing:
"Dressed like she was, she should have been changed into a jumpsuit. I gotta look into why she wasn't."
According to WDRB, Durham is investigating recent allegations that inmates are not being provided hygiene products. The defense attorney, who wasn't identified in video of the hearing, also noted inmates have been denied showers — and her client claimed multiple women in similar dress were also refused jail jumpsuits.
But jail officials, who later spoke with WDRB, inexplicably denied there had been any problem.
After the defendant changed clothes, Wolf summoned her back into the courtroom to offer an apology.
"Again. I want to extend my deepest apologies to you for the way that you've been treated while you've been in our jail. This is not normal," the judge says. "It is not normal, and I've never seen it happen … This is completely inhumane and unacceptable. I'm sorry you had to go through this."
Though Wolf duly noted that the woman's arrest, in this case, had been warranted, she reiterated that her treatment and sentence in no way fit the minor crime.
Judge Wolf's measured outrage and obvious astonishment over both the woman's treatment and, notably, the lengthy sentence imposed for what seems to be her first-ever charge, are unfortunately unusual reactions in what has become a cold system of injustice designed to swiftly punish alleged criminals for often victimless crimes.