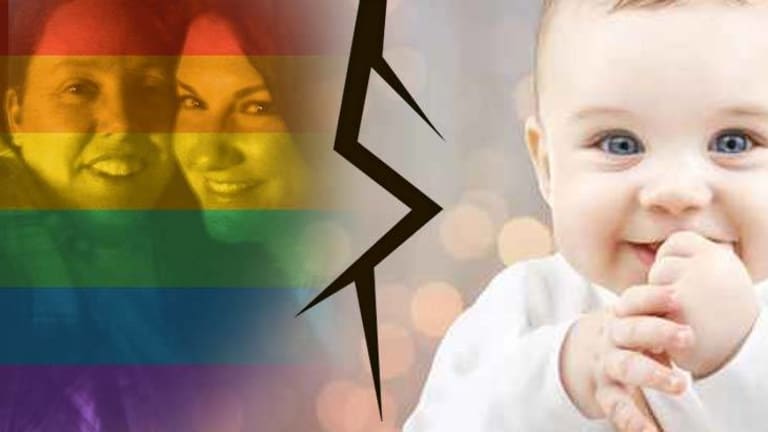 Judge Takes Child from Lesbian Couple, Say She'll do Better in "Heterosexual Home"
A judge with who is applying personal preferences to the lives of caring people, removed a couple's baby, claiming she'd be better off with a straight couple.
Salt Lake City, UT -- After same-sex marriage was legalized last summer, Beckie Peirce and April Hoagland decided to get hitched. Not long after, they decided to apply to be foster parents.
Peirce and Hoagland already had two biological children of their own and were planning to adopt their recently welcomed 1-year-old girl. The arrangements were in place to proceed with the adoption and had already been approved by the baby's biological mother.
However, this week, a Utah judge with a knack for applying his personal preferences to the lives of caring people, decided that this baby girl would be better off in a heterosexual home.
"I was kind of caught off-guard because I didn't think anything like that would happen anymore," Hoagland told KUTV. "… It's not fair, and it's not right, and it hurts me really badly because I haven't done anything wrong."
According to the Washington Post,
A copy of the court order by Judge Scott Johansen, a juvenile court judge in Utah's Seventh District, was not immediately available, but the Salt Lake Tribune confirmed its contents. Hoagland told KUTV that Johansen said that "through his research he had found out that kids in homosexual homes don't do as well as they do in heterosexual homes." She added that, when the judge was asked to show the research, he wouldn't.

"I believe it's a religious belief," Peirce said.

Although there were no reports of his religious affiliation at press time, Johansen went to law school at Brigham Young University, operated by the Church of Jesus Christ of Latter-day Saints, otherwise known as the Mormon Church. The church voted last week to exclude the children of same-sex couples until they are adults, a decision now facing wide protest from within the church.
"Removing a child from a loving home simply because the parents are LGBT is outrageous, shocking, and unjust," Chad Griffin, president of the Human Rights Campaign said in a statement. "It also flies in the face of overwhelming evidence that children being raised by same-sex parents are just as healthy and well-adjusted as those with different-sex parents. At a time when so many children in foster care need loving homes, it is sickening to think that a child would be taken from caring parents who planned to adopt."
This decision by Johansen to remove a child from proven loving parents highlights the power of those with 'authority' and their ability to ruin lives based on their immoral belief systems.
The cruel irony here is that this happens all the time and children are taken from loving parents simply because their peaceful lifestyle choices are not in line with the demands of the status quo. All too often the children are then placed in abusive homes and are hurt or killed.