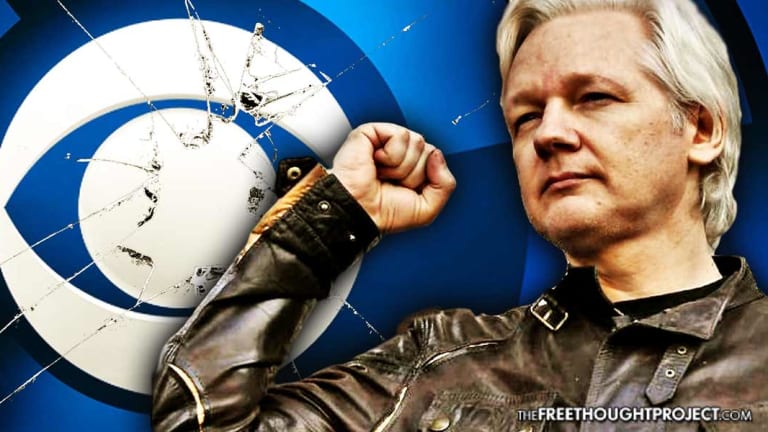 Julian Assange Calls Out CBS Lies, Offers The 'Oligarchs' $100K if They Can Prove Their Claim
Showing how big of a lie CBS News was pushing, Julian Assange has offered them $100,000 to show any evidence of their alleged WikiLeaks aided Trump.
(RT) — WikiLeaks founder Julian Assange has challenged the owners of CBS to a $100,000 bet that the network's story about the whistleblowing website alleged links to the Trump family is false.
Assange lambasted the network on Twitter, calling them a "pathetic excuse for a media organization" after they published a story claiming WikiLeaks offered Donald Trump Jr. early access to leaked documents in September 2016.
Assange called the story "fake news" and bet the majority owners of CBS, the Redstone family, $100,000 that the claim is false.

Broadcasters CBS and CNN ran the story claiming Trump Jr. and other members of the Trump campaign, including Donald Trump himself, were sent an email containing a website URL and decryption key that would allow them view unpublished WikiLeaks material in September 2016.
Both news organizations first published stories claiming the emails were sent on September 4 – nine days before the emails were actually published on September 13 – but later corrected the date to September 14 after the Washington Post debunked the story.

CBS cited a source who they said received the email, while CNN claimed they were given the scoop from congressional investigators. CNN later published a correction, in lieu of a full retraction, to say the email sent to the Trump campaign "indicates that the writer may have simply been flagging information that was already widely available."
President Donald Trump launched his own attack against CNN via Twitter Saturday, calling for those responsible for the 'fake news' gaff to be fired, and making fun of the channel's signature slogan "the most trusted name in news", which he says is a possible "fraud" against the American public. "There are many outlets that are far more trusted than Fake News CNN. Their slogan should be CNN, THE LEAST TRUSTED NAME IN NEWS!" Trump tweeted.