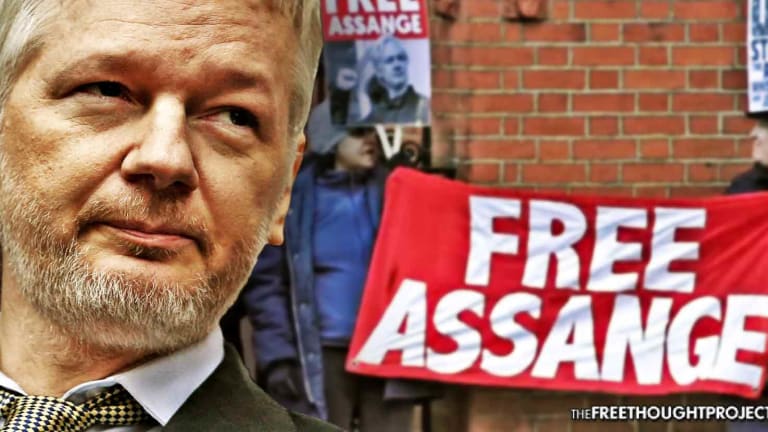 Protesters Gather Outside Embassy as Gov't Cuts Assange's Communication With the Outside World
Citing an alleged breach of an agreement to refrain from interfering in other states' affairs, the Ecuadorian government has cut off Julian Assange's internet access preventing his communication with the outside world.
London — (RT) The Ecuadorian government has suspended Julian Assange's communication privileges with the outside world. The move was sparked by Assange's alleged breach of an agreement to refrain from interfering in other states' affairs.
The Ecuadorian government specifically cited Assange's activity on social media, claiming that his recent posts may have jeopardized Ecuador's relationship with the UK, the EU and other nations.
"The action was taken following Assange's breach of a written agreement signed with the Ecuadorian government at the end of 2017, in which he vowed not to send messages interfering in the affairs of other sovereign states," the government said in a statement Wednesday. "The Executive remains open to the possibility of further sanctions in cases of future breaches of the agreements by Assange."
Neither WikiLeaks nor Assange has made an official statement regarding the reports. Kim Dotcom has called on Assange supporters to gather outside the embassy building in solidarity, with several protesters already congregating there by Wednesday afternoon.
Dotcom decried what he dubbed a "gagging agreement" and tweeted to say that the Ecuadorian government was making a "grave mistake" by "silencing Julian Assange." Dotcom demanded that the Ecuadorian authorities "#ReconnectJulian."
Former Greek Minister of Finance Ioannis Varoufakis also tweeted about Assange Wednesday. He called for people to rally around Assange to force the restoration of Assange's connection to the outside world.
"It is with great concern that we heard that Julian Assange has lost access to the internet and the right to receive visitors at the Ecuadorian London Embassy. Only extraordinary pressure from the US and the Spanish governments can explain why Ecuador's authorities should have taken such appalling steps in isolating Julian," Varoufakis wrote in an online statement. "A world in which whistleblowers are hounded, small countries are forced to violate their cherished principles, and politicians are jailed for pursuing peacefully their political agenda is a deeply troubled world – a world at odds with the one the liberal establishment in Europe and the United States proclaimed as its artifact since the end of the Cold War."

Assange's latest tweet before his alleged disconnection and digital isolation came Tuesday, March 27. He responded to an apparent insult during a question and answer session in the UK House of Commons.
Dotcom announced a so-called "online vigil" will take place later on Wednesday. "Let's join together and demand the immediate restoration of Julian's human right to communication," Dotcom tweeted.

Like this story? Share it with a friend!