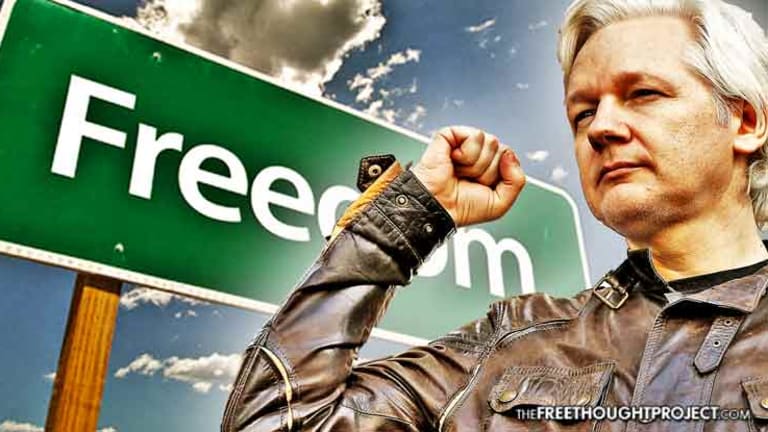 Julian Assange Could "Walk Free" TODAY After Plea to London Court to Drop Erroneous Charge
Within hours, Julian Assange could be a free man as his legal council moved to have the erroneous charge being held over his head dropped.
Julian Assange could walk free from the Ecuadorian embassy as early as today after he just asked a London court to drop the final arrest warrant against him stemming from a breach of bail conditions.
As the Independent reports, "Assange could walk free from the Ecuadorian embassy within hours, since he has asked a London court on Friday to drop an arrest warrant stemming from his breach of bail conditions."
Assange, for the last six years, has been persecuted and held captive because of rape allegations; allegations that the Free Thought Project has shown to be entirely fabricated by police. As TFTP reported last year, after failing to produce enough evidence, Swedish prosecutors dropped the rape investigation.
Despite Swedish police dropping the investigation, police in the UK have been holding a break of bail warrant over the journalist's head which has forced his confinement to persist.
If Assange were to walk out of the embassy without the charges being dropped, he would face the possibility of a year in prison.
However, the warrant is entirely baseless now as it stems from the extradition warrant by the Swedes—who've dropped their investigation.
Mark Summers QC, Assange's lawyer told Westminster Magistrates' Court the warrant had since "lost its purpose and its function." The now fallacious warrant serves to imprison an innocent man under entirely arbitrary pretenses. However, that could all be about to change.
"He is seeking to have the warrant of arrest discontinued because the Swedes have confirmed that the extradition warrant is no longer live," a spokesman for Britain's Crown Prosecution Service said.
"He is seeking that therefore the warrant of arrest should be taken out as well."
When asked if the dropped charges would allow Assange to "walk free" from the embassy, the spokesman replied, "hypothetically yes, that would be our interpretation."
Earlier this month, the British government denied Assange's request to be given diplomatic status which would've given him immunity from arrest. Now, the WikiLeak's journalist is seeking to void the arrest altogether.
One unfortunate facet to this potential victory for the journalist, however, is the fact that the United State's Justice Department is salivating over the extradition of this innocent man. What's more, the UK has refused to guarantee that Assange will not be extradited to the US if he leaves the embassy.
In April 2017, US attorney general Jeff Sessions said arresting Julian Assange for releasing classified US information was a "priority." To the current administration, arresting corrupt politicians and preventing the fleecing of Americans by special interests, takes a back seat to the silencing of a journalist who'd dare tell the truth.
To the United States government, the truth espoused by WikiLeaks is akin to treason and terrorism as it serves to make all states transparent which is an enemy to tyrants.
As Assange noted in an interview with Der Spiegel last year, WikiLeaks are not terrorists, they merely free information: "WikiLeaks is a giant library of the world's most persecuted documents. We give asylum to these documents, we analyze them, we promote them and we obtain more."
WikiLeaks has won more than a dozen awards across the globe for their journalism. Unlike any other news outlet in the world, however, WikiLeaks has never had to retract a story.
Also, aside from their perfect record, no one has ever been injured or put in harm's way from the information released by WikiLeaks. The only people to face consequences for the release of this information are the ones whose crimes are exposed by it — hardly an act of terror.
Assange has described the period since his initial arrest as a "terrible injustice," and noted that not being able to see his children grow up was "not something I can forgive."