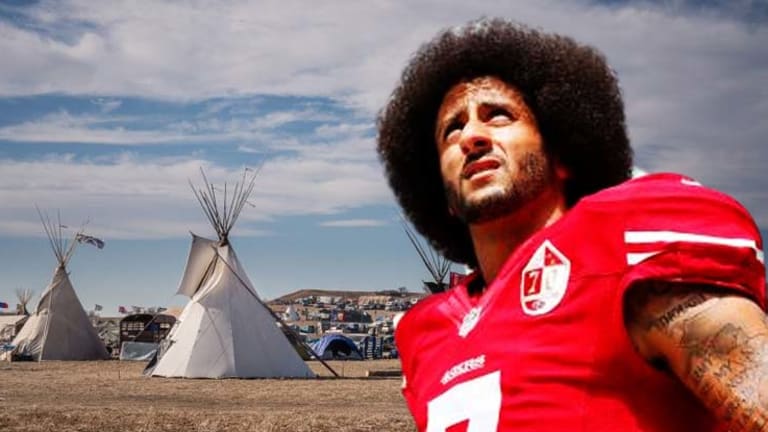 Kaepernick Sticks to $1mn Donation Pledge — Sends $50K to Standing Rock Health Clinic
Keeping his Million Dollar Pledge, quarterback Colin Kaepernick just donated $50,000 to the Mni Wiconi Health Clinic Partnership at Standing Rock.
San Francisco 49ers quarterback Colin Kaepernick announced Friday he will donate$50,000 to the Mni Wiconi Health Clinic Partnership at Standing Rock in order to "offset salaries for doctors and nurses who work at the free clinic for those who have gathered to protest the construction of the Dakota Access Pipeline."
In September, the athlete triggered factious debate when he took a knee during the national anthem over the issues of police brutality and oppression of minorities in the United States.
But it wasn't a hollow act — the athlete also announced the formation of the Colin Kaepernick Foundation and set in motion a "Million Dollar Pledge" to give $100,000 each month for ten months to charitable organizations to "fight oppression of all kinds globally, through education and social activism."
"I plan to take it a step further," Kaepernick told the media following his quiet protest. "I'm currently working with organizations to be involved and making sure I'm actively in these communities, as well as donating the first million dollars I make this season to different organizations to help these communities and help these people."
Now, the compassionate medical personnel at the Mni Wiconi Health Clinic — a partnership with the Do No Harm Coalition at the University of California at San Francisco (UCSF) — will benefit significantly thanks to Kaepernick's foray into activism. According to NBC's CSN, half of the donation will offset their salaries, while the "remainder of the donation goes toward offsetting building materials for the mobile medical clinic, medical supplies and liability insurance."
Thousands of water protectors remain camped in support of Standing Rock Sioux Tribe members fighting to halt Energy Transfer Partners' construction of the contentious pipeline. Although water protectors — who include Indigenous peoples from hundreds of First Nations and tribes from around the world, as well as non-native allies — remain peaceful and prayerful, militarized law enforcement led by the Morton County Sheriff's Department have used brutal and abhorrent force on a number of occasions.
From tear gas and pepper spray to rubber bullets, water cannons, and more, riot gear-clad police have seemingly employed every violent tactic imaginable against the unarmed water protectors — making medical staff an absolute necessity.
Two of the most horrific injuries occurred when police began attacking water protectors attempting to clear a blockade law enforcement erected at Highway 1806's Backwater Bridge — an obstacle severely hindering the access of emergency personnel to the reservation and pipeline opposition camps — on the evening of November 20.
Militarized officers first fired rubber bullets, which attracted a crowd of around 400 irate but unarmed people. Police proceeded to unleash a barbaric show of disproportionate force, firing pressurized tear gas canisters, concussion grenades, mace, various ostensively less-than-lethal projectiles, and then — in conditions hovering well below freezing — doused the crowd with high-pressure water cannons.
During the attack, police fired a tear gas canister at a water protector known as Sioux Z, which exploded in her face, severing her retina — and it's now highly unlikely she will regain vision in that eye. Another, Sophia Wilansky, had her arm blown apart when police launched what is believed to be either a concussion grenade or pressurized tear gas canister as she carried bottles of water to people on the front line.
Medics and first responders reported dozens of cases of hypothermia, around 20 hospitalizations, one cardiac arrest — and resuscitation — and hundreds of other injuries.
Kaepernick's donation to the Mni Wiconi Health Clinic will help the medics attending those dedicated to protecting the Standing Rock Sioux' water supply — but the clinic will continue after the encampments ultimately disband. According to the UCSF crowd-fund website,
"The Mni Wiconi (Water is Life) Health Clinic is a free integrative clinic that is developing with Standing Rock Sioux Tribe traditional healers, UCSF providers and students, National Nurses United, Changing Woman Initiative (indigenous midwifery group) and Global Health Care Alternative Project to provide free care to all people on tribal land in the Standing Rock Sioux reservation. At the invitation of the tribe, our consortium's goal is to create a space for the imagining and practice of decolonized medicine in order to further the health of the community in the short-term with the expanded population due to pipeline resistance and in the longterm after the encampments have dissolved."
Appetite for Change in Minneapolis — a group installing an urban community farm plot as part of its dedication to improving the nutrition of urban dwellers — received $25,000 as part of this month's donation. SOUL of Chicago received the remaining quarter of Kaepernick's funds, which will be allotted for Funding for Decarcerate Chicago, "a campaign to end mass incarceration and over-criminalization of communities of color in Illinois."
As controversial a figure as the athlete might be, Colin Kaepernick continues to back up the vow to spread his wealth to groups fighting to improve communities around the United States.