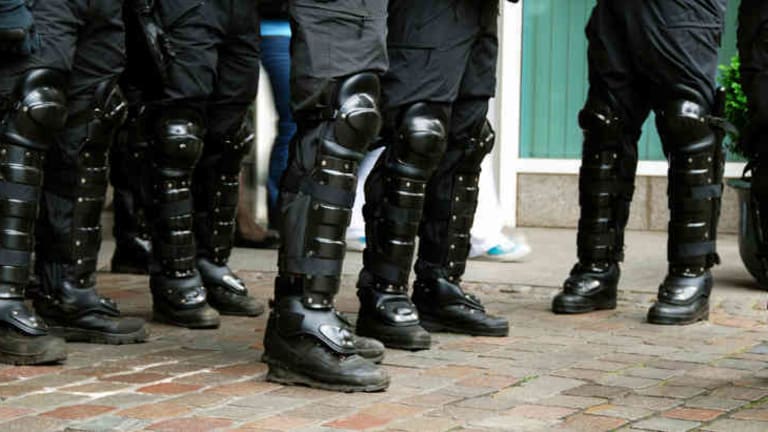 Kevlar & Caution: US Police on High Alert Following Cop Killings
Police departments across big cities in the US are warning officers to take extra care after a spate of cop killings. Officers are advised to wear bulletproof vests and not make inflammatory posts on social media amid increased fears for their safety.
A message from the New York Police Department (NYPD) union told cops that they should respond to every radio call with two cars, "no matter what the opinion of the patrol supervisor," while they should not make arrests "unless absolutely necessary," AP reported.
Meanwhile, President of the Detectives Union Michael Palladino also warned of the dangers facing officers, stating, "Detectives assigned to Precinct Detective Squads and similarly-sized units should operate in teams of three when possible until we better assess the threat that exists against us," in an email sent to officers.
Other forces outside New York were also telling their officers to take extra care when responding to calls. Marc Kovar, executive vice-president of the New Jersey Police said in the email that all cops should take extra care and change their routines over the next few weeks in the wake of nationwide protests that he says have led to a "fever pitch of anti-police sentiment."
Police are also advised not to go on patrol alone and to avoid people who are looking for confrontations.
"This open hostility has created more tense encounters with officers even on routine incidents such as motor vehicle stops," Kovar said. "The State PBA is advising officers to be alert for any interaction where a person may be looking for a confrontation," according to AP.
Philadelphia Police Commissioner Charles Ramsey called for calm following the deaths of Eric Garner and Michael Brown, advising not to let the situation escalate any further. Boston Police Commissioner William Evans said alerts had been issued to officers following the shooting of the two New York officers, while the force had been instructed the police to be wary since the decision by the Ferguson grand jury not to charge Darren Wilson for killing Brown.

NYPD cops Wenjian Liu and Rafael Ramos were sitting in their patrol car on December 20, when they were approached by Ismaaiyl Brinsley who shot the two officers dead from point blank range. The gunman later committed suicide.
In a separate incident on Sunday morning, Marco Antonio Parilla Jr. shot and killed veteran officer Charles Kondek in Florida. The suspect fled the crime scene in by car, before crashing into a pole, where he was arrested. Ramos' aunt, Lucy Ramos has appealed for calm following the killings, saying, "I hope we can reflect on this tragic loss so we can move forward to find an amicable path to a peaceful coexistence," according to AP.

Her sentiments were shared by Brooklyn Borough President Eric Adams, who said, "We want the entire New York Police Department family to understand that we all mourn together… We do not want anything to divide us from how much we appreciate the men and women who wear a blue uniform every day to provide public safety."

In the wake of the ambush, former New York Mayor Rudolph Giuliani lashed out at current Mayor Bill de Blasio, President Barack Obama and Attorney General Eric Holder. Speaking on Fox News, Giuliani said, "We've had four months of propaganda, starting with the president, that everybody should hate the police."
"They have created an atmosphere of severe, strong, anti-police hatred in certain communities, and for that, they should be ashamed of themselves," he said. In a tweet, former New York Governor George Pataki called the killings the "predictable outcome of divisive, anti-cop rhetoric of Attorney General Eric Holder and Bill De Blasio."

New York police officers turned their backs on de Blasio in protest during a news conference, and their union said the mayor had blood on his hands after Saturday's shooting. De Blasio, who was elected last year on a platform of promoting greater civil liberties, has been largely sympathetic towards protesters in New York, who took to the streets after a grand jury decided not to indict Daniel Pantaleo, who strangled Garner in a chokehold in July.
Meanwhile political analyst Caleb Maupin says he believes many of the protests have been an expression of an "atmosphere of terror and repression," that exists across the US as people live in fear of police brutality.
Speaking to RT, Maupin believes the NYPD is likely to use this latest incident with the murders of officers Liu and Ramos to introduce an even greater public crackdown.
"The New York City Police Department has the biggest public relations budget that any police department of the entire US. They are going to try to neutralize what occurred today, they are going to try to neutralize it to create sympathy for the police and to justify probably a bigger crackdown on the peaceful protest that has been taking place," he said.
Republished with permission from Russia Today