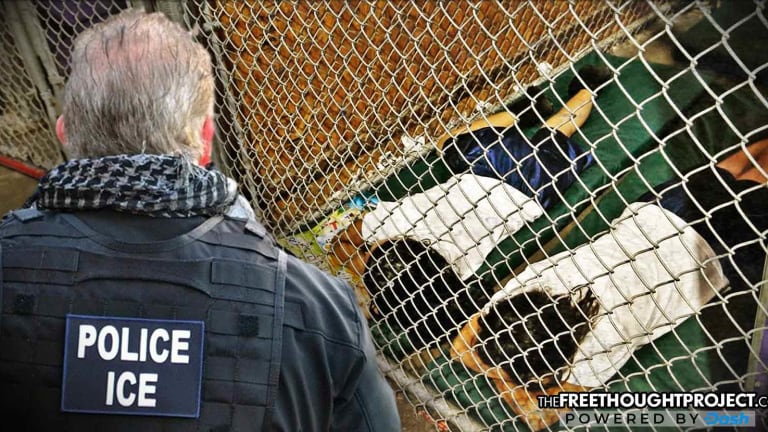 'Kids Screaming in the Next Room' Another Lawmaker Exposes Horrific Kidnappings by US Immigration
A congresswoman is exposing the horrific immigration system in which mothers seeking asylum are separated from their children with no warning.
One week after a senator made headlines when he attempted to enter a Walmart that had been converted into a detention center for immigrant children and he was removed by police, a congresswoman is speaking out about her visit to a federal prison facility where dozens of immigrant women seeking asylum were separated from their children with no warning.
Washington State Rep. Pramila Jayapal visited a facility near Seattle and met with more than 170 women who were transferred after they were taken into custody near the southern U.S. border, and she told The Nation that more than one-third of the women had been separated from their children—some because they were captured by immigration officers and some because they turned themselves in and were seeking asylum.
The ages of the children ranged anywhere from babies to teenagers, and Jayapal said that while a few mothers were notified that their children had been placed in foster care, the majority do not know where their children are, and did not know they were going to be taken from them.
"Thirty to 40 percent of these women came with children who had been forcibly taken away from them. None got a chance to say goodbye to their children—they were forcibly taken away. One said she was deceived because they were in detention together. Then the CBP officers told her she was going out to get her photograph taken. When she came back, she was put in a different room, and she never got to see the child again. Some of them said they could hear their children screaming for them in the next room."
The individual cases are horrific, and Jayapal said that one mother who brought her 8- and 12-year-old children to the U.S. seeking asylum from Guatemala, was separated from them and is now terrified that her husband—who is going to be released from prison soon after serving time for raping a child—will come after them.
There also seems to be very little of the "law and order" that was promised by President Trump, and one woman who came to the U.S. with her two sons told the congresswoman that when she was detained, her 16-year-old son was sent to live with her husband in Virginia but her 11-year-old son has remained in custody for unspecified reasons.
"This is a huge problem. This is part of Operation Streamline, which I have written letters and done other things to try to stop," Rep. Jayapal said. "It was set up for mass prosecutions of quote 'the really bad guys,' to get that process moving because we have so few immigration judges. But they're now using Operation Streamline for asylum seekers, and these women said anywhere from 75 to 100 are being prosecuted all together. They have headphones but they're not allowed to speak to the judge."
The women Jayapal visited were being held in a Bureau of Prisons federal facility, and when they go before a judge, they go in groups of up to 100, and they are not allowed to speak to the judge or to plead their individual cases. While seeking asylum is not illegal, the fact that the women are being tried in criminal courts instead of immigration courts is raising concerns that they will not be able to receive asylum if they plead guilty to illegally crossing the border.
"They're not allowed to speak themselves," Jayapal said. "There's only one argument made for all of them. There's only one public defender for all of them. This is a huge problem. One thing also of concern is they are pleading guilty of the crime of crossing the border. Well, when you seek asylum, if you have a criminal record, you don't qualify for asylum."
Jayapal also noted that while there were a number of problems with President Obama's immigration policies, and they often led to families being forced to stay in horrific "family detention centers," the practice of separating mothers from their children has exploded under the Trump Administration, and it is setting a dangerous precedent.
"For the most part, there was an attempt to distinguish between people we needed to be worried about and people we didn't. They didn't have a policy to go after everybody," Jayapal said. "But this so-called zero-tolerance policy, I've never seen anything like it. And I've worked on these issues for years. I mean, I saw some of these things happening after 9/11 to Arab Americans, Muslim, people being secretly detained and deported. It takes me back to that time when there were mass roundups of people."
While water-boarding and starvation are typically referred to as forms of torture that were approved by the United States in the post-9/11 days, Jayapal argued that separating children from their mothers should also be considered a form of torture.
"There was a time when waterboarding and torture was the accepted thing to do. Then it became unacceptable," Jayapal said. "This separation of children from their parents is really a form of torture. These women have no idea where their children are. There's been a lot of research on what happens to young children who are separated from their parents."
The epidemic is occurring across the country, and when Senator Jeff Merkley visited a Walmart that had been converted into an immigrant detention center last week, he said he saw children who had been separated from their parents and were being held in cages.
"When I was at the center at McAllen Border Station, this is the processing center, earlier and I was admitted there and I did see the people, hundreds of children locked up in cages there at that facility," Merkley said in an interview with CNN. "They have big cages made out of fencing and then wire and nets stretched across the top of them so people can't climb out of them."
While there have always been people seeking asylum in the U.S. from other countries, it should be noted that the "War on Drugs" in the United States has contributed both to violence in the countries immigrants are seeking asylum from, and an increase in drug trafficking over the border that has resulted in all migrants being treated like criminals.
As Ron Paul noted last year, the War on Drugs has "produced no benefit to the American people at a great cost," and "just as with the welfare magnet, there is an enormous incentive to smuggle drugs into the United States."
There is also the troubling concern over what is happening to the immigrant children who are separated from their parents. While the idea of an innocent child being locked in a cage is troubling, it is not the worst fate many of the children are subjected to. The Health and Human Services Department recently admitted that nearly 1,500 immigrant children have gone missing, and many of them are suspected to have been kidnapped by human traffickers.
The immigrant children who are placed into the custody of Social Services are being forced into a system that has a troubling track record. As The Free Thought Project reported, the latest report from the National Center for Missing & Exploited Children shows that nearly 25,000 runaways were reported 2017, and one in seven were likely victims of child sex trafficking. Of those, 88 percent were in the care of social services when they went missing.