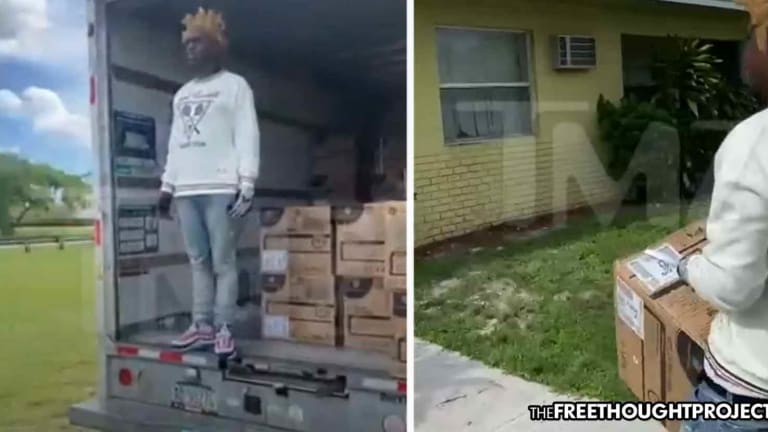 Gov't Threatens Kodak Black with Cease and Desist Over Donating AC Units to Housing Projects
Rapper Kodak Black is being threatened by local government after he handed out AC units to underprivileged families during a heat wave.
Broward County, FL — In July of this year, as residents of the Golden Acres Projects sweltered in their homes during an oppresive Florida heatwave, rapper Kodak Black decided to step in and help them out. On the 4th of July, Black arrived in the neighborhood with a truck full of 100 AC units to hand out. He went door to door himself to hand out the units.
"We out here passing out AC units, helping install them," Kodak said in a video posted to social media. "We do it for the projects, we do it for the projects. The people relying on just enough cash to survive. We'll get you all ACs man, we out here."
Many of the residents were brought to tears by the kind act which may have quite literally saved some of their lives.
"A lot of times people get it twisted. They be like, 'Man, Kodak sleep, Kodak this, Kodak that.' Well check this out. Kodak back in his hood, man, giving back. It's nothing new. You just happen to be a part of it today, that's it."
While the community celebrated their new AC units and the fact that they could now cool their homes, the government was working behind the scenes to do what government does.
Fast forward to this month and the Housing Authority of Pompano Beach made sure that no good deed goes unpunished. TMZ reports the Housing Authority of Pompano Beach issued a cease and desist letter to Kodak, claiming that he caused "disturbances" when delivering air-conditioning units to a housing project in July.
"Your actions have adversely impacted the Property's residents' right to peacefully enjoy the property," the letter reads, according to TMZ.
The authority also claimed that the rapper's subsequent music video, which was shot in the same location, also caused a "disturbance."
Others disagree, however, and Black's attorney, Bradford Cohen, responded with a letter of his own reprimanding the housing authority for their "wish to stop the assistance to the elderly and underprivileged during a heat wave and 2 year pandemic."
The Libertarian Party VP candidate for 2020, Spike Cohen, also shared some harsh words about the government's response to a rapper donating AC units to those in need.
Rapper Kodak Black has given out 100 AC units to housing project residents in Pompano Beach, FL.

In response, the Pompano Beach Housing Authority sent him a cease and desist, saying "yOuR aCtIoNs HaVe AdVeRsElY iMpAcTeD tHe ReSiDeNtS' rIgHt To PeAcEfUlLy EnJoY tHe PrOpErTy."

Government breaks your legs, steals your wallet, uses some of your money to buy you some crutches, and then tells you how great they are for buying you crutches.

And if someone else comes by to help you, they'll break their legs too.
While the government attacking someone for a charitable act like handing out AC units may be surprising to some, it happens quite often. In fact, it happened previously in the same county. As TFTP previously reported, 90-year-old Arnold Abbott was arrested by Fort Lauderdale cops for a similar act. His crime? Feeding the homeless.
Abbott's arrest over his good deed sparked a global backlash, however, and Broward Circuit Judge Thomas Lynch was forced to suspend the ordinance which made feeding the homeless an unlawful act.