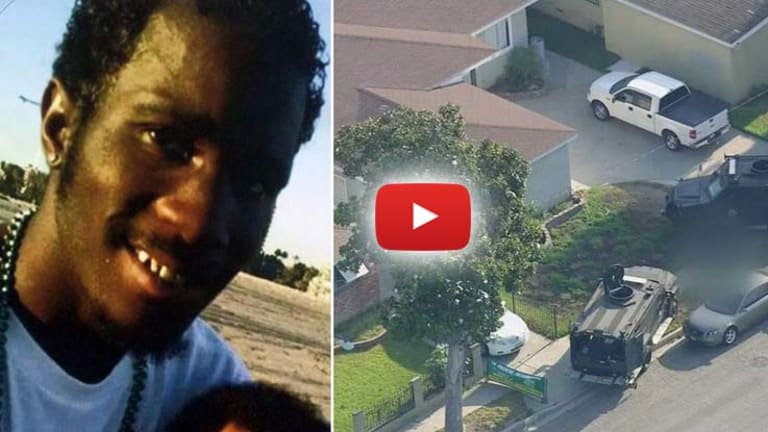 Cops Admit They Mistook Innocent Unarmed Mentally Ill Man for Suspect and Murdered Him
An LA County Sheriff's SWAT deputy fatally shot an unarmed, mentally ill man because he thought the man was involved in a carjacking.
Donnell Thompson never had legal trouble and never committed any crime — nevertheless, a Los Angeles County SWAT officer gunned down the soft-spoken 27-year-old from the turret of an armored vehicle in a case of negligible mistaken identity.
"Knowing what we know now, do we wish it hadn't happened?" head of the L.A. County Sheriff's Department homicide bureau, Capt. Steven Katz, asked rhetorically. "It speaks for itself."
On July 28, Thompson's life was cut short because another man, Robert Alexander, stole a 2012 Honda Civic at gunpoint.
Shortly after Alexander forcefully commandeered the Civic from its rightful owner in Compton, a sheriff's deputy noticed the vehicle driving erratically and performed a traffic stop. After a check of the license plates revealed the car to be stolen, a second deputy was summoned to the scene — but as the patrol car arrived, Alexander suddenly drove off. Both deputies pursued.
At some point during the chase, according to Katz, Alexander fired at the cops. When he shot at them a second time through the driver's side window, the deputies fired back — and Alexander abandoned the stolen car and took off running through the neighborhood.
According to the Los Angeles Times, authorities claim Alexander pointed his gun at two people sitting on a porch, saying he would kill anyone who approached — and proceeded to barge into the house, throwing the gun under a sofa before jumping into a bed in the same room where a bedridden woman was staying in an apparent attempt to pretend he lived there.
Deputies took Alexander into custody at 4:59 a.m.
Less than a minute later, the Times reported, a resident a few blocks away dialed 911 after finding a man lying in his front yard when he was taking out the trash.
The deputy arriving on scene radioed dispatch, saying this man, blocks away from where deputies had yet to identify Alexander as the suspected carjacker they'd been searching for, matched the same description of the suspect: a 20- to 30-year-old black man wearing a basketball jersey and dark pants or shorts.
That rough resemblance would shortly prove tragic.
Finding the man lying unresponsive in a stranger's yard, the deputy believed he must have been the suspect, perhaps shot by deputies during the pursuit.
"I could see why they were thinking, 'Yeah, that was our guy,'" Lt. John Corina from homicide said, according to the Times.
Authorities said Thompson didn't respond to any commands and remained motionless on the ground. For unspecified reasons, they summoned SWAT to the scene — but even a flash-bang grenade failed to rouse Thompson.
Finally, Thompson jumped to his feet after SWAT officers shot him with foam bullets and 'bolted' toward an armored vehicle.
Deputies claim the man had his right hand at his waistband as he ran toward their armored tank — so the SWAT deputy in the turret fired an M4 rifle, striking Thompson in the chest, twice.
Donnell Thompson — who attended classes for the mentally disabled at El Camino College, where he also enjoyed beating friends at Uno — died at the scene.
Previously, sheriff's inaccurately called Thompson 'one of the suspects' in the carjacking, but publicly corrected those claims on Tuesday.
"We have determined that there is no evidence that Mr. Thompson was in the carjacked vehicle, nor that he was involved in the assault on deputies," said the sheriff's department in a statement cited by a local ABC affiliate.
Corina claims that despite SWAT's obvious protection inside armored vehicles, the deputy who shot Thompson — since placed on desk duty pending the outcome of an investigation — believed the man posed a threat to the neighborhood, thus opening fire was justified.
Thompson's distraught family and their attorney, however, believe officers didn't do enough to de-escalate the situation, and did not need to employ lethal force.
"The result is that we have an unarmed individual, who had committed no crime, who once again has been the victim of a law enforcement homicide,"asserted Brian Dunn, attorney with the Cochran Firm, who now represents Thompson's family in the matter.
A number of questions have been so far left unanswered — though perhaps most pertinent among them, if Thompson charged toward the armored SWAT vehicle, not into the neighborhood, how much of a threat could he possibly have posed to anyone?
Whether or not they truly believed he had a weapon, deadly force by law enforcement must only be employed in an instance of imminent threat to themselves or others — but Thompson had not drawn a weapon as if to fire on anyone, because he wasn't armed.
In shooting before an actual, immediate threat presented itself, the deputy removed by assumption the possibility one would be posed. In fact, because of this, Thompson's only guilt exists in non-compliance — no jury in the country would impose a death sentence for failure to follow commands.
Ed Obayashi, a Plumas County sheriff's deputy and attorney who advises several California law enforcement agencies, explained though belief Thompson was the suspected carjacker bares no import to legal justification of his shooting, the deputy's perception of the situation at the time will.
"The commands being ignored, they used less-lethal force that was ineffective, the guy was running away," the Timesquoted Obayashi, "those factors are very relevant in leading them to believe, 'This guy has done something wrong. This is our guy.'"
In other words, the as-yet unnamed deputy will almost certainly justify his use of force with the laughably exhausted 'I feared for my life' defense.
Family members describe Thompson as the gentlest of souls, a man so unaggressive in manner, you had to lean in to hear him speak.
"He's soft-spoken. He was gentle," Larmar Avila, Thompson's cousin lamented during a press conference just prior to addressing the L.A. County Board of Supervisors.
"What was the threat? What was it?" he demanded angrily. "I don't understand."
His eldest sister, Matrice Stanley, said her brother's "age was 27, but mentally … he was probably 16."
Not yet completed toxicology analyses will reveal whether Thompson had alcohol or drugs in his system at the time of his death — but in the meantime, his stupor in a stranger's front yard remains unexplained.
"That sort of is part of the mystery here,"said Katz. "It's a terrible situation, and one of the questions we'd like answered is what brought him" to that yard.
"I'm tired of hurting, I'm tired of crying …" Avila said at the press conference. "The moments we had, I can't have that no more. And I want to know why."