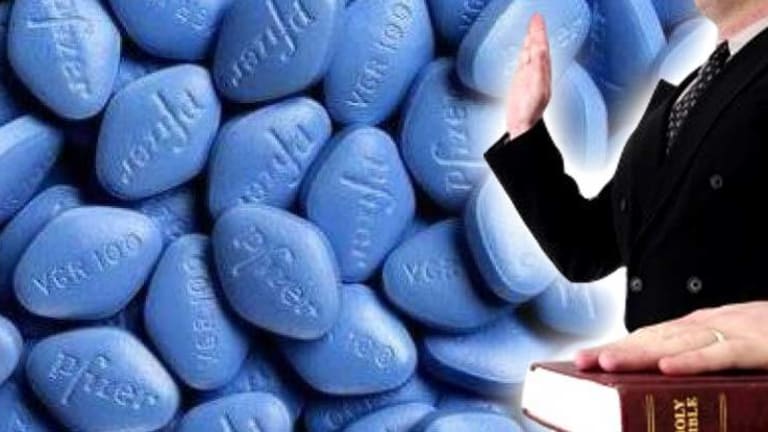 Lawmaker's Bill Forces Men to Get Note from Wives, Swear on the Bible, Before Purchasing Viagra
Under the bill, only married men, who swear on the bible, and get a note from their wife will be able to get the drug.

Frankfort, KY -- In a mockery of the legal system, a Kentucky lawmaker has proposed an obnoxious piece of legislation that will require men to jump through several hoops prior to acquiring erectile dysfunction medication.
HB396 16RS Erectile Dysfunction Drug Bill, was proposed last week by Rep. Mary Lou Marzian of Louisville.
"I want to protect these men from themselves," Marzian, who is a nurse, told the Courier-Journal.
"This is about family values," she added.
The humiliating hoops proposed in the Bill, are nothing short of absurd. Prior to prescribing a man Viagra:
A health care practitioner shall:
(1) Require a man to have two (2) office visits on two (2) different calendar days before the health care practitioner prescribes a drug for erectile dysfunction to him;

(2) Prescribe a drug for erectile dysfunction only to a man who is currently married;

(3) Require a man to produce a signed and dated letter from the man's current spouse providing consent for a prescription for erectile dysfunction; and

(4) Require a man to make a sworn statement with his hand on a Bible that he will only use a prescription for a drug for erectile dysfunction when having sexual relations with his current spouse.
According to WDRB, 
In an interview Friday, Marzian said the intent of the bill is to "have government insert itself into the personal, private decisions of men -- since we have already inserted it into our personal, private decisions of women."

She added, "We are very 'family values' in the Kentucky General Assembly -- they are all awash in Christian, family values, so that's why I put that part in there that (erectile pills) can only be used in a marital relationship."
The bill is not expected to pass, or even be taken seriously, as Marzian drafted the legislation as a means to draw attention to the equally invasive "Informed Consent" bill which passed on January 28. The informed consent bill mandates that any woman wishing to have an abortion, must first consult with a doctor.
Marzian doesn't stop at erectile medications either, she has another bill in the works that will require potential gun buyers to receive counseling from victims of gun violence 24 hours before their purchase.
"I'm just making sure the government is taking care of your safety," she said.
What the drafting of this bill illustrates is the irrational nature of politics in America. Instead of fighting to end the bill intended to shame women prior to an abortion, Marzian is using her taxpayer-funded time to draft erroneous bills used to mock her fellow politicians.
The political process in Kentucky and the rest of the country, in general, has become little more than kindergarteners jockeying for power on the playground. Only these 5-year-olds are in their 40's and they can literally lock you in a cage over dictating what you can and can't do in your private life.
Matt Agorist is an honorably discharged veteran of the USMC and former intelligence operator directly tasked by the NSA. This prior experience gives him unique insight into the world of government corruption and the American police state. Agorist has been an independent journalist for over a decade and has been featured on mainstream networks around the world.