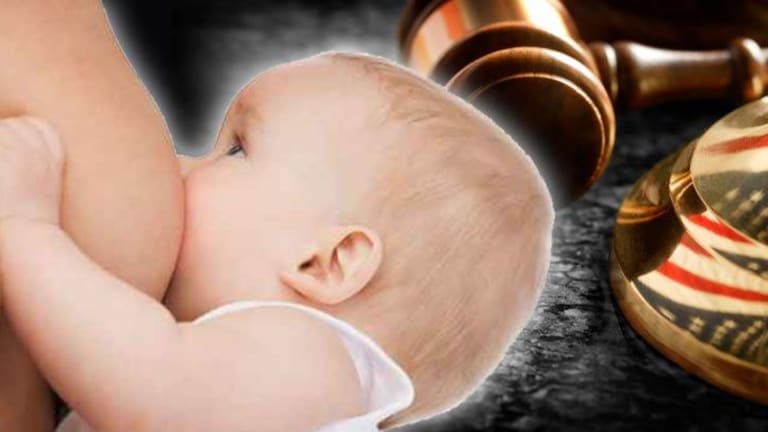 Draconian "Revenge Porn" Law Stopped that Would've Outlawed Photos of Breastfeeding Mothers
The ACLU and the Media Center managed to stop a particularly damning blow to free speech which was ostensibly presented as a means of protection against revenge porn.
The nanny state has encountered a setback in Arizona. The American Civil Liberties Union (ACLU) and the Media Coalition have managed to stop a particularly bad "revenge porn" law from taking effect in that state.
After lawmakers failed to fix the law's overly broad language, US District Judge Susan Bolton issued a final decree that the state's attorneys cannot enforce the law in its current form.
Arizona Attoney Genera Mark Brnovich did not fight the ACLU lawsuit and agreed that lawmakers included "ambiguities that raise legitimate constitutional concerns." They're even going to pay the plaintiff's legal costs.
The ACLU lawsuit, filed in September 2014, argued that Ariz. Rev. Stat. § 13-1425 law violated the First Amendment because it does not actually require that the images be malicious. Also, the exemption for "public or commercial setting" is so vague that images with political, historical or artistic significance—such as the iconic 1972 "Napalm Girl"—could be criminalized.
While the act of posting nude pictures of someone for malicious purposes is certainly reprehensible, Arizona's version of a revenge porn law could have been used to target professors, booksellers, librarians, and even new mothers. The plaintiffs provided several examples of what could have been criminalized:
"A college professor in Arizona, giving a lecture on the history of the Vietnam War, projects on a screen the iconic Pulitzer Prize-winning photograph, "Napalm Girl," which shows a girl, unclothed, running in horror from her village.
A newspaper and magazine vendor in Arizona offers to sell a magazine which contains images of the abuse of unclothed prisoners at Abu Ghraib.
An educator in Arizona uses images, taken from the Internet, of breastfeeding mothers, in an education program for pregnant women.
A bookseller in Arizona offers for sale the books, Edward Weston: 125 Photographs (Ammo Books 2011) or Imogen Cunningham: On the Body (Bulfinch 1998), each of which contains nude images.
A librarian in Arizona includes, in the library's collection, the book Robert Mapplethorpe and the Classical Tradition: Photographs and Mannerist Prints (Guggenheim Museum Publications 2004), which contains nude images.
A library in Arizona provides computers with Internet access to its patrons and, because no filters could effectively prevent this result, the library patrons are able to access nude or sexual images.
A mother in Arizona shares with her sister, in the privacy of her home, a nude image of her infant child.
A sexual assault victim in Arizona shows a photograph of the naked assaulter to her mother."
Arizona lawmakers have developed quite a reputation for attempting to regulate behavior and morality. Their "revenge porn" law shows just how dangerous this can be to basic liberties.