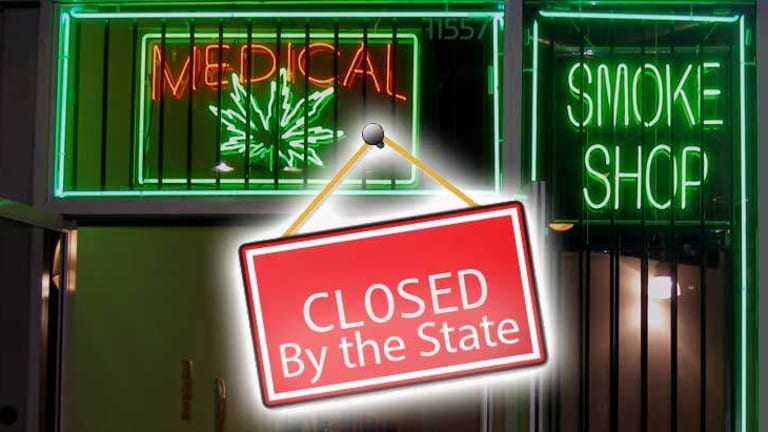 Despite Legal Weed, Washington Govt is Forcefully Shutting Down Pot Shops, Because they Can
Dozens of legal businesses will be forced to close their doors forever after the state arbitrarily decided that there are too many pot shops.
Tacoma, WA -- It seems that government can always find a way to take away freedom, even when it gives some with the other hand. Washington state legalized cannabis for recreational use last year, but two troubling developments are illustrating how even this great achievement can be the ruin of good things.
In Tacoma, more than 60 medical cannabis shops will be forcibly closed because the mayor had deemed them unnecessary.
"We don't need 60 stores selling marijuana in Tacoma," said Mayor Marilyn Strickland. "At a minimum, 48 of these stores do need to close down permanently."
The unfortunate owners of these businesses will be receiving a letter ordering them to shutter their doors for good within the next 45 days. That's dozens of profitable businesses operating within the law, providing a good to meet demand, which will be exterminated by the state.
The newly empowered Liquor and Cannabis Board will be deciding which shops can remain open and operate under their rules and regulations. Only stores that had a location before Jan. 1, 2013 and have a history of paying all the state taxes and fees will be considered for remaining open.
Mayor Strickland also wants to add the issue of unionized workforces to this state power grab, which is most likely a move to appease one of her campaign supporters, the United Food and Commercial Workers union.
"They have a code of conduct. That would help ease people's minds about legitimacy," said Mayor Strickland.
Store owners that have been trying to please the state and operate under their rule are frustrated by the lack of guidance.
Louis Archuleta, owner of The Herbal Garden, said, "We followed what little rules they gave us. The state's not even enforcing the regulations they do have, and when you try to get a straight answer, you can't get a straight answer about anything."
This year's Hempfest in Seattle will provide another display of irrational state power under the guise of legalization. Last year, festival organizers had "marijuana gardens" or "fenced-off, out of public view, 21 and over adult lounges" where legal adult use could take place. It was a common-sense, community-based attempt to use in a responsible way.
However, this is now considered a Class C felony under omnibus legislation that became law last month. Providing a place for public cannabis use is now against the law, even when it's at a festival and the goal is to keep kids from using.
"We cooperated with the 21-and-over adult lounge, because we thought that it was the model of the future," said longtime Hempfest organizer Vivian McPeak. "And in the future, every large public event should have an area similar to a beer garden where people 21 and over can imbibe.

"We were hoping that we were starting something that could become the standard for events all across the state, and it's disheartening to see that once again the state legislature steps in and does something that just doesn't seem to be in the interest of the general public or the young people.""