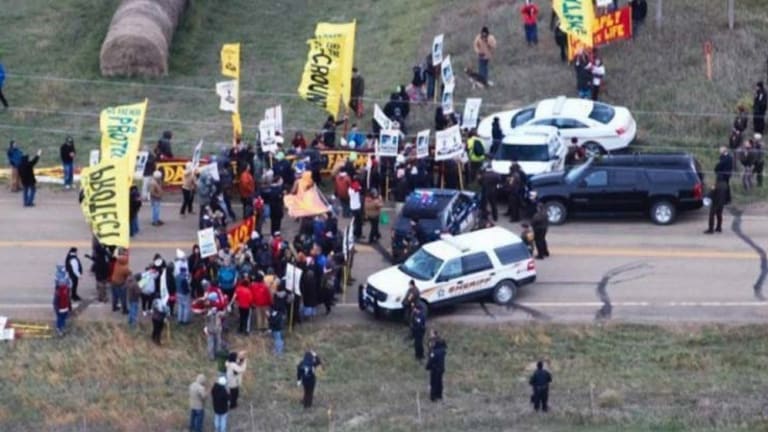 New Bill Will Legalize Causing 'Injury or Death' By Running Over Protesters
These 'small government conservatives' are ready and willing to have big government criminalize free speech and essentially maim protesters.
In a daring swipe at First Amendment rights, North Dakota lawmakers have proposed bills directly targeting protesters of the Dakota Access Pipeline (DAPL). If passed, the bills would add insult to injury for Native Americans and their supporters attempting to protect the water source of the Standing Rock Sioux.
Introduced by so-called 'small government conservatives,' one bill would make it a crime for people to have face coverings at protests. Another bill, introduced by Rep. Keith Kempenich (R), would make it legal to run over protesters if the driver says he or she didn't mean to do it.
House Bill Number 1203 states:
"Notwithstanding any other provision of law, a driver of a motor vehicle who unintentionally causes injury or death to an individual obstructing vehicular traffic on a public road, street, or highway, is not guilty of an offense."
Kempenich, an ally of the oil industry sure to benefit from a completed DAPL, cited complaints by his mother-in-law in justifying his proposed bill, going so far as to say a tragedy could occur "if [drivers] have punched the accelerator rather than the brakes." He did not provide any actual examples of protesters getting hit or data on complaints from other citizens.
The bill is set for a hearing in the House Transportation Committee on Friday, but the Senate Majority Leader has expressed concerns about lawsuits. Interestingly, he also said it could add to the state's prison population "that's soared due to crime accompanying the rise in oil production." But lawmakers are pumping out the disinformation.
"When people are having their lives disrupted, you're going to see things move up here," said Sen. Kelly Armstrong, an oil company executive and GOP chairman. "It's very difficult to write 'protest laws.' We need to make sure there is reasonable application of the law in all circumstances, whether protest-related or not."
Not satisfied with having law enforcement violently cracking down on protesters, Kelly believes assaulting the fundamental rights of citizens is the next step. Perhaps Kelly and his political colleagues are feeling emboldened by incoming president Donald Trump, a strong fossil fuel advocate who is ready to embrace authoritarianism.
Lawmakers, eager to begin raking in tax revenue from DAPL, make no mention of the fact that Native American rights were ignored in the process of granting the pipeline right-of-way. They claim the pipeline is necessary to transport oil from shale fields, even though oil production is steadily falling and existing transport infrastructure is already underused – making DAPL nothing more than a high-risk investment by oil barons.
In yet another indication of their readiness to use big government, the same lawmakers are proposing "legislation that would require the state attorney general to sue the federal government to help cover costs for policing a protest."
They've already spent $22 million of state taxpayers' money acting as militarized protection services for oil companies, and now they feel everyone else should pay them back. There is no confirmation yet if Energy Transfer Partners will or already has reimbursed law enforcement for their help.
This comes after a bill, already withdrawn, that would have had North Dakota claim land and mineral rights in the pipeline's path under the Missouri River to reimburse law enforcement costs.
Cleary, these 'small-government conservatives' are desperate for payback and vengeance. The unabashed desire to wield state power against the most fundamental right of American citizens is truly a frightening prelude.