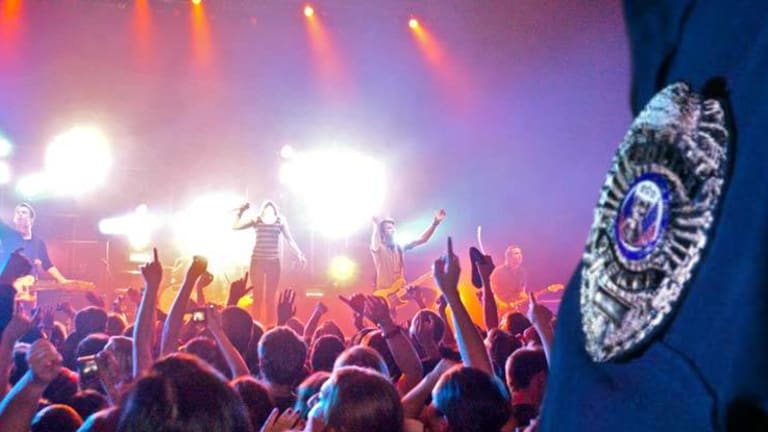 Proposed Bill Forces Cops to Spy on Musicians and Live Shows -- This is Art in a Police State
New bill would force venue owners to collect data for police on musicians and their fans, including personal information like addresses.
Philadelphia, PA - Philadelphia City Councilman Mark Squilla sparked outrage this week by proposing a bill that would force venue owners to collect the personal information of all of their performers for the creation of a police database. The proposal would require venue owners to supply police with the names, addresses and telephone numbers of all the bands, DJs and rappers that perform at their club.
The proposal also places additional licensing requirements on shows and venues that would allow the police to pull the plug on events at any time and for any reason. The councilman intends to create a virtual ban list of artists who have large crowds or crowds that have been reported to police in the past for small disturbances like noise or litter.
According to the bill, artists could be banned from performing in the city if their events coincide with any "crime, traffic, litter, noise, parking and hours of operation; as well as any community concerns, particularly those of neighbors in the immediate vicinity."
Councilman Mark Squilla told Billy Penn in an email that, "Giving performers' information to police when requested enables them to review past performances to see if there were any public safety issues during their events."
Squilla also said that clubs who stream music will also be targetted.
"Some clubs were operating without a license because they found a way to have music without a DJ or live performer/band. This legislation will include new forms of music/streaming that weren't around when this first Special assembly bill became law," he said.
The councilman claims that this legislation is not aimed at any specific artist or crowd while at the same time claiming that live music attracts crime.
Local promoters are saying that this new legislation is an attack on the local music industry and that it is entirely unreasonable.
Sean Agnew, owner of R5 Productions pointed out in an interview with Billy Penn that this plan is not even practical.
"This is news to me. I'm not sure what the reasoning or theory is. As someone who books 600+ shows a year, I have never once received an artist's home address or phone number. It's all through booking agents, managers, publicists. There is a firewall in place with the artists. I can't imagine a band's representatives wanting to give their clients information over to the police without a really good reason," Agnew said.
In addition to giving police authority over which entertainers are allowed to perform in the city, the bill will also make it more expensive to do business for venue owners. Currently, it costs $100 per year for a venue owner to get licensed to host events, however, under the terms of the new bill the license will cost $500 every two years.
The bill has met resistance from the Pennsylvania ACLU, who have pointed out that the police should not even be involved in these types of matters.
Mary Catherine Roper, Deputy Legal Director of the Pennsylvania ACLU, said that "This bill reflects a strange expansion of police duties and a dangerous muddling of the line between law enforcement and business licensing. No one can expect the PPD to approach this function the same way that L&I would approach it. They will approach it as another police function, informed by police priorities that may not be appropriate to the task."
Attacks on music gatherings are occurring all over the country with increasing intensity. As we reported last year, politicians in California are attempting an outright ban on music festivals, supposedly to prevent overdoses that happen on rare occasions at some events.
John Vibes is an author and researcher who organizes a number of large events including the Free Your Mind Conference. He also has a publishing company where he offers a censorship free platform for both fiction and non-fiction writers. You can contact him and stay connected to his work at his Facebook page. You can purchase his books, or get your own book published at his website www.JohnVibes.com.