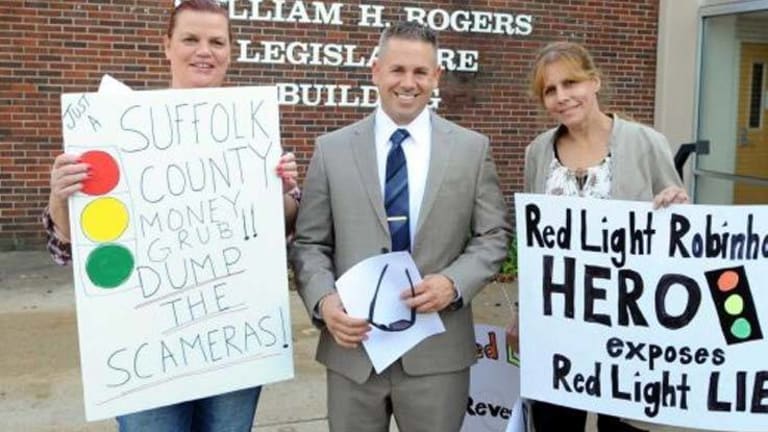 EXCLUSIVE: Local Govt Seeks Vengeance Against Red Light Robin Hood for Exposing Deadly Conspiracy
While awaiting trial for disabling traffic cameras, the Red Light Robin Hood has become targeted by politicians and unknown parties.
Long Island, NY – Unwilling to sacrifice innocent lives for millions of dollars in gross revenue, a nonviolent vigilante known as the Red Light Robin Hood admittedly sabotaged traffic cameras in order to call attention to drastically shortened yellow lights endangering lives in his community. While facing numerous felony and misdemeanor charges for tampering with the highly profitable cameras, Stephen Ruth has recently become targeted by the local politicians who signed the red light cameras into existence.
After receiving several $80 tickets in the mail along with his priest and other members of his community, Ruth posted a video last year instructing people how to point traffic cameras into the air by using a painter's extension rod. Instead of hiding his identity, Ruth openly admitted his actions and was charged with four counts of third-degree criminal tampering and four counts of second-degree obstruction of governmental administration.
Earlier this month, Ruth was arrested again after admitting during an interview with CBS2 that he cut the wires of at least 18 traffic cameras in an attempt to save lives lost by shortened yellow lights. In an exclusive interview with The Free Thought Project, Ruth admitted, "I specifically cut the Cablevision wires and left the rest of the wires alone."
Charged with two felony counts of second-degree criminal mischief, Ruth faces nearly two decades behind bars if convicted of all his crimes. Making no attempt to conceal his identity, Ruth is on a mission to prevent needless deaths caused by red light cameras.
In May 2015, sixteen-year-old John Luke was killed crossing the street when an SUV hit him. Earlier this month, a 64-year-old legally blind man named Warren Karstendick was killed in a hit-and-run when an SUV struck him. After visiting the scenes of their deaths and several others, Ruth concluded that these innocent pedestrians were losing their lives due to cars speeding up to avoid red light tickets.
Although the New York City's Department of Transportation claims that all of its traffic signals provide a minimum of three seconds per yellow light, the AAA of New York released a 2012 report that found every tested traffic camera had a yellow light shorter than three seconds. Despite the fact that governments claim red light cameras are solely used to prevent accidents while modifying driver behavior, the revenue generated from traffic cameras can grow exponentially if yellow lights are shortened.
According to Suffolk County's 2014 Red Light Safety Program Report, overall accidents at red light cameras have decreased by 3%, while rear-end accidents have increased by 42%. In 2010, the traffic cameras only generated a total of $40,698 in gross revenues. Yet in 2014, the proliferation of cameras made over $28.5 million in gross revenues. Between those years, Suffolk's red light cameras have generated more than $32.9 million in revenue with Xerox receiving over $9.5 million in 2014.
After acquiring ACS for $6.4 billion, Xerox began adding several amendments to their original contract with Suffolk County. Buried within the Third Amendment, Xerox added an additional fee charging Suffolk County $2,132 every month and $17.25 per ticket for every camera that fails to meet the "minimum criteria" of 25 tickets within each 16-hour period between 6 a.m. and 10 p.m.
Convinced that Suffolk County legislators had shortened the yellow lights at traffic cameras in order to generate more revenue while avoiding to pay Xerox's minimum criteria fees, Ruth was ignored when requesting footage of fatal accidents and the number of deaths occurring at red light cameras. While awaiting trial, Ruth tells The Free Thought Project how he has recently endured intimidation tactics by local officials and unknown parties.
After stepping out of the shower last week, Ruth discovered that his German shepherd was missing from his home. While driving down a two-way street, Ruth saw a charcoal Toyota sedan nearly collide head-on into his vehicle before it swerved away at the last moment and fled. On Friday, Ruth tracked down the Toyota and posted its license plate number on his Facebook page.
Also on Friday, Ruth accused Brookhaven Supervisor Edward Romaine of raising the taxes on his properties without justification. Although Ruth had attempted to warn Romaine and other legislators about the shortened yellow lights, Romaine had signed the original contract to install the red light cameras in 2009.
"I tried to give them disks proving that people were dying in front of these cameras because of the fact the lights were shortened so much," Ruth recalled. "And they threw me out of their office, wouldn't accept any evidence, completely stonewalled me, and treated me like a piece of shit."
When asked why he decided to wage war against red light cameras, Ruth told The Free Thought Project, "I told my son, 'Defend those that can't defend themselves.' The dead can't defend themselves against these greedy, corrupt politicians."
[divider style="solid" top="20" bottom="20"]
Friday night, the shady vehicles returned, but this time, Ruth followed them. Below is the intense footage of the ensuing chase.
[author title="" image="https://"]Andrew Emett is a Los Angeles-based reporter exposing political and corporate corruption. His interests include national security, corporate abuse, and holding government officials accountable. Andrew's work has appeared on Raw Story, Alternet, Activist Post, and many other sites. You can follow him on Twitter @AndrewEmett and on Facebook at Andrew Emett.[/author]