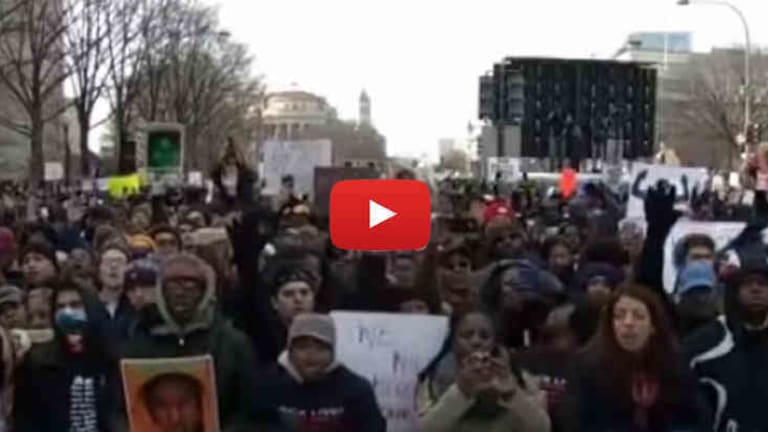 FOX Affiliate Caught Editing Video of Protest Chant: Faked Protesters Saying "Go Kill A Cop!"
"We can't stop! We won't stop! 'til killer cops are in cell blocks," was what protesters were actually saying.
Baltimore, Maryland - Since the protests against police brutality began earlier this year, the mainstream media has been doing their best to demonize the protesters and make it seem like people who are concerned about these issues are violent people.
This week, in the wake of the recent murder of two NYPD cops, both the media and police unions across the country have been taking the opportunity to once again paint police accountability activists as violent people who shouldn't be taken seriously.
This weekend, one FOX affiliate in Baltimore, Maryland was caught staging a shameful hoax, where a video was edited to make it seem like protesters where chanting "Kill a cop!" at a recent protest against police brutality.
The original video of the protest, as seen below, was filmed at an anti-police brutality demonstration in Washington DC. The protesters in the video where all shouting the chant "We can't stop! We won't stop! 'til killer cops are in cell blocks!"
Sadly, instead of airing the protest footage in its entirety, Baltimore's WBFF carefully edited the recording to paint the protesters in the worst possible light. The original protest chant of "We can't stop! We won't stop! 'til killer cops are in cell blocks!", was edited into "We can't stop! We won't stop! So kill a cop!"
Notice how the footage was edited in the video below:
In the coming weeks and months it will be important to pay attention to mainstream footage to look out for this type of propaganda.
John Vibes is an author, researcher and investigative journalist who takes a special interest in the counter culture and the drug war. In addition to his writing and activist work he is also the owner of a successful music promotion company. In 2013, he became one of the organizers of the Free Your Mind Conference, which features top caliber speakers and whistle-blowers from all over the world. You can contact him and stay connected to his work at his Facebook page. You can find his 65 chapter Book entitled "Alchemy of the Timeless Renaissance" at bookpatch.com.