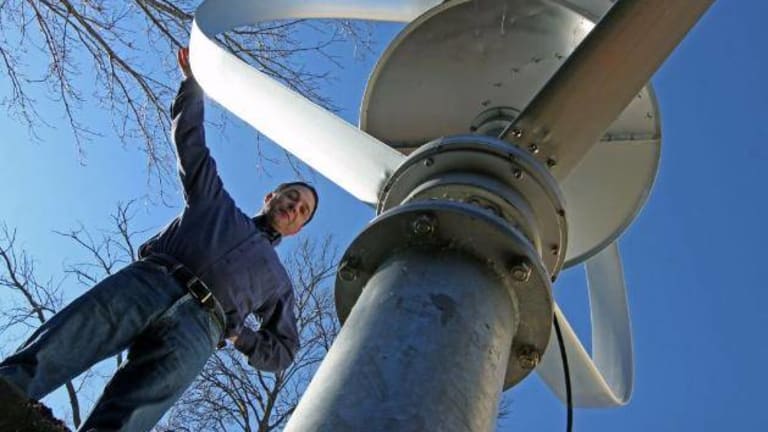 Man Facing Jail Time For Having a Windmill on His Own Property, Just Bucked the System!
This summer, we reported on the story of a Minnesota man named Jay Nygard, who was risking jail time because he refused to remove a wind turbine from his property.
Jay owns a company called Go Green Energy, which sells wind turbines in other areas of Minnesota, but he isn't able to do so in Orono where he lives because of permit and licensing laws. These are the same laws that are preventing Nygard from building on his own property.
The local government and a few nosy neighbors had been disputing the construction of this turbine for over 4 years, since it was built in 2010.
Recently, Jay reached out to us to share some good news about his case.
Jay has finally won the battle against his local government, and can now operate wind turbines on his property without the fear of being arrested.
In a statement to The Free Thought Project, Nygard said that "I am happy to announce that the Hennepin County District Court has chosen to honor MN state law and overturn the City Of Orono's complete ban of wind turbines. This is a big victory for Green Energy, and my company, Go Green Energy, in it's long standing push to bring Micro Wind Turbines to the Minnesota market. I am personally thrilled to see that the district court has affirmed my position of the importance of Green Energy in our society. I am also pleased to see clearly stated in the order the property rights that I have been denied during my continued litigation with the City of Orono."
Unfortunately, this rule does not change the law entirely, but gives Nygard the right of way to build and operate wind turbines in this specific case.
According to a local Fox affiliate, "The court is forbidding the city of Orono from enforcing its ordinance in Nygard's case. The judge's ruling still allows the city to regulate wind turbines within its borders, but "prohibits the complete banning" of all small wind energy conversion systems within the city."
Nygard is one of the lucky ones, however. Earlier this week we reported that two dozen police and an armored vehicle were sent to collect $80,000 in fines, that were imposed on a peaceful 75-year-old man because he was running a business on a piece of land that was apparently in a residential zone.
John Vibes is an author, researcher and investigative journalist who takes a special interest in the counter culture and the drug war. In addition to his writing and activist work he is also the owner of a successful music promotion company. In 2013, he became one of the organizers of the Free Your Mind Conference, which features top caliber speakers and whistle-blowers from all over the world. You can contact him and stay connected to his work at his Facebook page. You can find his 65 chapter Book entitled "Alchemy of the Timeless Renaissance" at bookpatch.com.