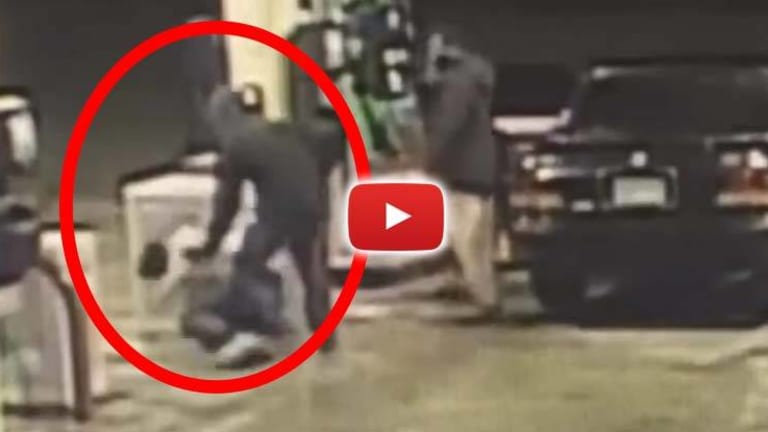 VIDEO: Man Yelling "Trump Will Make America Great Again!" Attacks Muslim Students for No Reason
"The worst part was him saying 'Trump will make America great again'"
Witchita, KS -- Khondoker Usama, an international exchange student at Wichita State, was gassing up his car at a Kwik Shop convenience store near the WSU campus last week when out of nowhere, a crazed man on a motorcycle stops and begins chanting "Trump, Trump" before launching an assault.
The entire confrontation was captured on the store's security cameras.
According to Usama, he and his friend, who wishes to remain anonymous, had done nothing to provoke the man prior to the assault early Saturday morning.
Usama said that the man on the motorcycle came barrelling through the gas station parking lot looking for a fight. Prior to approaching the two Muslim students, the man was yelling racial slurs at a black patron in the same parking lot.
Usama claims the suspect yelled 'Brown trash go home,' followed by, 'Trump, Trump, Trump' chants.
"The worst part was him saying 'Trump will make America great again,'" said Usama.
In the video, the man stops his motorcycle and gets in the face of Usama's passenger in an obvious attempt to provoke a fight. After having a finger jammed in his face, the much smaller man then attempts to nudge the man on the motorcycle out of his face and that's when things took a turn for the worse.
"This is totally understandable because if you start a conversation with someone 'brown trash go home' and attack the person, I mean, my friend defended himself as anyone would do in this type of situation," said Usama.
After watching the entire interaction it was perfectly clear that these two students were simply asking the man to leave them alone -- but he wanted nothing to do with it.
The Trump-pumping assailant then begins to kick and punch the student and continues the assault even after he falls on the ground.
The assailant then hops on his motorcycle and drives off. Police have encouraged the man to come forward, not to turn himself in, but to give his side of the story.
Of course, Donald Trump cannot be held responsible the actions of his supporters. However, regardless of one's stance on Donald Trump, one basic theme is prevailing throughout his campaign, and that is violence.
Multiple videos have surfaced of violence at Trump rallies. Trump has even instigated violence at his own rallies in response to protesters.
In August, Trump issued a warning to protesters at his rallies, "I don't know if I'll do the fighting myself, or if other people will." In November, he said a protester who disrupted one of his events "should have been roughed up." Then, in February, he clearly went over the top by saying, in regards to a protester, "I'd like to punch him in the face." Then in February, he managed to top the previous statement by telling a rally, "If you see somebody getting ready to throw a tomato, knock the crap out of them. . . . I promise you, I will pay for the legal fees."
It seems that America is on the verge of civil war as hate-filled groups take 'sides' by buying into the tactics of the left/right paradigm and seek to emulate the only strategy their rulers know -- violence.
The citizens of the United States would do well to reflect on the words of Martin Luther King Jr., before we get so far down this path of hate and destruction that there is no way back.
"Hate begets hate; violence begets violence; toughness begets a greater toughness. We must meet the forces of hate with the power of love."
[author title="" image="https://tftpstagingstg.wpengine.com/wp-content/uploads/2016/03/magorist-e1456948757204.jpg"]Matt Agorist is an honorably discharged veteran of the USMC and former intelligence operator directly tasked by the NSA. This prior experience gives him unique insight into the world of government corruption and the American police state. Agorist has been an independent journalist for over a decade and has been featured on mainstream networks around the world. Follow @MattAgorist[/author]