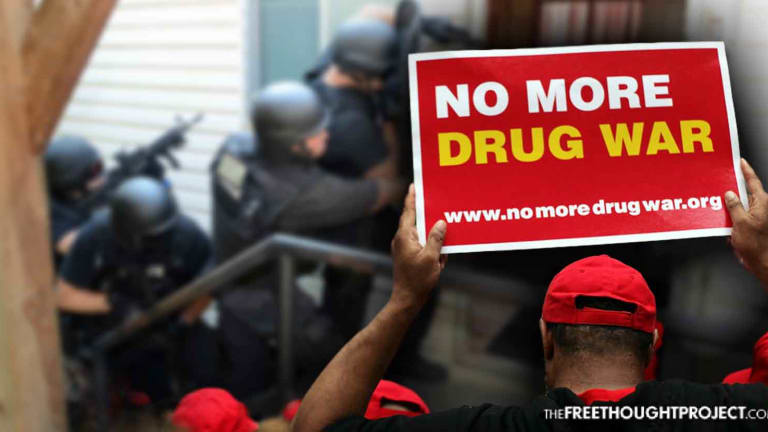 Mayor Calls For Immediate Legalization Of ALL Drugs, Including Heroin—To Fight Overdose Epidemic
Showing how the war on drugs has only led to more harm and more overdoses, the mayor of Vancouver is now making a push to decriminalize all drugs.
Vancouver Mayor Gregor Robertson issued a bold press release which called for the legalization of all drugs, even drugs like heroin and cocaine.
The statement pointed out that 365 people died from overdoses last year in the city of Vancouver, and the Mayor blamed drug prohibition for this problem.
"We are witnessing a horrific and preventable loss of life as a poisoned drug supply continues to kill our neighbors, friends, and family. Volunteers and first responders are working around the clock to keep people alive, but lives are on the line and more action is urgently needed. We will keep pushing for bold solutions, and that includes breaking down the stigma that leads people to use drugs alone at home, addressing access to a clean supply through drug testing equipment, and dramatically improving a range of treatment options like opioid substitution therapy," Robertson said.
The mayor went on to say that there are over 100 medical calls in the city every week relating to overdoses and suggested harm prevention methods instead of punishment.
The statement gave the following list of recommendations for changes to the city's drug laws:
Convene a multi-sectoral task force to implement immediate decriminalization of personal possession of illicit drugs
Rapidly roll out funding for evidence-based treatment programs
Support the scale-up of innovative programs that provide access to safe opioids for those most at risk for overdose
Support the de-stigmatization programs that are co-led by people with lived experience of substance use
Continue to roll out innovative overdose prevention services in areas where users remain isolated.
For the past several years, the city of Vancouver has faced one of the worst heroin problems in North America, which has made them more considerate of unconventional methods. The city has managed to save thousands of lives through the opening of safe injection sites, which allow heroin addicts to use with clean needles under the supervision of medical professionals.
The safe injection sites in Vancouver have become a model for the rest of the region, with some sites even beginning to pop up in the US. Last month we reported that the city of San Francisco was in the process of opening one of the first sites in the country, and health officials there said that they were looking to Vancouver as an example.
Laura Thomas, the California state director for the nonprofit Drug Policy Alliance referenced the sites in Vancouver in an interview with FOX59.
"I'm really excited, I've been working on this particular issue for over a decade. There are over 120 of these around the world at this point, and they all operate on the same basic idea. You show up; you check in; you use your drugs; you hang out for a while, interact with the staff and then go on your way," Thomas said.
"One of the biggest supervised injection facilities in the world — certainly in North America — is Insite in Vancouver, British Columbia. There's a nurse's station in the middle of the room that has all of the syringes, sterile supplies that they may need, and then they go through the usual process of preparing their drugs and injecting them, all under the supervision of trained staff. It certainly wouldn't be the first time that San Francisco has prioritized the health, safety, and well-being of its residents over state or federal law. Times have changed. The biggest threats we're seeing aren't crack houses in urban neighborhoods but overdose deaths and people injecting on the streets," she added.
It is unclear how Prime Minister Justin Trudeau's government will react to these policy recommendations. Despite his support for legalizing cannabis, he has repeatedly said that his administration has no plans of doing the same with other drugs.
"We're not looking at decriminalization or legalization of any other drugs other than what we're doing with marijuana," Trudeau said in an interview with Global News in Vancouver last year.
These sentiments were shared by Health Minister Ginette Petitpas Taylor, who recently said, "We are not looking at decriminalizing or legalizing any other drugs aside from cannabis, as decriminalizing would not ensure quality control of drugs, and there would still be the risk of contamination on the streets."
Certain areas of the world, like Portugal, where all drugs have been decriminalized, there are far fewer overdoses than there are in prohibition countries. The Washington Post reported that drug overdoses are extremely rare in Portugal, and they have some of the lowest rates of addiction in the world.
People have the impression that under drug legalization, things would just be out of control and drug addicts would be addicts everywhere, but this is not what actually happens. It is the opposite.
Currently, under the state of prohibition that most of the world experiences, the treatment, and help that addicts receive is severely limited, mostly to punishments. In an environment of prohibition, the strategy is punishment instead of the much more humane method of harm reduction which has been shown to be a realistic and effective way of handling serious social problems like heroin addiction.
The time of kidnapping and caging people for ingesting substances is coming to an end, but it cannot happen fast enough. How many more innocent lives must be ruined in this immoral, ineffective, and tyrannical fight before America wakes up to the horror that is the drug war?