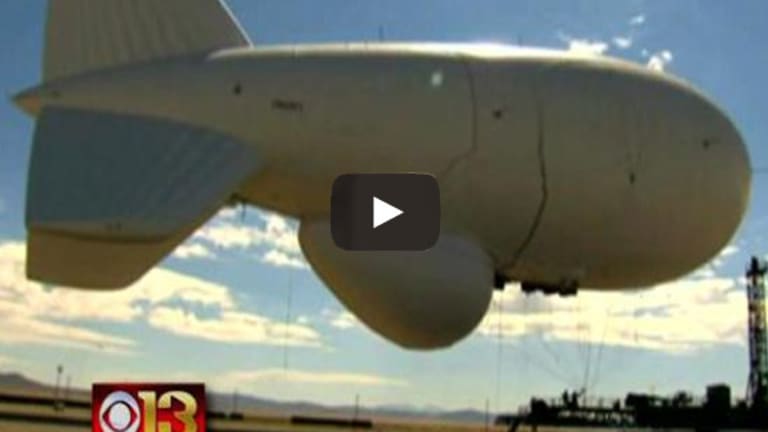 Why is the Military Moving 140 People to Maryland to Operate 2 Spy Blimps?
John Vibes
June 18, 2014

Aberdeen Proving Grounds in Maryland is one of the most infamous military bases on the east coast, and is home to a wide variety of secret projects. During World War 2 and the Cold War, this military base was involved in top secret testing of radioactive, chemical and biological weapons.
The waste from this testing period is still buried in the ground below the base, or in the water nearby that leads into the Chesapeake bay.
The actual spy operations that occur at this facility are largely unknown, but recently it was announced that the military is moving roughly 140 of its agents to Aberdeen so they could work in two giant spy blimps that will hover in the sky keeping a watch on Maryland citizens.
The military insists that they will not be using this technology to spy on citizens, but rather that it will be used to search for incoming military threats.
"There are no cameras aboard the payloads of either of these aerostats. We are not going to be hovering around our neighbors around Aberdeen Proving Grounds, seeing what they are doing in their backyards; no cameras, no spying," said Kelly Luster, a spokesman for Aberdeen Proving Ground.
Unfortunately, the US government has a terrible history of using contrived military threats as a basis for domestic spying programs, the NSA is the most obvious example.
The project is said to be fully operational in just a few short years, with hundreds of people moving to the area with the specific purpose of working on these spy blimps. In fact there is already some equipment on location.
"There is some equipment already on grounds" said Kelly Luster, a spokesman for Aberdeen Proving Ground. "On a clear day, you can see them for up to 50 miles," Luster added.
John Vibes is an author, researcher and investigative journalist who takes a special interest in the counter culture and the drug war. In addition to his writing and activist work he is also the owner of a successful music promotion company. In 2013, he became one of the organizers of the Free Your Mind Conference, which features top caliber speakers and whistle-blowers from all over the world. You can contact him and stay connected to his work at his Facebook page. You can find his 65 chapter Book entitled "Alchemy of the Timeless Renaissance" at bookpatch.com.