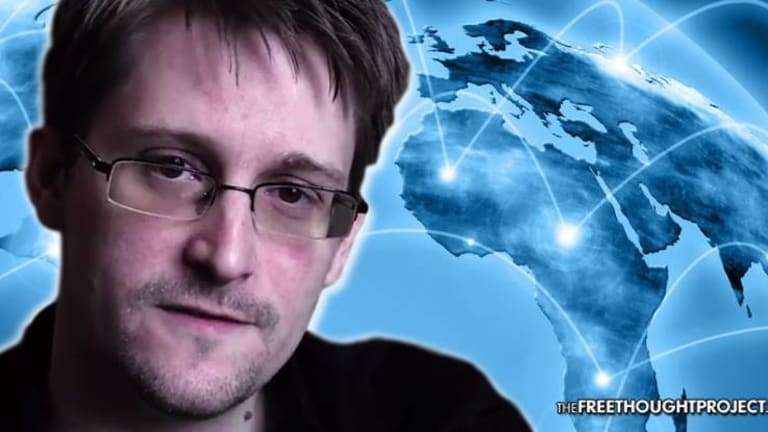 The World Has Spoken! Over 1 Million People Just Demanded Obama Pardon Snowden
Letter asking Obama to pardon Snowden gathered over 1 million signatures, but Snowden would rather the president grant clemency to another whistleblower.
More than 1 million signatures from around the world graced a letter from the heads of the American Civil Liberties Union, Amnesty International, and Human Rights Watch, delivered to President Obama on Friday, in an eleventh-hour attempt to pardon whistleblower Edward Snowden.
"As you well know, Snowden disclosed information to journalists revealing that the NSA had overstepped U.S. statutes, the Constitution, and international law by engaging in widespread, warrantless surveillance. In response, we've seen a global debate that has changed government policies and profoundly affected how people think about personal privacy," wrote Anthony D. Romero, ACLU Executive Director; Salil Shetty, Secretary General of Amnesty International; and HRW Executive Director Kenneth Roth — after amassing 1,101,252 signatories from around the globe.
"Since Snowden acted, all three branches of the U.S. government have worked to rein in the NSA's powers. Technology companies have increased their use of encryption. The United Nations appointed a first-ever privacy watchdog. These are but a few examples of the reforms triggered by Snowden.
"You said yourself in 2014 that the debate spurred by Snowden 'will make us stronger.' You were proven right. His actions gave people everywhere the knowledge to debate the merits of surveillance powers that had largely evaded democratic oversight even as they vastly grew in scope."
Snowden, of course, has been branded either a true hero or America's villain number one — the result of a propaganda campaign falsely conflating his actions with an act of treason. In fact, blowing the whistle — exposing corruption, collusion, or any illegal activity — has been revered throughout history for keeping the government in check.
While Snowden's detractors focus on the fact he broke the law, supporters view the hugely unconstitutional and invasive domestic surveillance dragnet — which had continued without public disclosure for years — as the infinitely more serious crime.
Retaliation by the government against whistleblowers is unfortunately standard practice, as the authors of the letter note, pointing out Snowden — for his part — had not been indiscriminate in his choice of responsible journalists to whom the classified information was provided. As the letter continues,
"We are confident that Edward Snowden will be remembered as a human rights hero and one of history's most important whistleblowers. A presidential pardon for Snowden would be a brave affirmation of citizens' right to hold governments to account when power is abused."
Indeed, that he prudently considered who would receive the stunning information — knowing they would vet the documents and not release anything unnecessarily — contrasts with the methods of whistleblowing publisher and Wikileaks founder, Julian Assange.
Wikileaks will never divulge its sources and has a spotless record of publishing authentic documents; but — with the exception of imminent danger to individuals — the outlet posts documents it receives, in full.
But one thing they share in common evinces the humanitarian instinct behind shining the light of truth on wrongdoing behind the curtains — both have offered themselves in place of beleaguered whistleblower Chelsea Manning.
Manning, a transgender woman (prior name Bradley), exposed atrocities in war committed against civilians in Iraq and Afghanistan.
In fact, the rawest portrayal of horrifying acts committed by the U.S. military came from Manning's handing over to Wikileaks video of an Apache helicopter crew gleefully gunning down a group of civilians gathered on a sidewalk — two of whom were Reuters journalists.
"Collateral Murder," as that video is known, ripped the veil off naked and callous violence U.S. troops had been employing against innocent people in Middle East operations — even though it is thought the crew believed the journalists' cameras were actually guns.
For doing the right thing by handing over the enormous trove of documents and that video, Manning now languishes in military prison, having served seven years of a 35-year sentence — but she hasn't fared well in confinement. Having twice attempted to end her life, it's widely believed Manning won't survive if forced to endure the entirety of the sentence.
In light of this — and considering the incoming administration of President-elect Donald Trump is predicted to take a more authoritarian turn — Snowden pleaded with President Obama to grant Manning clemency, rather than even consider a pardon for himself.
"Mr. President, if you grant only one act of clemency as you exit the White House, please: free Chelsea Manning. You alone can save her life," Snowden
Mr. President, if you grant only one act of clemency as you exit the White House, please: free Chelsea Manning. You alone can save her life.
— Edward Snowden (@Snowden) January 11, 2017
">tweeted.

Mere hours after that plea, Assange followed suit — and sweetened the deal — by offering himself for extradition to the United States if Obama allows Manning to walk free.
"If Obama grants Manning clemency Assange will agree to US extradition despite clear unconstitutionality of DoJ case," Wikileaks
If Obama grants Manning clemency Assange will agree to US extradition despite clear unconstitutionality of DoJ case https://t.co/MZU30SlfGK
— WikiLeaks (@wikileaks) January 12, 2017
">posted to Twitter.

Assange has called the Ecuadorian Embassy in London home since 2012 by invitation amid fears Stockholm would turn him over to the U.S., where, of course, whistleblowers face lengthy prison sentences and worse. His asylum is therefore akin to political imprisonment — but the offer to sacrifice his own freedom in exchange for Manning's shows how imperative it is that she be released.
Obama has promised to continue granting clemency until his last day, and as that draws near, the conclusion in the letter to pardon Snowden could as easily apply to all three of these courageous whistleblowers who did nothing more than tear the façade from heinous government activity:
"We know your last days in office are filled with many demands. We hope you will recognize the importance of addressing the fate of this American whistleblower."