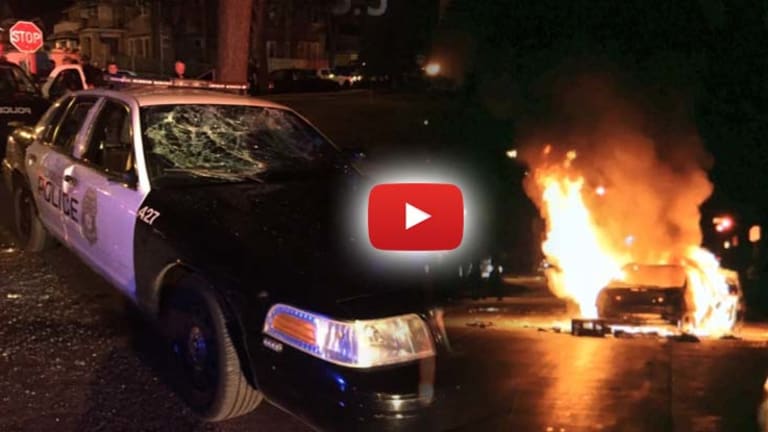 Milwaukee Protesters Riot, Burn Buildings, Cars After Police Kill Man During Traffic Stop
An officer involved shooting in Milwaukee sparked a protest which turned chaotic as protesters began to destroy the town.
Milwaukee, WI -- On Saturday, a traffic stop turned deadly when an unnamed Milwaukee police officer shot and killed a 23-year-old suspect after he fled from the vehicle. When residents got word of the shooting, they reacted in anger, and a protest turned into a riot.
According to police, an officer pulled over a car with two men inside, who then left the vehicle and attempted to run away.
After a short foot chase, police fired shots at one of the men, fatally wounding him. The 23-year-old, whose name has not been released, was allegedly in possession of a stolen handgun, police spokesman Capt. Mark Stanmeyer told the media.
Immediately following the shooting residents gathered and began to ask police for answers. As the video below shows, however, they were met with silence and riot gear.
After several hours of angry but peaceful protests, at around 10:00 p.m. things took a turn for the worse.
According to Milwaukee Mayor Tom Barrett, fires were started at businesses — including a BMO Harris Bank branch, a beauty supply company and O'Reilly Auto Parts stores. Also, the gas station where the original confrontation began was set ablaze. And, according to police, firefighters were unable to put out the fire because of gunshots.

According to a report in the Journal Sentinel, the mayor said some involved in the disturbances took to social media early in the evening to encourage others to come out and participate in trouble-making. He said many of them were young people, and he urged parents to keep tight reins on their children to avoid a repeat of Saturday night. "Our police officers are doing everything they can to restore order," he said. But he said everyone needed to help restore calm. "If you love your son, if you love your daughter, text them, call them, pull them by their ears, get them home." The mayor said police had "shown an amazing amount of restraint" Saturday evening.

Amazingly enough, no one was hurt, and only three arrests were made throughout the night and into the morning. In a press conference late Saturday night, Alderman Khalif Rainey delivered a strongly worded statement about what could have led up to this event. Rainey, who represents the area in which the man was killed, said that this area had become "a powder keg" as none of the issues facing African Americans had been addressed. "This entire community has sat back and witnessed how Milwaukee, Wisconsin, has become the worst place to live for African-Americans in the entire country," Rainey said. "Now this is a warning cry. Where do we go from here? Where do we go as a community from here? "Do we continue – continue with the inequities, the injustice, the unemployment, the under-education, that creates these byproducts that we see this evening? … The black people of Milwaukee are tired. They're tired of living under this oppression. This is their existence. This is their life. This is the life of their children. "Now what has happened tonight may have not been right; I'm not justifying that. But no one can deny the fact that there's problems, racial problems, here in Milwaukee, Wisconsin, that have to be closely, not examined, but rectified. Rectify this immediately. Because if you don't, this vision of downtown, all of that, you're one day away. You're one day away."

What Rainey is describing are the horrid effects caused by racial profiling by police. However, Rainey failed to mention the underlying cause of this profiling -- the drug war.
It is important to note that rioting only serves to create an even larger divide as was witnessed in Ferguson and Baltimore. In spite of large-scale riots, all the cops involved in the death of Freddie Gray were acquitted. The only people to suffer in those riots were the innocent business owners.
If America truly wants to end the inequities stemming from the justice system, then the subject of the drug war must be pushed to the forefront. As countless experts have pointed out, making substances illegal creates crime by failing to remove demand and pushing the sale of those substances into the black market.
Criminal gangs form to protect those markets and crime spreads like a disease throughout communities across the country. Instead of showing how prohibition is causing this insanity, politicians and police alike double down on force, which brings us to the situation in which we find ourselves today.
Black men are prosecuted for the same crimes as their white counterparts at nearly double the rate. This racial disparity inevitably furthers the problem of crime in black communities by turning otherwise innocent people who've been caught with an illegal substance into unemployable felons.
Unable to get a job, the unemployable are forced back into the black market, thereby increasing the chances of oppression and ending back up in the system. The establishment is well aware of this vicious cycle and has even defined it. It is called recidivism.
Until we stop kidnapping, caging, and killing people in this immoral and murderous war on substances, Fergusons, Baltimores, and Milwaukees -- will continue to burn.
[author title="" image="https://tftpstagingstg.wpengine.com/wp-content/uploads/2016/03/magorist-e1456948757204.jpg"]Matt Agorist is an honorably discharged veteran of the USMC and former intelligence operator directly tasked by the NSA. This prior experience gives him unique insight into the world of government corruption and the American police state. Agorist has been an independent journalist for over a decade and has been featured on mainstream networks around the world. Follow @MattAgorist on Twitter and now on Steemit[/author]