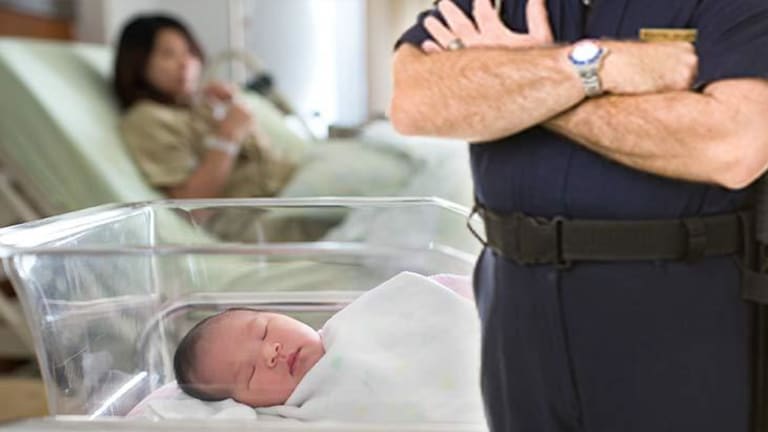 Alabama Cops Using Draconian Law to Steal Babies and Lock Up their Mothers at Alarming Rate
Alabama mothers are having their children taken by the state for Orwellian reasons like treating their own Epilepsy without prescriptions.
Etowah County, AL -- A disturbing pattern is emerging out of Alabama that highlights the budding field of authoritarianism as the state ramps up its kidnapping of babies and arresting of mothers -- for no reason.
In August of 2014, Casey Shehi gave birth to a beautiful baby boy. Despite being born four weeks premature, little James was exceptionally strong. However, the celebration of James' birth was quickly turned into a nightmare when the state got involved.
A few weeks after giving birth to a healthy baby boy, Etowah County sheriffs dragged Ms. Shehi away in handcuffs from her job at a nursing home, charging her with "knowingly, recklessly, or intentionally" exposing her baby to controlled substances in the womb.
The reason? She took half of a Valium a few weeks before the baby was born, during a particularly bad night in a difficult pregnancy. A drug screen at Gadsden Regional Medical Center showed the presence of benzodiazepines. It should be noted that occasional, small doses of Valium are considered safe during pregnancy.
Even though the baby showed no "controlled substances" in his system after birth, and the state's child welfare agency had concluded they should not take the baby, ruthless cops determined that Ms. Shehi should have her life turned upside down.
She managed to get her baby back, but another judge used the arrest to grant her allegedly abusive ex-husband sole custody of their preschool-age child.
Many states abuse the notion of child endangerment, but Alabama's 2006 law is being interpreted in draconian fashion by some counties.
Ms. Shehi was victimized in Etowah County and faced public humiliation in addition to legal fees and wrangling with authorities. Her mug shot was printed in the weekly tabloid "Just Busted," and old acquaintances began avoiding her.
"I feel like everywhere I go, people just kind of look at me and shame me like I'm a monster, like, 'How could you do that to your baby?'," said Shehi.
A ProPublica investigation found that 479 new and expecting mothers have been prosecuted under a "chemical endangerment of a child" law passed in 2006. The law was meant to go after parents using their homes as meth labs, but crusading county authorities soon began using it to target women who exposed their embryo or fetus to controlled substances.
"A woman can be charged with chemical endangerment from the earliest weeks of pregnancy, even if her baby is born perfectly healthy, even if her goal was to protect her baby from greater harm. The penalties are exceptionally stiff: one to 10 years in prison if her baby suffers no ill effects, 10 to 20 years if her baby shows signs of exposure or harm and 10 to 99 years if her baby dies.

Yet there's nothing in the statute to distinguish between an addict who puts her baby at grave risk and a stressed-out single mom who takes a harmless dose of a friend's anti-anxiety medication. There are no standards for law enforcement officials or judges to follow: Is the presence of drugs in the mother's body cause for charges if the baby tests clean? What test results are appropriate for medical providers to report and when? Should a mother face charges even when she was using a prescription drug under a doctor's supervision? Local prosecutors and courts have wide discretion."
The law allows for dragnet drug testing without a woman's knowledge or explicit consent, and "stop-and-frisk" style investigations. All of the mom's children can be taken, not just the newborn.
Most of the positive tests for "controlled substances" at prenatal screenings showed cannabis. This was used a pretext for another horrible violation of rights and dignity.
Katie Darovitz, 25, has severe epilepsy. She had a miscarriage a couple of years ago while taking anti-seizure medication that has been associated with miscarriage. When she got pregnant again, her seizures increased but she was fearful of continuing with that medication.
Instead, she turned to cannabis and effectively treated her condition, largely stopping the convulsions. The use of cannabis has not been linked to birth defects.
After giving birth to a healthy boy on Christmas Day, Darovitz, who has no criminal record, was arrested and brought to the Russell County jail.
She was so distraught that she was put on suicide watch, and was close to catatonic by the time her family could scrape together the $7,500 property bond to get her out.
The county's drug counseling and mental health program put Ms. Darovitz into a state of depression again, and there is still no word on her case. She was victimized for trying to protect her unborn child.
Even expecting women who are prescribed methadone, because they had an opioid addiction before pregnancy, can be criminalized under Alabama's law. Such was the case with Hanna Ballenger, 34, who was arrested a year and a half after her son's birth. The state stole her son and gave him to the father's relatives.
Steve Marshall, the district attorney in Marshall County, says their efforts "to deter women from this behavior" are noble.
"We wanted to find a mechanism to get mama clean, get kid healthy and hopefully encourage a reunification of the family. We have clearly used it [the chemical-endangerment statute] a little bit different than it was designed. That, in and of itself, doesn't mean it's wrong."
Etowah County Sheriff Entrekin believes that if they didn't take actions such as throwing Ms. Shehi in jail and taking her kids, they would not be upholding their sworn oath of office.
The notion of criminalizing even minor, non-harmful drug use during pregnancy flies in the face of logic.
"It treated addiction as a crime rather than a disease; it discouraged the women most in need of prenatal care from seeking it; and it interrupted a mother's bond with her baby when she was particularly vulnerable, making her more likely to relapse. 'Did the war on drugs work? Do you have a reason to think a war on women using drugs during pregnancy is going to?' asked Donald Bross, a professor of pediatrics and family law at the University of Colorado School of Medicine."
There is certainly a problem with substance abuse during pregnancy, most notably in the area of prescription opiates. However, criminalizing this behavior is the fallacious path that some states are taking. South Carolina, Tennessee, and Wisconsin also have chemical endangerment laws that allow for new and expecting mothers to be victimized.
The answer is not going to be easy, but it should not include making people criminals. Prohibition of things, whether it is substances or behaviors, just does not work.
Instead of ripping families apart and saddling new mothers with outrageous bails and legal fees, the states could put their efforts into improving drug treatment programs and encouraging mothers to take part.